Qaeda-Linked Fighters Tighten Grip On Syria Town
@AFP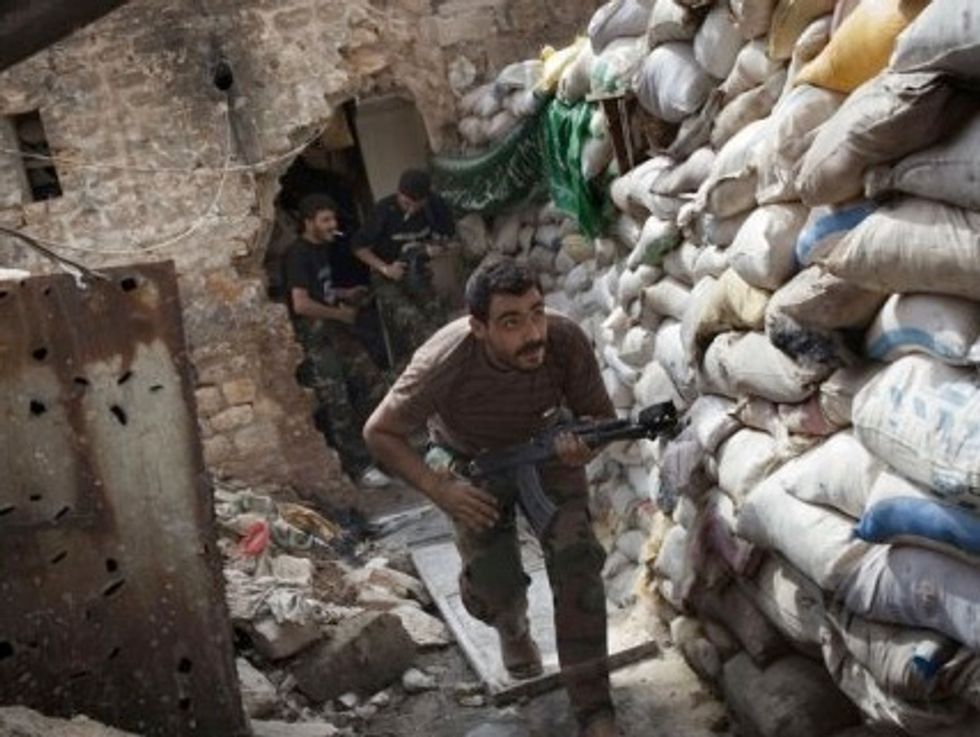 DAMASCUS (AFP) – Fighters allied to Al-Qaeda tightened their grip on a Syrian border town Thursday, as President Bashar al-Assad claimed most of the rebels fighting his forces were linked to the extremist group.
Elsewhere in the violence-wracked country, a bomb attack on a bus in the central province of Homs killed nine civilians, adding to the more than 110,000 casualties of the 30-month conflict.
Fighting between members of Al-Qaeda front group Islamic State of Iraq and the Levant (ISIS) and rebels of the Free Syrian Army (FSA) for control of the border town of Azaz broke out on Wednesday and carried on Thursday, various sources said.
Some residents said ISIS was in complete control of the town but the Syrian Observatory for Human Rights said fighting was continuing in small pockets.
Azaz, on the Turkish border, was one of the first towns to be overrun, in July 2012, by Free Syrian Army rebels, who set up their own administration.
The fighting in Azaz began when ISIS fighters tried to kidnap a German doctor working there, according to the Syrian Observatory, which also said he is now in a safe location.
"There are attempts to mediate between the factions. Azaz is home to many people who fled (the nearby city of) Aleppo," Observatory director Rami Abdel Rahman told AFP.
"They want to live in a safe place, not one where anything that moves gets sniped."
Tensions between some opposition groups and ISIS have spiralled in recent months, especially in northern Syria where the opposition controls vast swathes of territory.
Several local groups resent ISIS's growing territorial control, its steady supply of arms, as well as its brutality, which opponents often compare to that of the regime's.
ISIS, on the other hand, has accused some rebels affiliated with the FSA's Supreme Military Command of collaborating with the West and of being "heretics".
Assad, in a confident interview Wednesday with U.S. network Fox News, insisted Syria was not gripped by civil war but was the victim of infiltration by foreign-backed Al-Qaeda fighters.
"What we have is not civil war. What we have is war. It's a new kind of war," he said, alleging that Islamist guerrillas from more than 80 countries had joined the fight.
"We know that we have tens of thousands of jihadists… we are on the ground, we live in this country," he said, after an expert report that suggested between 40 and 45 percent out of around 100,000 rebels were jihadists or hardline Islamists.
"What I can tell you is that… 80 to 90 percent of the underground terrorists are Al-Qaeda and their offshoots," was Assad's assessment.
His latest television appearance came as U.N. envoys debated a draft resolution that would enshrine a joint U.S.-Russian plan to secure and neutralise his banned chemical weapons.
Assad insisted in the television interview that his forces had not been behind an August 21 gas attack on the Damascus suburbs that killed hundreds of civilians, but vowed nevertheless to hand over his deadly arsenal.
"I think it's a very complicated operation, technically. And it needs a lot of money, about a billion," he told Fox.
"So it depends, you have to ask the experts what they mean by quickly. It has a certain schedule. It needs a year, or maybe a little bit more."
After last month's barrage of sarin-loaded rockets, which the West says was clearly launched by the regime, U.S. President Barack Obama called for U.S.-led punitive military strikes.
But with U.S. lawmakers and the Western public not sold on the virtues of another Middle East military adventure, Assad's ally Russia seized the opportunity to propose a diplomatic solution.
Pushed by President Vladimir Putin, the White House agreed to hold fire while Russia and the international community — with Assad's agreement — draws up a disarmament plan.
While Assad pursued his media counterattack, the five U.N. Security Council powers on Wednesday held new talks on a resolution backing the Russia-U.S. plan to destroy the chemical weapons.
Western nations, which said they are not looking for an immediate threat of force against Assad, could seek a Security Council vote this weekend if Russia agrees.
U.N. envoys from the United States, Russia, France, Britain and China held two hours of talks at the U.S. mission.
"There is no accord yet, there will be more negotiations," said one U.N. diplomat.
The disarmament plan will face its first big test on Saturday, the one-week deadline announced by Moscow and the United States for Assad to provide a list of his chemical facilities.
On the ground, roadside bombs targeting a convoy of minibuses in the central province of Homs killed nine civilians on Thursday, the Observatory's Abdel Rahman said.
The blasts occurred on the road linking Homs city to a string of villages populated by Alawites, an offshoot of Shiite Islam to which Assad belongs, he added.
State news agency SANA accused "terrorists", the regime's term for rebels, of carrying out the attack.
Photo Credit: AFP/Jm Lopez