R Is For Republican — And Russian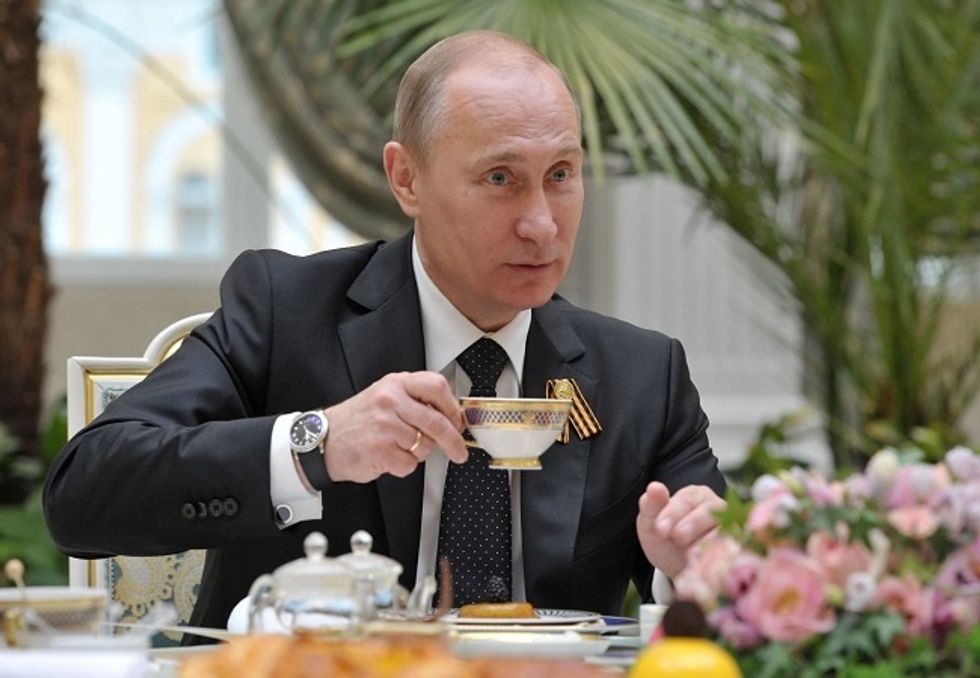 Vladimir Putin is brilliant. Without firing a single nuclear missile, without dispatching a team of assassins to murder American leaders, without even sending a nuclear submarine to lurk near our shores, he has managed to inflict significant damage on our country.
Putin must be smiling at his astonishing success. He interfered in the 2016 presidential election and helped into office a narcissistic sociopath who not only admires Putin but also does his bidding. President Donald J. Trump is a would-be despot who, for reasons we may never know, carries out Putin's wishes — destroying democratic values, exacerbating civic division and, of course, trashing Ukraine.
But Putin's victory did not end there. Because Trump has completely taken over the Republican Party, so has Putin. His GOP lackeys are going around repeating the discredited propaganda that Putin must have whispered into Trump's ear: that Ukraine interfered in the 2016 presidential election.
Earlier this month, on NBC's Meet the Press, Sen. John Kennedy (R-LA), insisted that Ukraine had meddled in the 2016 election to assist Hillary Clinton. Newsman Chuck Todd, the astonished host, pointed out that U.S. intelligence experts had given lawmakers a briefing to warn them that the lie about election interference by Ukraine was "a Russian intelligence propaganda campaign in order to get people like you to say these things about Ukraine."
Kennedy told Todd he had not attended that briefing. It probably would not have mattered, anyway. Kennedy already had his directive: Go forth and spew the lies that Russia has given Trump and Trump has given to his lapdogs. If that isn't treason, what is?
Putin could not have wreaked so much havoc without help from other sources — some, perhaps, unwitting. During the 2016 presidential campaign, American journalists enthusiastically spread details of stolen emails that were damaging to Clinton and to Democratic Party elites, though it is now clear that some were likely stolen by Russian hackers. Then there is Facebook founder Mark Zuckerberg, who ignored President Barack Obama's warnings that Putin's propagandists were abusing his internet infrastructure. Still, of all Putin's accomplishments inside our country, his takeover of the Republican Party is the most staggering — and the most dangerous.
A few years ago, most American political leaders believed Russia had been de-fanged. It was crippled by corruption, hobbled by its weak economy, bleeding from population decline. Few mistook Russia for a friend, but most believed it no longer represented a serious threat.
By the time Putin invaded Crimea, however, it was clear that he was still a dangerous adversary, a despot dedicated to reclaiming Russia's malevolent role on the world stage. Republicans jumped on Obama for failing to take a more militant stance against Russia. Back then, Sen. Lindsey Graham (R-SC) slammed Obama as "weak" and "indecisive." Sen. Marco Rubio (R-FL) piped up that Obama should ban more Russians from travel to the U.S.
Those conservative criticisms of Russia have all but disappeared. Never mind that Russia's interference in the 2016 election appears to be the first time in American history that a foreign power has so muddied our electoral processes.
During the 1960s, when the Soviet Union was an existential threat, Hollywood mirrored our anxieties by pumping out thrillers such as The Manchurian Candidate, in which the Russians brainwash an Army veteran who later becomes an unwitting Soviet dupe in a plot to seize the US presidency. As it turns out, Putin didn't need to be quite so clever to get the same result.