Ravens Begin Super Bowl Repeat Bid Against Broncos
@AFP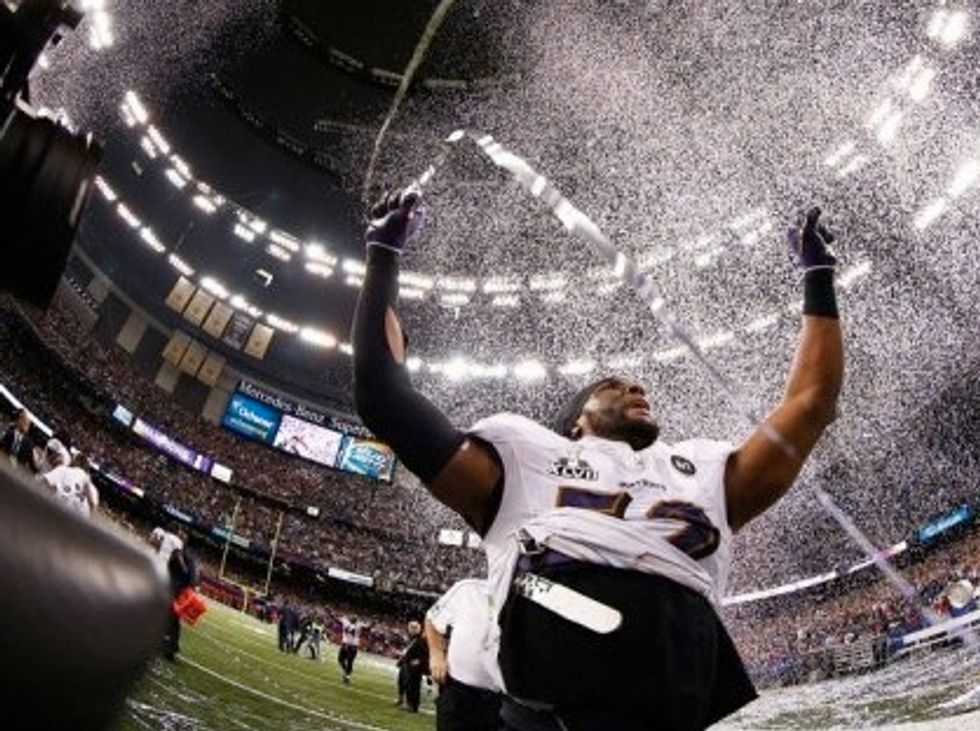 LOS ANGELES (AFP) – With popularity undimmed by a series of hard hits off the field, the National Football League opens the 2013 season on Thursday with a mouth-watering match-up of multi-millionaire quarterbacks.
Joe Flacco leads the Super Bowl champion Baltimore Ravens into Denver, where Peyton Manning and the Broncos are hotly tipped contenders to be hoisting the Vince Lombardi Trophy come February.
After two years featuring labor disputes — between owners and players and then between owners and officials — and the pay-for-injury "bounty" scandal that saw New Orleans Saints coach Sean Payton banned for all of last season, the league has done all it could to ensure there is little to distract from on-field action.
A week before kickoff, the NFL reached a settlement worth $765 million in a lawsuit filed by more than 4,500 former players over concussion injuries — a payout less than the NFL's income from any of its television rights deals.
The settlement won't end the discussion on traumatic brain injuries in the violent sport. But with it, the league avoided acknowledging liability for such injuries affecting the long-term health of its veterans.
NFL commissioner Roger Goodell will still have to grapple with the league's inability to agree with players on testing for human growth hormone, and the first-degree murder charge against former Patriots receiver Aaron Hernandez is a blemish on the league's image.
However, on-field drama is set to push those issues to the back burner in a season that will include three games outside the United States — two in London and one in Canada and culminate with the Super Bowl at Met Life Stadium on February 2.
It all starts in Denver, where Flacco will be eager to show he's worth the $120 million contract he received in the afterglow of the Ravens' title triumph over San Francisco.
It's a re-worked Ravens squad who will take the field, without retired defensive stalwart and emotional leader Ray Lewis.
The Broncos have endured some turmoil, too, with linebacker Von Miller suspended for six games for violating the league's substance abuse policy.
Nevertheless, four-time Most Valuable Player Manning is widely expected to guide Denver to the playoffs as he did last year in his return from multiple neck surgeries.
As always, quarterbacks are key. Among the veterans, Manning, New England's Tom Brady, New Orleans' Drew Brees, Manning's younger brother Eli of the New York Giants and Aaron Rodgers at Green Bay have shown they have the ability to take a team all the way.
Matt Ryan, whose Falcons fell to San Francisco in last season's National Conference title game, inked a $103.75 million, five-year deal in July and will try to take Atlanta further this season.
Colin Kaepernick, whose 49ers felled the Falcons before losing to the Ravens in the Super Bowl, will try to build on his breakout 2012 campaign, but San Francisco will face tough opposition in the NFC West from the Seattle Seahawks and second-year star quarterback Russell Wilson.
Two other sophomore signal-callers in the spotlight will be Indianapolis' Andrew Luck and Washington's Robert Griffin III.
Brady can be expected to lead perennial AFC East powerhouse New England with his usual aplomb. But he will be without four of his top five targets from 2012. Tight end Rob Gronkowski is on the roster, but it's not clear when he will be able to play in the wake of back surgery.
In the AFC North, the Ravens could have a tough time defending their title in a division that has seen defensive standouts Cincinnati shore up their offense. Pittsburgh can always contend if quarterback Ben Roethlisberger stays healthy.
Luck and the Colts should again figure strongly in the AFC South, and while Denver are widely expected to head the AFC West, the Kansas City Chiefs are tipped by many to turn things around from a dismal 2012 thanks to the arrival of new coach Andy Reid and former 49ers quarterback Alex Smith.
Tight division battles loom in the NFC, including a likely slugfest in the NFC East.
While the Giants can rest assured in the skills of Eli Manning, Washington will have to see how "RG3" performs after reconstructive knee surgery and the Dallas Cowboys need more big-game consistency from $108 million quarterback Tony Romo.
The 49ers will have their work cut out to hold off Seattle in the NFC West, while in the South the Saints, with Payton back in charge after his "bounty" suspension, will seek to topple the Falcons from the top perch.
Rodgers will try to keep the Packers on top in the NFC North, where the Vikings' challenge will again depend on running back Adrian Peterson, who last year finished eight yards shy of Eric Dickerson's single-season rushing record of 2,105 yards.
Photo Credit: AFP/Chris Graythen