'Reconciliation' Takes Hold In Beleaguered Syria Town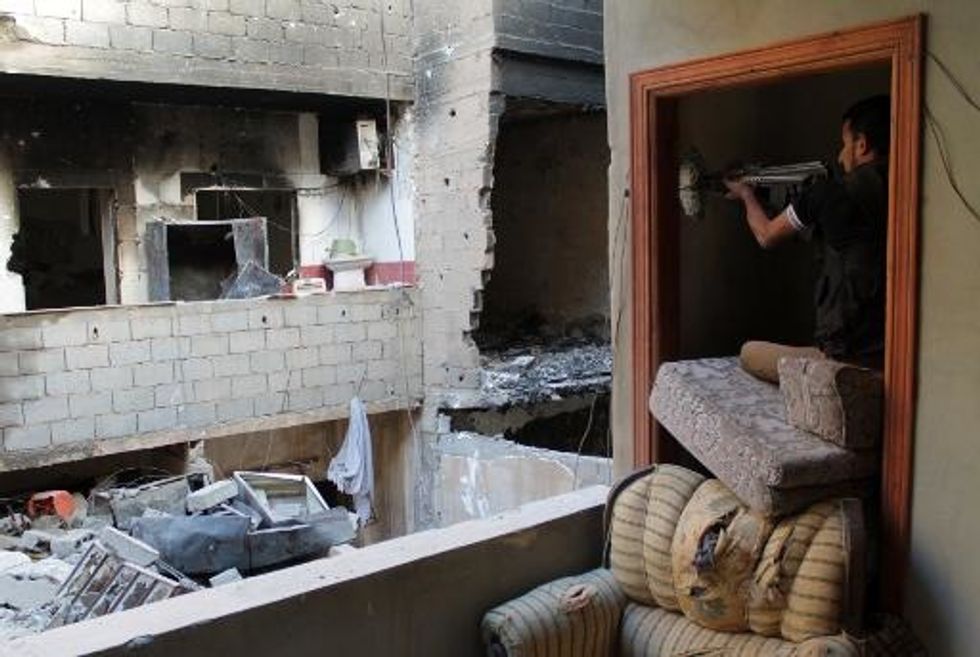 By Patrick J. McDonnell, Los Angeles Times
TAL KHALAKH, Syria — For more than a year, Ghassan Eid didn't speak to his son, Khaled, who abandoned his job as a policeman and joined the armed rebels.
"I was ashamed," recalled the father, a shop owner in Tal Khalakh, long renowned as a smuggling hub with nearby Lebanon — and more recently as a cross-border terminus for arms and rebel fighters. "He was not my son anymore."
All that has changed. Khaled has renounced the uprising to oust President Bashar Assad and is studying to become a lawyer.
"I was wrong; some people deceived us," Khaled, 31, dressed in a track suit, said as he and other young men hung out on the eerily becalmed streets of Tal Khalakh, where bullet- and shell-pocked buildings attest to months of conflict. "I'm back to myself now."
He is among hundreds of ex-rebels in the Tal Khalakh area who, according to the mayor here, have joined what the Syrian government calls the "reconciliation" process.
Participants agree to turn in their arms and sign a pledge of loyalty to Assad's government. In return, officials say, they are allowed to return to civilian life or to army units if they were deserters.
Reconciliation, in varied forms, is slowly gaining momentum in some areas of Syria and has taken off lately in a number of former battleground districts outside Damascus, the capital.
Although the process is tenuous, and some truces have broken down amid mutual allegations of violations, Syrian government officials hail the developments as a home-grown alternative to stalled peace talks in Geneva, where each side has accused the other of intransigence.
To segments of the armed opposition and its international allies, however, such truces are a case of capitulation forced through bombardment, starvation, mass detentions and siege. The military has been accused of reneging on promises, detaining participants and withholding aid to some besieged districts after truce deals were hammered out.
Without question, the embryonic reconciliation process could easily falter.
"This is a very fragile situation," said Elia Samman, an aide to Ali Hayder, appointed by Assad as the national minister of reconciliation. "There is no trust between both sides. We need to build trust."
Many opposition advocates see reconciliation as a cynical strategy aimed at gaining a military advantage by neutralizing rebel fighters who, in many cases, rejoin the military or sign up for pro-government militias.
"What happened in Tal Khalakh is not a truce, it's a military occupation," said Aboud Dandachi, an exiled antigovernment activist who comes from a prominent family in the town.
"I don't blame people who have been shelled and starved for agreeing to live under a military occupation," Dandachi, 37, said in a Skype interview from Istanbul, Turkey. "But it's not some kind of template for peace in Syria."
Still, many Syrians agree that the deeply polarized country must somehow pull back from the dark abyss it has tumbled into.
As the Syrian civil war nears the three-year mark, Tal Khalakh stands as a kind of microcosm of the conflict, which has evolved from peaceful protests to a military crackdown to prolonged armed clashes, and, in Tal Khalakh and elsewhere, to uneasy truces in war-ravaged, depopulated towns and cities.
"People are tired of the war," Yacoub El Hillo, the chief U.N. representative in Syria, said last month while helping to oversee a series of temporary truces in the rebel-held Old City of Homs. "People want peace again."
An unexpected outcome of the Homs cease-fires was the decision of more than 500 males between the ages of 15 and 55 to evacuate the Old City voluntarily and submit to the reconciliation procedure.
Many were aware that by doing so, they could face prison for acts of "terrorism" committed as rebel fighters. Those interviewed said they were just fed up with the battle, lack of food and other hardships.
"We couldn't stand it in there any more," said one evacuee, Bilal, 18, a gray blanket hanging over his shoulder, his baggy clothes evidence of 30 pounds lost during the almost two-year government siege. "There was no point in continuing. I'd rather take my chances and hope I can get back some kind of regular life. This is over for me."
In Tal Khalakh, just off the strategic highway connecting Homs province to the Mediterranean, the truce has held for eight months, authorities say. Military checkpoints are found at all entrances to Tal Khalakh, which had a prewar population of about 40,000; it appears more than half the residents have fled. The rebels who once held sway have either left or agreed to truce terms, residents say.
"Everything is back to normal here now," said Aksam Jazzar, 54, a barber, who nonetheless had no customers in his shop.
Tal Khalakh retains a ghostly, half-abandoned feel. On a recent weekday, more than 80 percent of the shops appeared shuttered; few structures did not have bullet holes or deep gouges from shell impacts. Months of fighting drove much of the population to Lebanon, just two miles away, through a picturesque, pine-studded gorge and across the Nahr el Kabir River.
Simmering discontent with the government erupted into peaceful street protests in April 2011, and grew into sectarian-fueled violence. Each side blamed the other for the escalation.
A year of intermittent conflict pummeled Tal Khalakh, as rebel fighters slipped back and forth across the border.
Although Sunni Muslims are a majority in Tal Khalakh, surrounding villages are home to a significant population of Alawites, the fiercely loyalist and secular-leaning Shiite Muslim offshoot sect whose most prominent member is Assad. A sizable Christian minority is also largely pro-government. People here say Syria's conflict belies a long history of peaceful coexistence and socializing over coffee, tea and glasses of arak, an anise-flavored, conversation-inducing liquor that turns cloudy white when water is added.
"We have lived here together for generations, regardless of sect," said Tal Khalakh's mayor, Akram Rashid Kalish, 49, an Alawite and former state railway employee whose office sports various images of Assad and his father and predecessor, Hafez Assad, including a brass bust of the late president.
Others, however, say resentment was just below the surface, especially among Sunnis bitter about perceived neglect from Damascus and a sense that Alawites were favored for the few government jobs.
Finally, local elders of various sects pushed the idea of reconciliation.
"We didn't want to see our home destroyed," said Walid Zoubi, who helped craft the peace along with other Sunni elders, including Ghassan Eid. "We faced losing everything."
An uneasy truce took hold in June. According to opposition activists, about 30 rebels who voluntarily gave themselves up at the time have not been heard from since.
By then, the mayor said, about 100 people had been killed in the fighting, a significant toll, but moderate by Syrian standards. Tal Khalakh avoided the fate of nearby Qusair, reduced to rubble during a yearlong rebel occupation and successful government campaign to retake it.
Many ex-fighters, including a former Free Syrian Army commander known by his nickname, Abu Uday, appear to have made their peace with the process.
"They say I was given 5 million Syrian pounds to sign the (reconciliation) papers," Abu Uday said during an interview at his home, citing an amount equivalent to about $35,000. "I wish it were the case."
He and others face threats from their former colleagues-in-arms, never far from Tal Khalakh.
"They call me a traitor," said Khaled Eid, who is again on speaking terms with his father and is studying law and helping out at the family's fragrance shop in town. "I don't care about it. I did what I did."
AFP Photo/Ahmad Aboud