Reid Warns Republicans: 'Stop The Filibuster Or We're Going To Have To Change The Rule' [Video]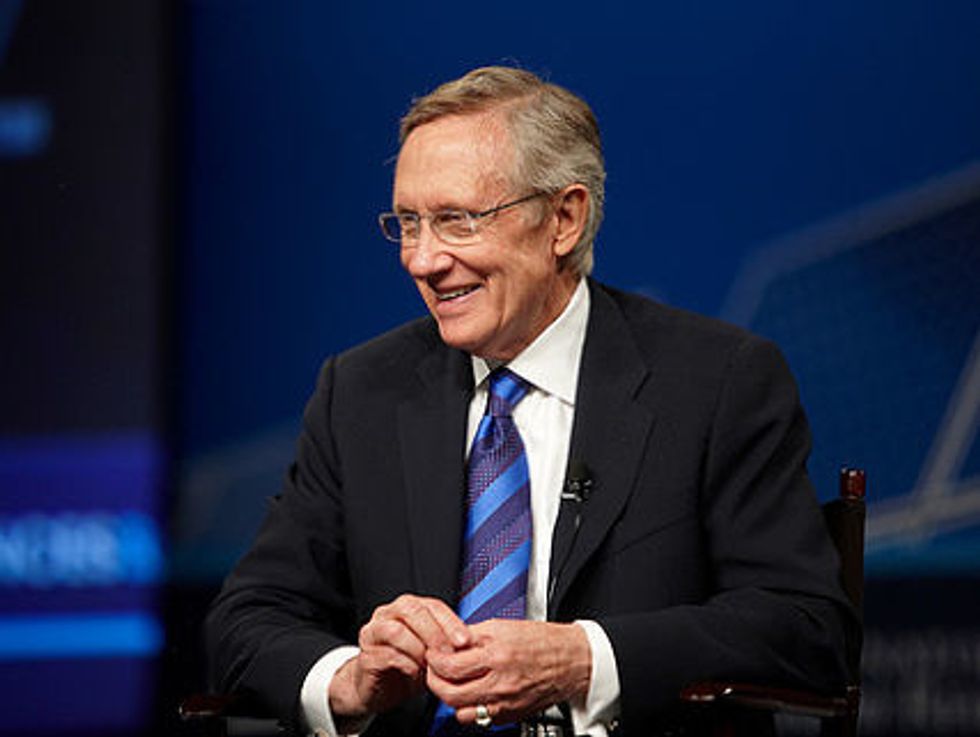 Senate Majority Leader Harry Reid (D-NV) continues to make the case for ending the use of the filibuster on most executive branch nominees, warning Senate Republicans to "stop the filibuster or we're going to have to change the rule" during a Monday morning speech to the Center for American Progress Action Fund.
Reid, who began by noting that the Senate's approval rating has dropped some 30 points in his 26- year tenure representing Nevada, insisted that the Republican Party's unprecedented obstruction has left him no choice but to pursue filibuster reform. Reid plans to use a simple majority to change the Senate's rules to allow executive branch nominees to be confirmed by a simple majority (although he reiterated on Monday that the change would not apply to judicial nominations).
"The status quo won't work," the majority leader said. "What [Republicans] have done is really unbelievable…They've carried this to the extreme." To that end, Reid noted that Lyndon Johnson faced just one filibuster in his six years as majority leader, while Reid has faced roughly 420.
"You can't reward bad behavior over and over and over again," Reid added. "This is really a moment in history when circumstances dictate the need for change."
Reid has scheduled Tuesday evening cloture votes on the nominations of Consumer Financial Protection Bureau head Richard Cordray, National Labor Relations Board members Richard Griffin, Sharon Block, and Mark Pearce, Export-Import Bank President Fred Hochberg, Labor Secretary Tom Perez, and EPA Administrator Gina McCarthy. If Republicans block any of these nominations, as expected, Reid is likely to move forward with the rule change.
Reid's speech on Monday was just the latest in a week-long campaign to sell his reform plan to his fellow senators and to the American public. Reid and Senate Minority Leader Mitch McConnell heatedly debated the issue on the Senate floor last week, and both appeared on NBC's Meet the Press on Sunday to explain their positions on changing the Senate rules.
"I want everyone to hear this. The changes we are making are very, very minimal," Reid said on Sunday, in a statement phrased to suggest that he has already made a final decision to alter the rules.
"What we are doing is saying, 'Look, American people, shouldn't President Obama have somebody working for him whom he wants?'" Reid added.
Senate Republicans, led by McConnell, have responded to Reid's plan with outrage. On Meet the Press, McConnell accused Reid of "breaking the rules of the Senate in order to change the rules of the Senate," and days before his office took the rather dramatic step of tweeting a picture of Reid's tombstone, engraved with the epitaph "Killed the Senate."
Ironically, McConnell and Reid have almost completely traded positions since 2005, when a Republican majority considered changing the filibuster rules to speed along then-president George W. Bush's nominations. Back then, Senator Reid argued that "the filibuster is the last check we have against the abuse of power in Washington," while Senator McConnell insisted that "if we can only change an abominable rule by majority vote, that is in the interests of the Senate and in the interests of the nation that the majority must work its will."
Video of Senator Reid's speech can be seen below:
Photo: Center for American Progress Action Fund via Flickr.com