WATCH: Elijiah Cummings Blows Up At Darrell Issa At House Hearing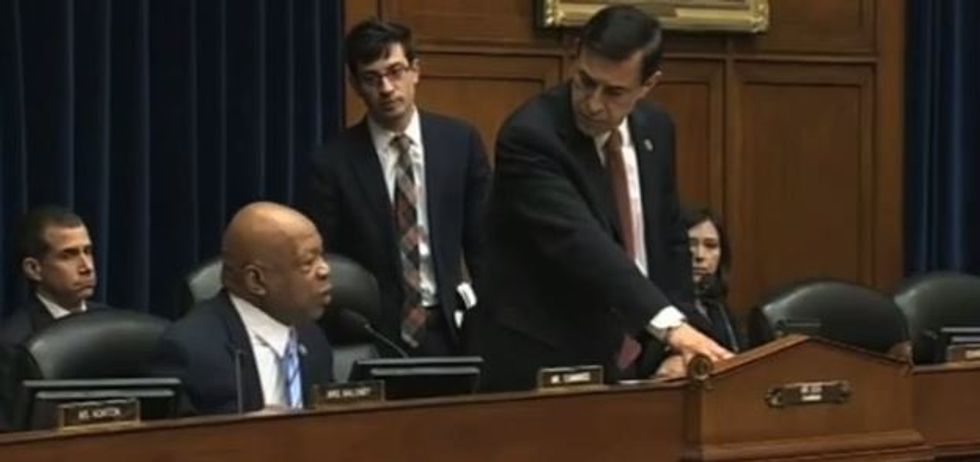 Things just aren't going Rep. Darrell Issa's (R-CA) way.
After almost a year-long recess, on Wednesday Issa dismissed the House Oversight and Government Reform Committee hearing on the IRS "scandal" after about 20 minutes. After former IRS official Lois Lerner exercised her Fifth Amendment right to refuse to testify, Issa saw no reason to continue the hearing.
But Issa wasn't going to let this snafu refocus the limelight on anyone but himself. And he definitely wasn't going to let Rep. Elijah Cummings (D-MD), the ranking Democrat on the committee, make a statement about the investigation or ask a procedural question.
Cummings, who is in the often-exasperating position of being Issa's Democratic counterpart, exploded after Issa dismissed the hearing before he could make a statement.
"I am a member of the Congress of the United States of America! I am tired of this," Cummings said, refusing to be silenced even after Issa cut off his microphone. "You cannot just have a one-sided investigation."
Cummings then added a bit of vital information to understanding the investigation. He said the the investigation into the IRS scandal, "ha[s] found no evidence to support allegations of a political conspiracy against conservative groups." That prompted Issa to leave the room. "What are you hiding?" Cummings asked the chairman.
"He's taking the Fifth, Elijah," Rep. Gerry Connolly (D-VA) said.
Before the hearing blew up in his face, Issa was sure that his investigation into the IRS "scandal" was going to break his way. He knew Lerner's right to invoke the Fifth Amendment would be waived and she would be subjected to his questions. Issa, as he has been in the past, was wrong.
Cummings and Issa have clashed many times before, mostly because Cummings has pointed out fundamental flaws in the investigation led by the Republican. Cummings previously wrote a letter to Issa that accused him of implicating the White House in the IRS investigation, which has no factual basis.  In the same letter, Rep. Cummings accused Issa of hiding facts that disprove White House involvement in the IRS "scandal."