Rep. Roharabacher, Putin's Favorite, Defends Alleged NRA Spy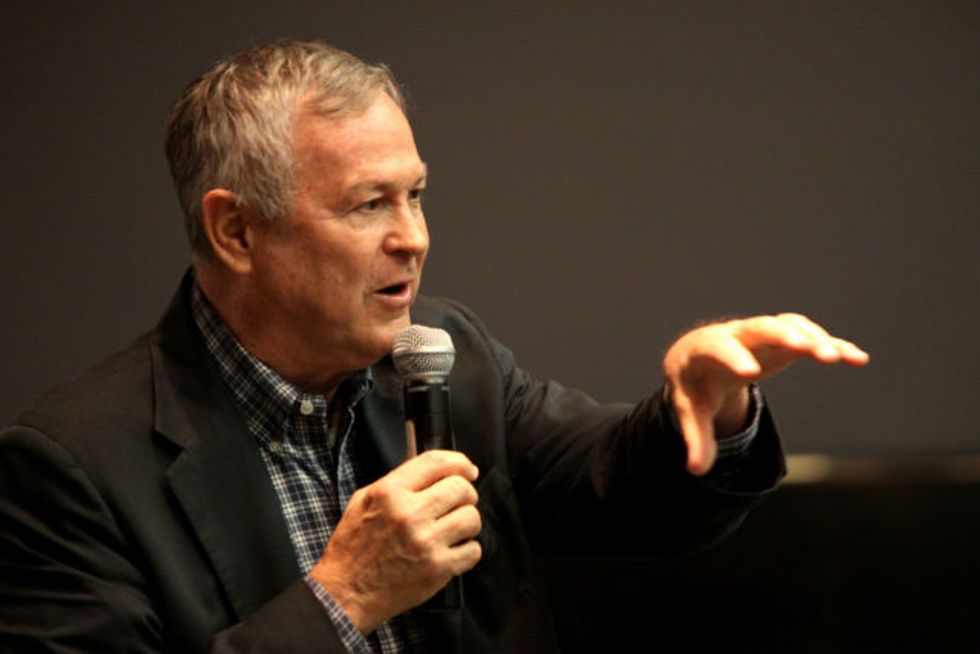 Reprinted with permission from Shareblue.
Rep. Dana Rohrabacher (R-CA) is known for his zealous allegiance to Russia. It's even earned him the nickname "Putin's favorite congressman." True to form, he went to bat for Russia again this week, parroting a favorite conspiracy theory of Trump's — and Vladimir Putin's — when confronted about Russian spy Mariia Butina, recently indicted for conspiracy to act as an agent of a foreign government.
We now know Rohrabacher met with Butina, but before he would admit to that, he "dismissed the Butina charges as a function of the 'deep state,' a term used by President Trump to deride law enforcement officials as conspirators in a plot to undermine him," reports Politico.
Rohrabacher went even further, speculating — with no evidence — that the arrest was meant to hurt Trump's attempts to grow closer to Russian dictator Vladimir Putin.
"This is an attempt to undermine the president's ability to have better relationships with Russia," Rohrabacher said.
When first asked if he was the congressman mentioned in the indictment who met with Butina, Rohrabacher told Politico he wasn't sure. His office later confirmed to the OC Register that Rohrabacher was, indeed, the congressman mentioned in the indictment.
According to the OC Register, "The indictment states that as part of that plot, Butina had discussions with a Russian official — reported to be Alexander Torshin, an influential deputy governor of the Russian central bank — about his plans to 'meet with a U.S. Congressman during a Congressional Delegation trip to Moscow in August 2015.'" The meeting actually took place in St. Petersburg.
In lashing out to Politico, Rohrabacher said of the indictment, "It's ridiculous. It's stupid."
He tried to downplay Butina's stature, a tactic Trump also used when a high-profile campaign aide was indicted by special counsel Robert Mueller. (Former Trump campaign adviser George Papadopoulos became a mere "coffee boy.")
"She's the assistant of some guy who is the head of the bank and is a member of their Parliament. That's what we call a spy?" Rohrabacher told Politico. "That shows you how bogus this whole thing is."
However, the indictment lays out damning evidence against her. Butina, 29, posed as a recent college graduate interested in gun rights, Trump, and improving U.S.-Russia relations. According to the New York Times:
But it was all a ruse, federal prosecutors say, a cover for Ms. Butina to advance Russia's agenda within the Republican Party. For three years, they said, she was part of a low-cost, low-risk influence operation that was run by the senior Russian official, Alexander Torshin, and was assisted by an unnamed American operative with Republican ties. She is also said to have gotten help from the National Rifle Association, which repeatedly brought Ms. Butina from her native Russia to the United States for events until she obtained a student visa in August 2016.
According to the indictment, Butina operated as a spy before Trump's election and afterward. "A month before the 2016 presidential election, prosecutors stated, the two discussed whether Ms. Butina should volunteer to serve as an election observer, but they decided it was too risky," reports the New York Times. After Trump's win in November 2016, Butina wrote to Torshin, "I am ready for further orders."
Court documents state Butina allegedly was in contact with officials "believed to be Russian intelligence operatives" and was likely in contact with Russian FSB, Russia's spy agency.
Rohrabacher's use of the phrase "deep state" to attack Butina's indictment is eerily similar to language preferred by Putin himself. A senior U.S. official told the Washington Post, "The Russian president complains to Trump about 'fake news' and laments that the U.S. foreign policy establishment — the 'deep state,' in Putin's words — is conspiring against them."
"'It's not us,' Putin has told Trump …. 'It's the subordinates fighting against our friendship,'" the official told the Post.
This incident is the latest example of Rohrabacher's long and troubling habit of being embroiled in Russian scandals.
Earlier in the week, Rohrabacher defended Russian criminal activity during the 2016 election, saying, "We can't blame Putin."
Rohrabacher's campaign hosted Russian lawyer Natalia Veselnitskaya at "a black-tie inaugural party." The party was one of many events involving prominent Russians around Trump's inauguration that "caught the attention of counterintelligence officials at the FBI," according to the Washington Post.
When Russia illegally occupied and annexed Crimea, a part of Ukraine, Rohrabacher defended Putin in Congress. And after voting against Russian sanctions for their activities, Rohrabacher complained that he did not receive any thanks from Russia.
"I kind of wish I would get some sort of word back," Rohrabacher, whined to the New York Times. "But I haven't even gotten so much as a thank you."
Top Trump campaign official Rick Gates pleaded guilty to lying to the FBI about a 2013 meeting between Rohrabacher and former Trump campaign chair Paul Manafort. The incident was uncovered during special counsel Robert Mueller's investigation into links between the Trump campaign and Russia.
Erik Prince, a Trump confidant who was interviewed by Mueller for questionable ties to Russia, hosted a glitzy campaign fundraiser for Rohrabacher.
After the 2016 election, Rohrabacher's zeal to defend Russia went so far that he called U.S. intelligence agencies "liars" for claiming Russia was behind the hacking and theft of information from Democratic operatives. Even after 12 Russian agents were indicted by Mueller for their role in these crimes, Rohrabacher has thus far refused to apologize for his past accusations.
And now, when the United States Department of Justice arrests a Russian spy for spending years conspiring against U.S. interests, Rohrabacher calls it "stupid" and blames a made-up conspiracy of "deep state" actors.
From the looks of it, Rohrabacher is working overtime to earn his nickname: "Putin's favorite congressman."