Republican Brushes Off White House Approval Of 'Serious' Security Risks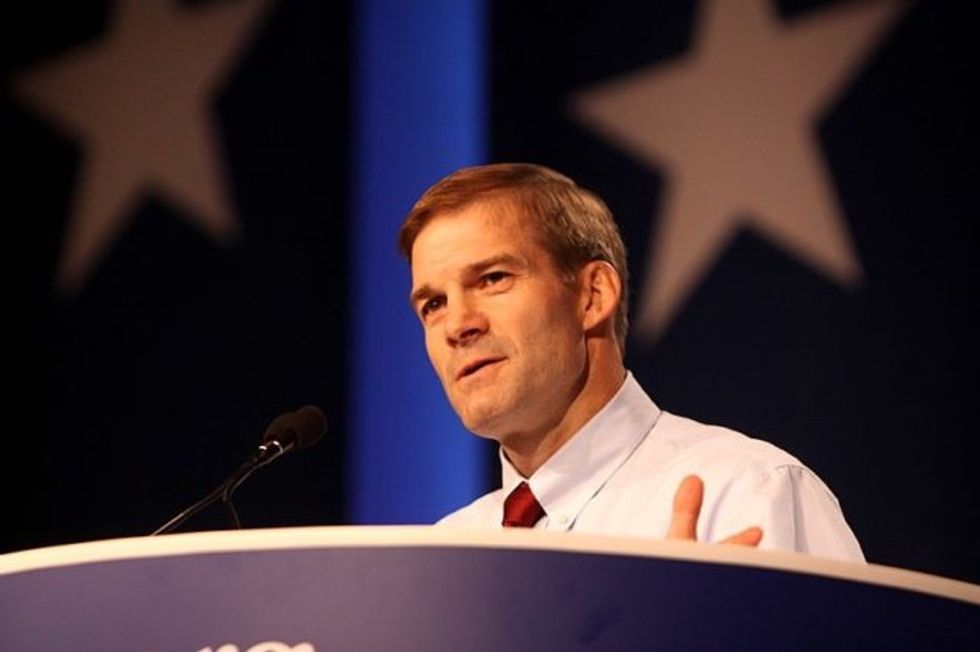 When it comes to safeguarding national security at Trump's White House, Rep. Jim Jordan (R-OH) seems content if a handful of very serious security risks obtain security clearance at the White House.
On Monday morning, Rep. Elijah Cummings (D-MD), chair of the House Oversight Committee, revealed allegations from a White House whistleblower who said at least 25 individuals received security clearance despite disqualifying issues involving foreign influence, conflicts of interest, financial problems, drug use, and criminal conduct.
The whistleblower, Tricia Newbold, is an 18-year veteran of both Republican and Democratic administrations who reached out to Congress in order to "address the national security risks she has been witnessing over the past two years."
Jordan, the committee's ranking Republican, isn't disputing Newbold's allegations. In a nine-page memo released by the Republican committee staff Monday afternoon, he whines about behind-the-scenes process issues, but says he takes the "allegations at face value," despite not being able to independently verify them.
Nonetheless, Jordan seems to be trying to shrug off the allegations as much ado about nothing.
"Ms. Newbold testified that only 4-5 of her unfavorable 25 adjudications were for 'very serious reasons,'" Jordan says. Out of 5,000 applications, Jordan seems to say granting security clearance to four or five people who shouldn't have it isn't that big a deal. Since "only" five of her very serious concerns were overruled, "Ms. Newbold's concerns seem overblown," he concludes.
It's a dramatic change for the party that was obsessed with national security risks, real or imagined, in 2016. Trump and his fellow Republicans relentlessly claimed that Hillary Clinton did not take national security protocols seriously enough and was therefore unfit to be president.
Now, however, stories continue to emerge that Trump and his administration are deliberately ignoring national security risks. Prior to Newbold coming forward, it was reported that Trump personally approved security clearance for his daughter Ivanka Trump and his son-in-law, Jared Kushner, overruling the advice of intelligence agencies like the CIA.
And the Republican response to the White House entrusting national security secrets to people who for "very serious reasons" should not have them, is to call the threat "overblown."
Trump has demonstrated a pattern of disregarding and even openly disrespecting the advice and information from the U.S. intelligence community. He has publicly undermined its conclusions about Russian interference in the 2016 election, saying on several occasions that he believes Russia's denials instead.
Now an alarming pattern is emerging of Trump's White House repeatedly choosing to share the country's most sensitive information with people who are deemed a risk to national security. Instead of demanding explanations and accountability, congressional Republicans are once again making it clear they don't care.
Published with permission of The American Independent.
IMAGE: Rep. Jim Jordan (R-OH), ranking Republican on the House Oversight Committee.