Republican Walker Gains In Wisconsin, Brownback Struggles In Kansas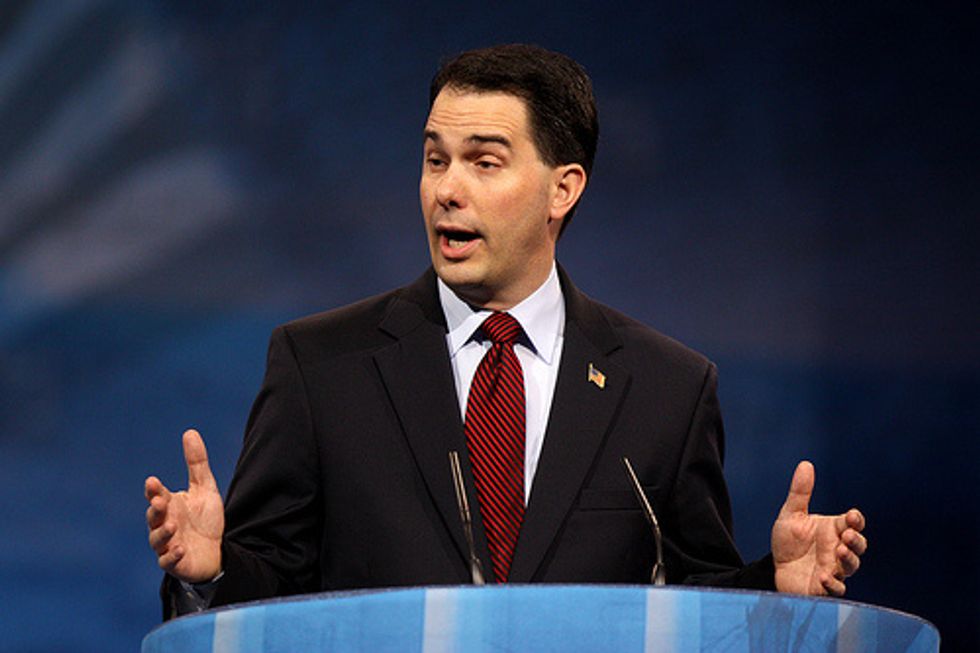 By David Lauter, Los Angeles Times
WASHINGTON — New polls have clarified the status of some of the nation's most competitive races for governor, with Republican Gov. Scott Walker apparently gaining ground in Wisconsin and another prominent conservative Republican, Gov. Sam Brownback, receiving more bad news in Kansas.
The battle for control of the U.S. Senate has received the lion's share of attention in this election year, but races for governor will also provide clues about the national political mood as well as pointers for the coming presidential election.
A loss by Brownback, for example, would be widely interpreted as an indication that he tried to move the state too far to the right, even for deeply Republican Kansas. A win by Walker, however, would indicate that his policies have gained support in a state that leans to the Democrats — at least in presidential years — and would bolster his hopes of running for the Republican presidential nomination.
The latest Wisconsin survey by Marquette Law School, the state's leading poll, found Walker ahead of his Democratic opponent, Mary Burke, 50 to 45 percent among likely voters. Last month, the poll found Walker leading by 3 percentage points among likely voters, and Burke led during the summer.
The two candidates were virtually tied among all registered voters. The gap reflects the big challenge Democrats face in many states: persuading their voters to show up in a non-presidential election.
Walker leads in the survey even though voters disagree with him on several major issues, in some cases by large margins. The poll showed that a majority in the state supports raising the minimum wage, for example, and expanding the state's Medicaid program as allowed under President Obama's health care law. Walker opposes both moves.
But voters by nearly 2 to 1 see Walker as a decisive leader, the poll found, and, by 54 to 43 percent, say the state is on the right track.
The Marquette poll has a margin of error of 4 percentage points in either direction.
In Kansas, a poll for USA Today by Suffolk University found Brownback trailing his Democratic opponent Paul Davis, 46 to 42 percent. That's in line with several other recent polls that have shown Davis with a small lead.
Forty-four percent of those polled said they felt the state's economy had gotten worse in two years, 35 percent said it had stayed about the same, and only 19 percent said it had improved. Democrats have alleged that cuts in taxes and state services pushed by Brownback went too far and have harmed the state.
The poll also showed longtime Sen. Pat Roberts trailing independent candidate Greg Orman in the state's hotly contested Senate race. Orman drew 46 percent to Roberts' 41 percent. Asked for the first word or phrase that came to mind when they heard Roberts' name, the most frequent responses were "in office too long" or "needs to retire," mentioned by 16 percent of those polled, and "old" or "elderly," mentioned by 9 percent.
The Suffolk/USA Today poll also has a margin of error of 4 percentage points in either direction.
Several other contests for governor remain in the coin toss category, including races in Arizona, Colorado, Illinois, Connecticut, Massachusetts, Florida and Maine, where the presence of an independent candidate, Eliot Cutler, has impeded Democrat Mike Michaud's efforts to unseat Republican Paul LePage. Cutler's fortunes have faded in recent polls, giving Michaud a slightly larger edge in a race that remains too close to call.
Photo: Gage Skidmore via Flickr