Republicans Say Obama Shows Weakness, Syria Strategy A 'Mess'
@reuters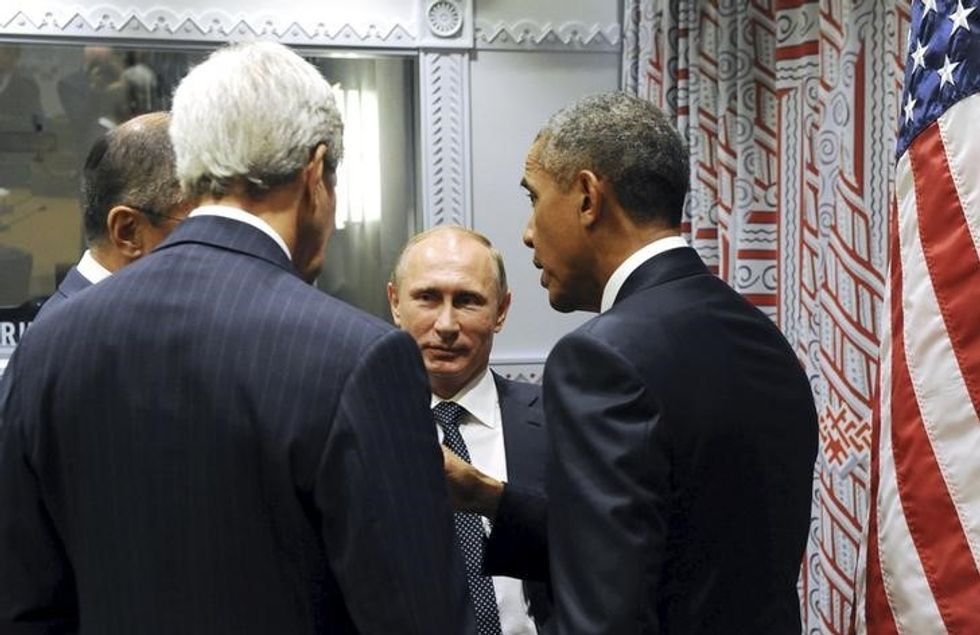 By Will Dunham
WASHINGTON (Reuters) – Republican presidential candidates accused President Barack Obama on Sunday of showing weakness in U.S. policy in Syria, doubting that his small deployment of special operations troops will make much difference without a coherent broader strategy.
"I don't have a problem with the tactics of it. And the numbers might even have to be larger at some point," Florida Senator Marco Rubio said of the Obama administration's disclosure on Friday of the deployment of fewer than 50 special operations troops on the ground in northern Syria in the coming weeks.
"I think the broader issue is: what is the strategy?" Rubio said on the CBS program "Face the Nation."
The announcement marked a reversal of Obama's vow not to send U.S. ground troops into Syria's civil war, raging since 2011.
South Carolina Senator Lindsey Graham called Obama's move "a failure on all fronts," saying American special forces are heading "into a very bad spot with no chance of winning."
"What we're about to accomplish is to turn Syria over to Russia and Iran, and to make sure that we never destroy ISIL on Obama's watch, and pass this mess on to the next president," Graham said on the "Fox News Sunday" program, referring to the Islamic State, also called ISIS.
Obama's term ends in January 2017.
"Sending 50 American special forces into Syria in the eyes of ISIL shows that Obama is not 'all in,' it is a sign of weakness to ISIL," Graham added. "They have sized Obama up, and they think he's weak."
Former Florida Governor Jeb Bush, appearing on NBC's "Meet the Press," said he was troubled with Obama's "incrementalism" in Syria.
Bush applauded Obama for deciding to deploy special forces. "But we can't get into a quagmire. There should be a real strategy to take out ISIS and to take out Assad," Bush added, referring to Syrian President Bashar al-Assad.
Former Hewlett Packard chief executive Carly Fiorina said she also is glad Obama is sending special forces.
"On the other hand, it's also too little too late. I think this is a reflection of the reality that when America does not act, when we do not lead as we have not the last three years under this president, our options become very constrained and the situation becomes more dangerous," Fiorina told "Fox News Sunday."
(Reporting by Will Dunham; editing by Ralph Boulton)
Russia's President Vladimir Putin (2nd R), Foreign Minister Sergei Lavrov (L, back), U.S. President Barack Obama (R) and U.S. Secretary of State John Kerry attend a meeting on the sidelines of the United Nations General Assembly in New York, September 28, 2015. REUTERS/Mikhail Klimentyev/RIA Novosti/Kremlin