Republicans Seek To Expose Ukraine Whistleblower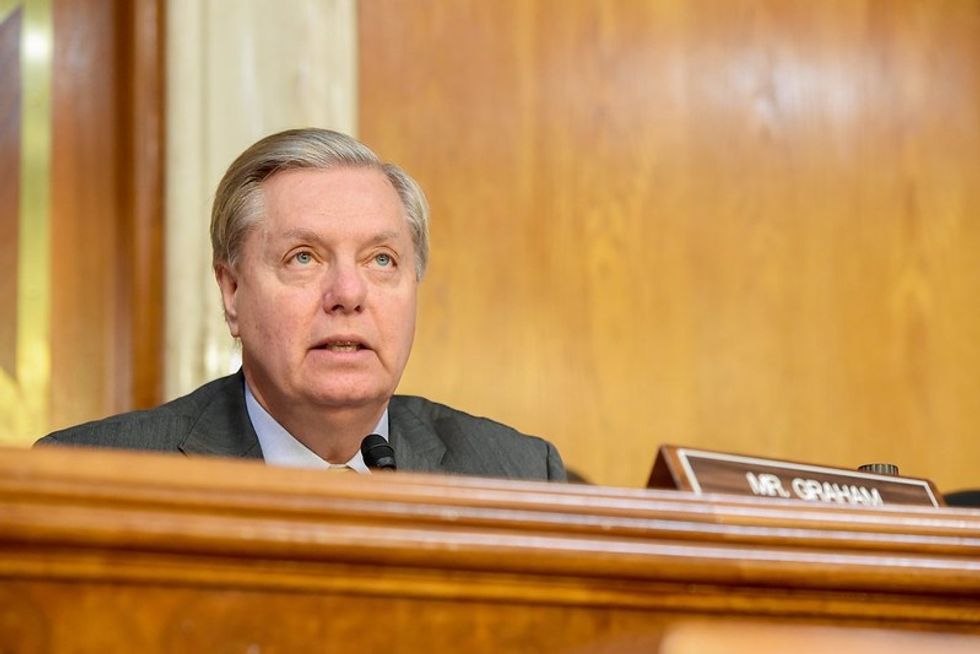 Sen. Lindsey Graham (R-SC) believes there is nothing wrong in calling for anonymous whistleblowers to be outed, even if it imperils their safety.
The South Carolina lawmaker instead told reporters on Tuesday that outing that person's identity would be "very responsible."
"The whole idea that you would use an anonymous person to generate an impeachment inquiry is dangerous to the presidency itself," Graham told reporters on Tuesday, according to NBC News.
Nothing the whistleblower did was against the law. There is, by contrast, a law in place protecting whistleblowers like the one who flagged Trump's July 25 phone call with Ukrainian President Volodymyr Zelensky, as Congress thought it was important for misdeeds in public life to be exposed and for people who witnessed those misdeeds to be shielded from retaliation or harm if they exposed it.
Graham's comments come one day after Sen. Rand Paul (R-KY) told a crowd at a rally in his home state Monday night that the media should "print his name," referring to the whistleblower.
Trump himself has, in recent days, escalated his rhetoric against the whistleblower, whose complaint led to the impeachment inquiry that threatens Trump's presidency, saying someone should out the whistleblower's identity.
Other Republicans have joined Trump in that quest, with some right-wing media outlets even going so far as to publish reports that supposedly include the person's identity. As the Wall Street Journal noted, those outlets have mostly lacked "any direct confirmation to show they have definitively learned the whistleblower's identity."
Outing the identity of the whistleblower could imperil his or her safety, and could discourage future whistleblowers to come forward for fear of undergoing attacks from Trump and his Republican defenders.
Much of the behavior detailed in the whistleblower's complaint has since been corroborated by other witnesses, who have told House impeachment investigators that Trump did withhold crucial military aid to Ukraine in order to force the country to investigate his Democratic rival, Joe Biden.
Trump's own acting chief of staff, Mick Mulvaney, admitted on live television last month that there was a quid pro quo deal, and multiple witnesses have testified under oath that the quid pro quo existed. Mulvaney has since tried to walk back those comments.
Graham on Tuesday said he had not read the transcripts from those officials who testified of the existence of a quid pro quo.
"I didn't read them," he said, according to NBC News. "I don't care what people think about the phone call, I've made up my own mind."
Trump, for his part, has claimed that the partial transcript of his call with Zelensky exonerates him, and shows that there was no quid pro quo arrangement.
At Monday night's rally in Kentucky, rows of Trump supporters were seen wearing tee-shirts emblazoned with the phrase "Read the transcript," a reference to that call.
Published with permission of The American Independent.