Republicans Stealing Supreme Court Seat By Revoking Filibuster Does Not Quite Blow Up The Senate—Yet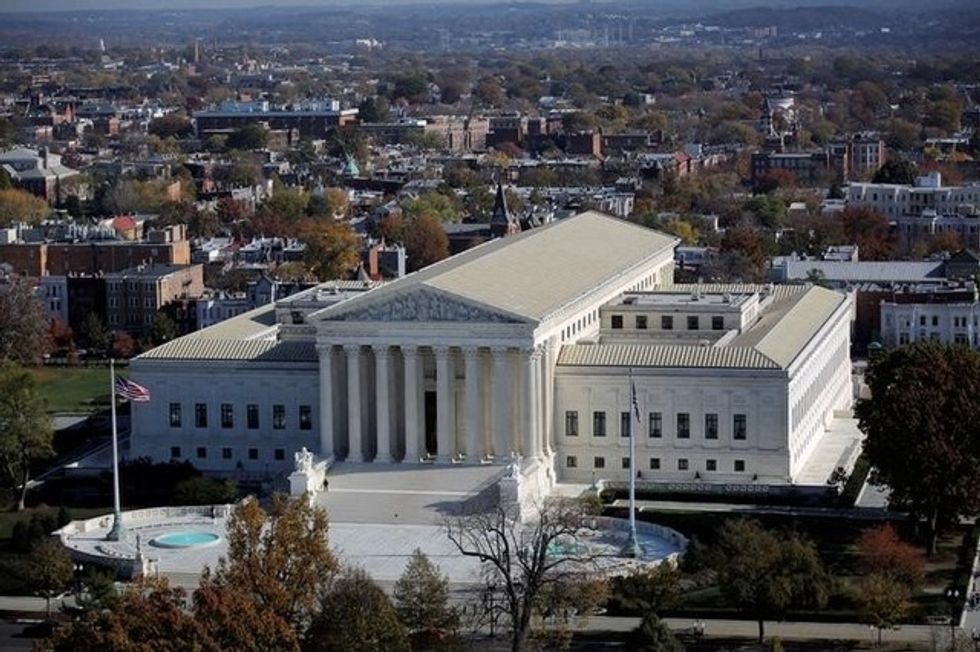 Reprinted with permission from Alternet.
This week, Senate Republicans, with a 52-seat majority, are expected to ram through a stolen Supreme Court appointment. Many Americans have feared this dire event. But it does not quite amount to "blowing up" the Senate, as some pundits and senators are saying. Blowing up the Senate would be ending the filibuster—in which 60 votes are needed to end debate and hold a vote—not just for Supreme Court confirmations, but for all legislation before it. That hasn't happened yet, although it's a possibility in today's Washington.
"If they get rid of the filibuster for ordinary legislation that would undoubtedly transform the Senate. But getting rid of the filibuster for the Supreme Court nomination doesn't blow up the Senate," said Sanford Levinson, a constitutional law professor at University of Texas, Austin. "It simply changes it somewhat, and if you're a Democrat you'll be very sorry. If you're a Republican, you won't be."
"But let's face facts," he continued. "If Hillary Clinton had won, and she had 51 votes in the Senate including Tim Kaine's vote [as vice president], Democrats would break the filibuster. Democrats would not stand still for the Republicans keeping Merrick Garland or whomever else Hillary Clinton nominated. And all of us would be opposing the filibuster and denouncing Republican obstructionism."
Levinson does not think the Republicans' actions will be a political nuclear explosion, as many are saying. Rather, he sees their tactics to seat Gorsuch as another step in a deepening partisan civil war that's tearing apart governing institutions. Looking at the court, he sees Gorsuch's appointment as further destroying its credibility with the public, which has been sinking since appointing George W. Bush president in 2000, he said, and has become so politicized it was a top campaign issue in 2016.
"What is so upsetting is that it is a stolen seat," Levinson said. "But it's impossible to take with a straight face any strong protestations ostensibly based on high principle because we [Democrats] do the same thing. We did it in 2013. And there's been steady escalation by each side—though I think Republicans are worse—but it's still mutual escalation. And this is just the next stage in that."
The distinctions he makes are worth noting as the Senate descends into its messy filibuster fight that began late Tuesday. The controversy over federal judgeships didn't start with this Supreme Court seat. It began in President Obama's second term, when Senate Minority Leader Mitch McConnell refused to make a deal on Obama's district and appeals court appointees. While the Supreme Court is the final arbiter of the most divisive issues, making 130 rulings annually, regional federal appellate courts make tens of thousands of rulings each year, including blocking President Trump's travel ban from seven Muslim countries, to give just one example.
In 2013, then Senate Majority Leader Harry Reid, frustrated with McConnell's refusal to negotiate, led Democrats in revoking the filibuster rule for all federal judgeships except the Supreme Court. McConnell has been getting revenge. He refused to act on more than 50 appointments by Obama to the lower courts after 2014, and for all of 2016, he blocked Obama's Supreme Court nominee, Merrick Garland, who would have tilted the court majority in a liberal direction for the first time in decades.
Then Hillary Clinton lost the White House, the GOP kept its Senate majority and Trump nominated Neil Gorsuch. Senate Democrats responded by vowing to block him using the filibuster, meaning they can perpetually stall his confirmation unless McConnell and the GOP end that rule—which is expected to happen this week.
There is no sugarcoating the fact that Gorsuch is getting a stolen seat. He will be a far-right justice for decades. He's anti-choice, anti-environmental protection, against regulating money in politics, and hostile to voting rights. But what's more worrisome to a liberal constitutional scholar like Levinson is what he says Trump and the GOP Senate will do as its followup: seat right-wingers across the federal judiciary. All they need is a simple majority in the Senate to do that—and they have it.
"Actually, the circuit [appeals] court appointments are de facto more important than the Supreme Court," Levinson said. "As everybody now realizes, that was decided in effect when the Democrats, I think correctly, broke the filibuster in 2013. So that's when that train left the station. So if we got rid of Gorsuch, that would be wonderful, but it does nothing whatsoever for preventing a Republican takeover of the lower federal judiciary."
Pundits and senators who are ruing the end of a tradition requiring bipartisan consensus on judicial appointments are correct in saying the Senate is slowly dismantling its checks and balances, which are intended to be brakes on partisan outbursts and emotional or vengeful political acts—distinguishing it from the House. They are correct that making it easier to approve judges is going to result in a more ideological judiciary, as judge appointments have become yet another spoil of winning elections.
But the Senate isn't being destroyed; it's becoming a more ideologically partisan institution. After 2020, Democrats could find themselves in the position now held by Republicans and conceivably appoint progressive judges who would never clear the filibuster threshold, Levinson said.
"I obviously don't want Neil Gorsuch on the court. I would prefer the filibuster succeed," Levinson said. "But if it doesn't succeed and he simply [is] foisted on the court, then for me that's encouraging for 2021, when I fully expect Democrats to win the presidency and, I hope, have control of the Senate. At that point, our people could appoint people I'd love to see on the court like [Stanford professor] Pam Karlan—people who would never ever get on the court if the Republicans still filibustered."
In the meantime, as the Senate showdown on Gorsuch and the judicial filibuster looms, what would blow up the Senate hasn't happened yet—revoking the filibuster for legislation. If that were the case, there would be less to stop draconian bills from being speedily passed into law. For now, that hurdle remains in place, awaiting bills like the next House Obamacare repeal.
This article was made possible by the readers and supporters of AlterNet.