Republicans Threaten To 'Shut Down The Senate' If Reid Pursues Filibuster Reform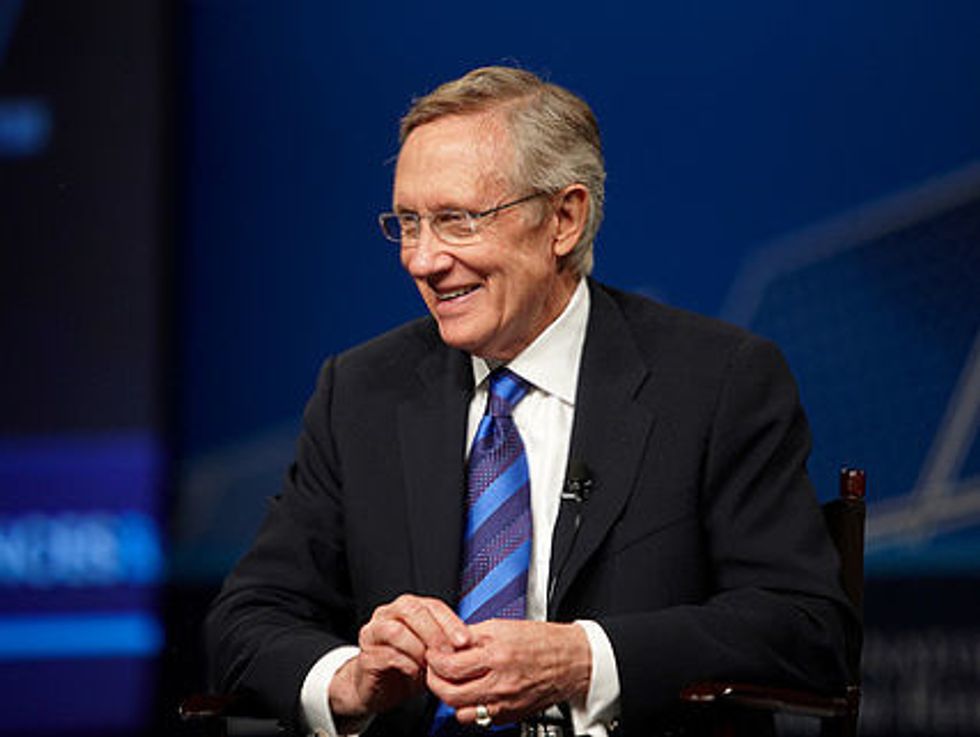 In response to Senate Majority Leader Harry Reid's plan to reform the rules governing filibusters, Senate Republicans are threatening the highly ironic revenge of "[shutting] down the Senate."
Manu Raju reports in Politicothat Reid is considering a ban on the use of filibusters on "motions to proceed," the process through which debate begins in the Senate. Reid also may reinstitute rules requiring filibustering senators to take the Senate floor and carry out a nonstop talking session (as in the famous movie Mr. Smith Goes to Washington.)
In order to change these rules, Raju reports that Reid may invoke the so-called "nuclear option," using an obscure rule to change the Senate rules with just a 51-vote majority instead of the usual two-thirds. The Republican response has been furious:
Republicans are threatening even greater retaliation if Reid uses a move rarely used by Senate majorities: changing the chamber's precedent by 51 votes, rather than the usual 67 votes it takes to overhaul the rules.

"I think the backlash will be severe," Sen. Tom Coburn (R-OK), the conservative firebrand, said sternly. "If you take away minority rights, which is what you're doing because you're an ineffective leader, you'll destroy the place. And if you destroy the place, we'll do what we have to do to fight back."

"It will shut down the Senate," the incoming Senate GOP whip, Texas Sen. John Cornyn, told POLITICO. "It's such an abuse of power."
There are two major problems with the Republican response: first, Reid's proposal would not threaten "minority rights" as Coburn asserts. Senators would still be allowed to filibuster after the debate begins, and — as long as they're willing to stay on the floor and keep talking — they would still be allowed to indefinitely delay a vote unless stopped by a 60-vote majority.
Second, threatening to "shut down the Senate" is a perfect example of why filibuster reform is needed in the first place. Since Democrats claimed their Senate majority in 2007, they have had to overcome over 380 filibusters, more than at any other point in history. As Minority Leader Mitch McConnell famously explained, Senate Republicans' only goal over the past four years has been blocking President Obama's agenda, and to do so they have brought the Senate to a near-complete standstill by requiring a 60-vote supermajority to pass any legislation.
So John Cornyn's threat that Senate Republicans will suddenly stop cooperating with Democrats and block any progress in the Senate shouldn't concern Reid very much. After all, it would be nothing he hasn't seen before.
Photo credit: UNLV Photo Services/Geri Kodey