Rodman In North Korea Next Week For 'Hoops Not Nukes' Training
@AFP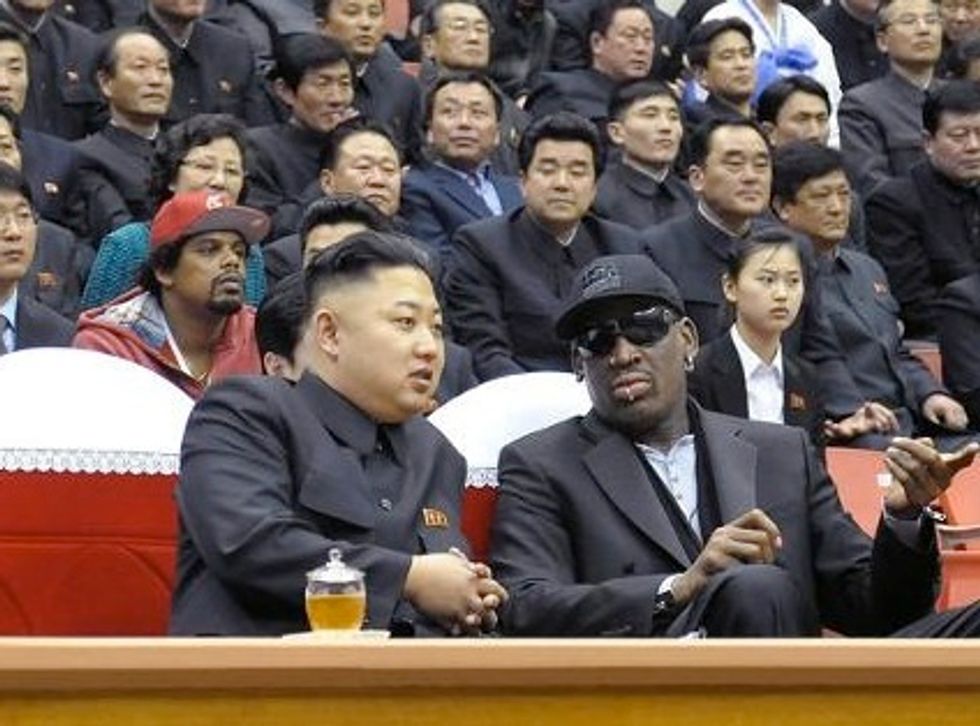 London (AFP) – Former NBA star Dennis Rodman, who has struck up a friendship with North Korean leader Kim Jong-Un, will visit the reclusive state next week to train its basketball team, sponsors said Thursday.
The eccentric former Chicago Bulls star is organising a friendship exhibition game between North Korea and a team of mainly ex-NBA players on January 8, Kim's birthday.
Sponsors Paddy Power said the December 19-23 training sessions and match are unaffected by the turbulent political events in North Korea, where Kim's uncle and former mentor Jang Song-Thaek was recently purged in a surprise move.
"Those events don't change anything for us," said Rory Scott, a spokesman for the Irish bookmakers.
"We're doing this because our customers love sport, which is the universal language.
"Let's call it 'hoops not nukes'."
Scott, who is accompanying Rodman on the trip along with a television documentary crew, said the players in the U.S. team will be announced in the coming days.
"It will be a mix of former NBA players, including a couple of legends, and some young guys," Scott said.
"Dennis is going to spend some time with the North Korean team this month before the game.
"We are all getting excited about this now."
He refused to reveal how much Rodman would be paid for his involvement.
The heavily tattooed Rodman has developed an extraordinary relationship with Kim since making his first trip to North Korea in March, when he declared the young ruler a "friend for life".
Kim, who was educated in Switzerland, is reported to be a keen basketball fan and especially of the Chicago Bulls, for whom Rodman played a key role in winning three NBA titles alongside Michael Jordan in the 1990s.
A U.S. think-tank said this month that satellite pictures showed that North Korea had stepped up its nuclear activity in line with the regime's vows to expand its weapons program.
AFP Photo