Romney Doesn't See Link Between College And Economic Growth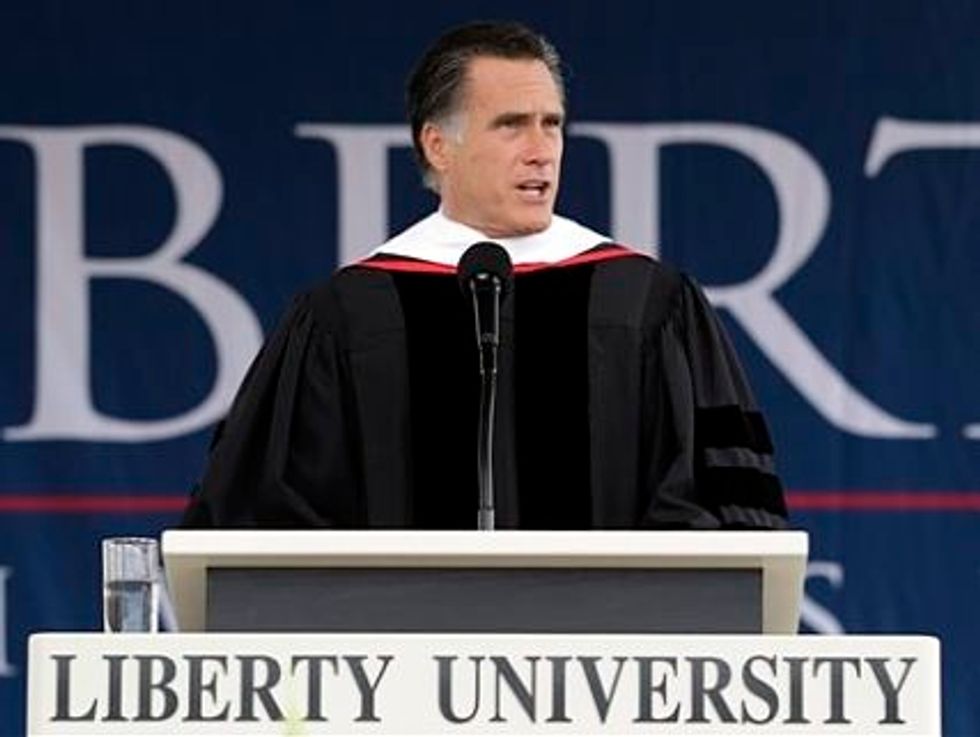 It's that long-anticipated season for college seniors and their families.
Having completed four — or five or six — years of studies, students will don caps and gowns, march into an assembly and listen to a speaker exhort them to go forth and change the world. Then, having received that magical document, they will proceed to confront the mountain of debt they have amassed.
Some grads are luckier, of course. They were born to affluent families who can easily afford the cost of a college degree, even at the nation's pricier institutions.
Most graduates, however, didn't draw the lucky numbers in the birth lottery. Even if their parents were hardworking and thrifty members of the middle class, they probably couldn't sock away enough to cover the ever-escalating cost of a college diploma. That's doubly true if there are three or four kids to send.
According to a lengthy recent report in The New York Times, 94 percent of students who earn a bachelor's degree borrow money to pursue higher education. That's up from 45 percent in 1993, the Times said.
The money now owed from college loans — more than a trillion dollars, by most estimates — has rekindled intertwining debates over the reasons for skyrocketing college costs and whether the diploma is worth its prodigious price tag. The first question, one I've asked many college presidents over the years, is worth serious study — perhaps research by a budding young economist with her eye on the Nobel Prize.
However, the second question has already been answered many, many times: A college degree is worthwhile not only for its individual recipient but also for his or her community. The only real mystery is this: Why do so many politicians seem unaware of that?
As America confronts not only the lingering effects of the Great Recession but also a structural economic shift brought on by global forces, most economists and public policy experts agree that the country must have a better-educated work force to preserve its economic hegemony. Many Americans understand that we have lost manufacturing jobs to poor nations with cheap labor, but do they also understand that we are losing creative capacity to emerging powers such as China and South Korea, which have heavily invested in education?
One of the reasons that college students are so heavily indebted is that states have relentlessly cut the support they have provided to public colleges and universities. As college costs have increased, that gap has produced a bigger and bigger hole, which schools have leaned on students to fill.
Why haven't parents and teachers and students demanded more affordable college educations? Why does the public hold politicians responsible for gasoline prices but not for the high cost of college?
President Obama has stressed the need to raise the nation's college completion rates and to provide more federal assistance to pay the costs. But Mitt Romney, his likely opponent, has taken a very different tack. While attacking the president for the rise in college costs, Romney has also implicitly criticized students who leave college burdened with a staggering debt load.
Last month, he advised students to "shop around. … Don't just go to the (college) that has the highest price, go to one that has a little lower price where you can get a good education, and hopefully you'll find that and don't take on too much debt and don't expect the government to forgive the debt that you take on."
The lack of empathy was staggering coming from a man with a wealthy father who could well afford to send him to tony schools. But Romney also completely misunderstands the connection between college and economic growth: The degree doesn't just aid the recipient; it also benefits the entire country, which can draw on a larger pool of highly educated labor.
Once upon a time, the nation's leaders understood that connection. That's why they supported a generous GI bill for veterans returning from World War II. That college aid educated my father and millions of others, helping to create a growing middle class. How did we forget that?

(Cynthia Tucker, winner of the 2007 Pulitzer Prize for commentary, is a visiting professor at the University of Georgia. She can be reached at cynthia@cynthiatucker.com.)