Romney To Republicans: Learn From My Mistakes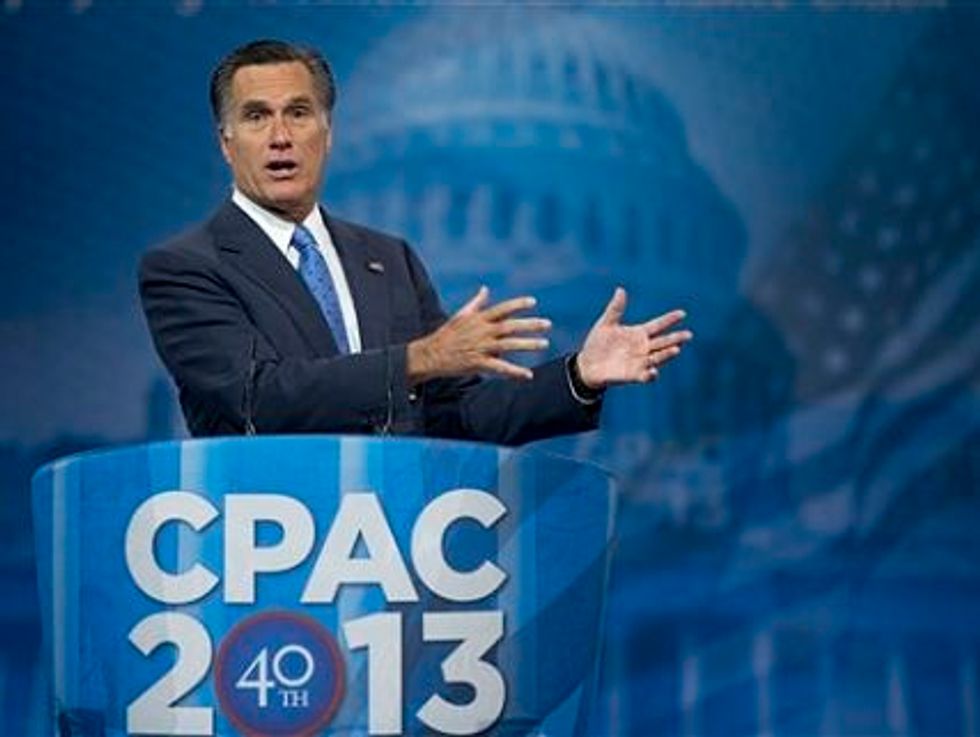 Former presidential candidate Mitt Romney returned to the political spotlight Friday, earning a standing ovation for his speech to the Conservative Political Action Conference (CPAC). During his speech, the first he's given since the November election, Romney urged his party to learn from his mistakes, and to follow new leaders such as Wisconsin representative Paul Ryan and New Jersey governor Chris Christie.
The address was largely a throwback to the 2012 presidential campaign. After being introduced by South Carolina governor Nikki Haley — who, in a move reminiscent of the Republican National Convention in Tampa, mostly focused on her own accomplishments instead of Romney's — the former governor of Massachusetts entered to his old campaign theme song, Kid Rock's "Born Free." Romney then went on to deliver a modified version of his stump speech, brimming with American exceptionalism and full of stories about inspirational Americans Romney met on the trail (including, notably, his billoinaire bundler, Harold Hamm.)
Romney did take some time to look toward the party's future, however.
"Of course, I left the race disappointed that we didn't win," Romney told the crowd of conservative activists. "We've lost races before, and in the past, those setbacks prepared us for larger victories. It is up to us to make sure that we learn from my mistakes, and from our mistakes, so that we can win the victories those people and this nation depend upon."
Romney then urged his party to follow the lead of America's 30 Republican governors, noting "We particularly need to hear from the governors of the blue and purple states, like Bob McDonnell, Scott Walker, John Kasich, Susanna Martinez, Chris Christie, and Brian Sandoval, because their states are among those we must win to take the Senate and the White House." That advice may not have sat well with the organizers of the conference, who did not invite Christie or McDonnell due to their perceived betrayals of conservative principles.
Romney also gave a shoutout to his former running mate, saying "I may be a little biased, but I applaud the clear and convincing voice of my friend, Paul Ryan." For his part, Ryan declined to mention Romney's name during his speech to the conference earlier in the day.
One specific omission differentiated Romney's address from his stump speech, and most of the other speeches at CPAC: On Friday, Romney did not utter the word "Obamacare" a single time.
Romney's speech marked the most high-profile and warmly received event in a rocky post-election period. After being blown out in the electoral college, Romney reprised his infamous "47 percent" remarks by claiming that President Obama only secured re-election by lavishing "gifts" on minority voters; his comments were so toxic that disowning them became something of a litmus test for prospective 2016 presidential candidates.
Although Romney received extended applause from the activists in the crowd, some of his fellow CPAC speakers have not been as kind to the failed presidential candidate. Texas governor Rick Perry, for example, took a clear jab at Romney on Thursday, when he countered the theory that the last two presidential elections reflect a leftward shift in the country by musing, "That might be true if Republicans had actually nominated conservative candidates in 2008 and 2012."
Although CPAC may seem like an odd venue for Romney, who once famously declared that his "views are progressive," some of his signature moments have come at the conservative gathering. Romney finished either first or second in every CPAC straw poll from 2007 through 2012, cementing his status as a top-tier presidential candidate. Additionally, Romney chose CPAC as the venue to end his 2008 presidential campaign — delivering a speech that was well-received by Republicans, and helped set the table for his 2012 run — and at last year's CPAC, Romney famously tried to Etch-a-Sketch away his past positions by claiming that he was a "severely conservative" governor of Massachusetts.
Other CPAC speakers on Friday include House Majority Leader Eric Cantor and Louisiana governor Bobby Jindal; you can watch live streaming coverage of their speeches, and the rest of the conference, below:
AP Photo/Manuel Balce Ceneta