Romney's New Hampshire Fortress Holds Strong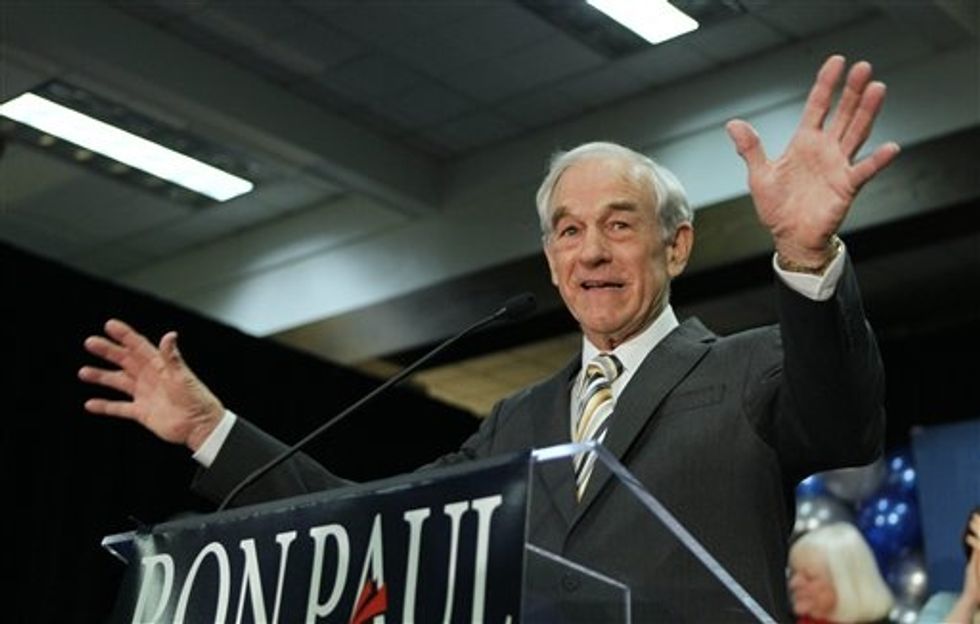 Republican presidential frontrunner Mitt Romney won a convincing victory in the New Hampshire primary Tuesday night, making him the first GOP candidate to win both there and in the Iowa caucuses and sending him on to South Carolina's primary with the wind at his back — and conservatives who oppose him lacking an obvious alternative around whom to coalesce.
Speaking in Manchester before a raucous crowd of screaming fans that frequently broke out into chants of "Mitt, Mitt, Mitt," Romney promised to take the fight to Barack Obama by drawing a sharp ideological contrast on the size and role of American government.
"Make no mistake, in this campaign, I will offer the American ideals of economic freedom a clear and unapologetic defense. Our campaign is about more than replacing a President; it is about saving the soul of America."
As of press time, well over 90 percent of precincts were in, giving Romney 39 percent of the vote and runner-up Ron Paul around 23 percent. Jon Huntsman followed at 17 percent and both Newt Gingrich and Rick Santorum captured just over 9 percent of primary voters.
If it wasn't already clear the 2012 contest would be perhaps the most ideological presidential election in decades, Romney's invectives against the welfare state and the liberal impulse to make government a force for good erased all doubt.
"This election is a choice between two very different destinies….The path I lay out is not one paved with ever increasing government checks and cradle-to-grave assurances that government will always be the solution. If this election is a bidding war for who can promise more benefits, then I'm not your President. You have that President today."
This represents Romney's second try in New Hampshire, where he built a large organization and early polling lead four years ago only to be eclipsed by adopted favorite son and eventual GOP nominee John McCain. Then, as now, the conservative movement was divided between several candidates, allowing a relative moderate to win with plurality support.
"There's still not a conservative challenger here," said Ed Rollins, the Republican strategist who managed Ronald Reagan's successful 1984 re-election bid and briefly helmed Michele Bachmann's abortive presidential campaign this cycle. "The real measurement tonight is the three most conservative candidates came fourth, fifth, and sixth. Paul and Huntsman are not going to be the conservative challenger. If one of these bottom three don't move to a point where they get to be contenders, then South Carolina is sort of the last battleground."
The Palmetto state, though, is known as a brutal proving ground, McCain having fallen victim during his first run in 2000 to a racial smear campaign about an illegitimate child (the child, in fact, was adopted). The "jihad" as NBC's Tom Brokaw referred to it on the air Tuesday night could leave Romney (or any other Republican who survives) so bloodied they fail to present an attractive alternative to the president in November.
One of Newt Gingrich's biggest backers, conservative Newsmax publisher Chris Ruddy (who bought ad time for a 30-minute pro-Gingrich documentary in Iowa), said the former Speaker's vote count was "disappointing" and that he was "seriously wounded" going forward. His take could discourage Republican fundraisers who were considering adding to the anti-Romney onslaught in South Carolina by donating millions more to a pro-Newt Super PAC.
No candidates bowed out of the race Tuesday night, however, suggesting none are convinced the party has settled on Romney as its nominee.
"There's no wise men that sit on top of the RNC buildings," added Rollins. "I think it's personal: Gingrich feels Romney went beyond the pale [with his Super PAC attack ads in Iowa]."