Is Ron Paul Selling Out To Mitt Romney — Already?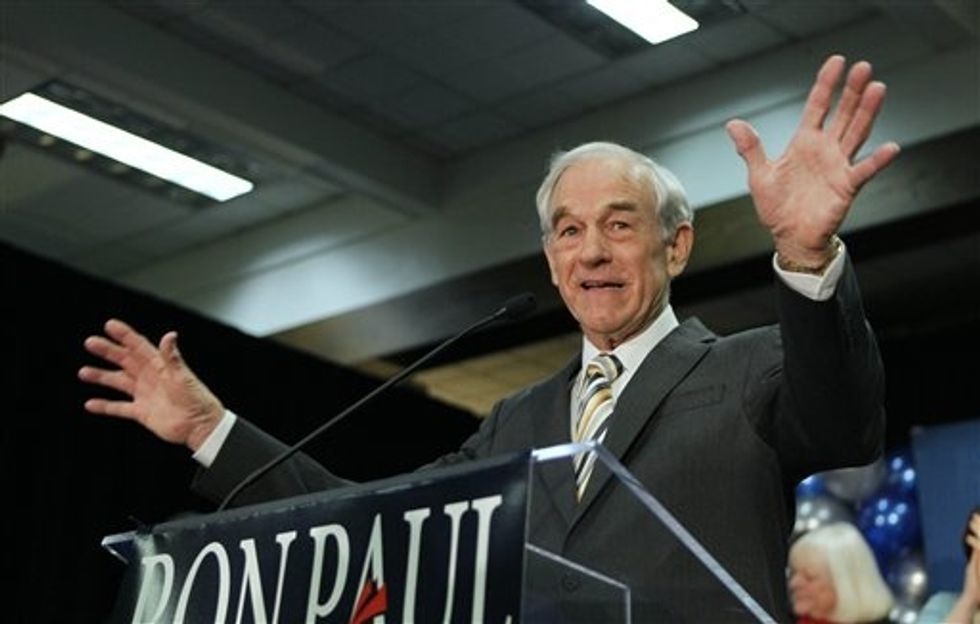 Watching Ron Paul and Mitt Romney campaign for president, they would seem to be polar opposites in their perspectives on critical issues, from economic policy to foreign affairs. Romney has never suggested anything as radical as abolishing the Federal Reserve system or returning the nation's currency to the gold standard (and as a conventional capitalist, he never will).
The ideological chasm between them may be even deeper on national security and foreign relations. To Romney, Paul's opposition to war and promises to slash defense spending represent left-wing apostasy, while his neoconservative advisers and bellicose rhetoric must be equally appalling to the Texan.
Yet close observers of both now agree that these two very different candidates are covertly allied against Newt Gingrich and Rick Santorum, the surviving insurgents. For Romney the benefit of courting Paul's energetic followers is obvious, but what is in this deal for the Paul himself? Perhaps nothing more substantial than a convention speech – for Ron Paul or for his equally eccentric son, Kentucky Senator Rand Paul, who may already be dreaming of a presidential bid in 2016.
According to the Washington Post, the "strategic partnership" between Romney and Paul has ensured that the candidates "never" attack each other despite their profound disagreements, even as they and their campaigns have savaged every other Republican hopeful. A Romney adviser told the Post that the former Massachusetts governor's aides are "quietly in touch with Ron Paul" and working closely with him. "The two campaigns have coordinated on minor things, the adviser said — even small details, such as staggering the timing of each candidate's appearance on television the night of the New Hampshire primary for maximum effect."
Sources close to Romney said that Paul's continued presence is seen within the front-runner's campaign as beneficial, not only because he divides the opposition but because he attracts and mobilizes fresh voting constituencies for the Republican Party. Such considerations are especially important because the party's Tea Party bloc seems demoralized by the prospect of a Romney candidacy.
As for Paul, one of his advisers anonymously confirmed to the Post that he is angling for a "presence at the convention," namely primetime speaking slots for him and his son. What about policy issues? The same adviser said that if Romney eventually vows to "reform" the Fed and "tackle deficit reduction," that will be enough to "appease" Paul and his supporters. (While quarreling with a few details, Brian Doherty, author of a forthcoming book titled Ron Paul's Revolution and a reporter for the libertarian Reason magazine, confirms the fundamental accuracy of the Post article.)
Leaving aside the problem of Romney's political veracity – has he adopted or abandoned any position for any reason except political expediency? – it is hard to imagine that cheap offers from the presumptive nominee will pacify the "Ron Paul revolution," as the campaign calls itself.
To the limited extent that Romney and Paul agree, it is in their attitude about the harsh effects of capitalism unbound, sharing the cold conviction that those who fail to prosper are on their own. Certainly neither of them is much "concerned about the very poor," as Romney clumsily remarked on Wednesday. The political currents from which both men sprang are not so far apart. Although Romney's father George was a moderate Republican, the Church of Latter Day Saints has long been associated with right-wing extremism – and in particular the John Birch Society, which established a close relationship with Paul that persists today.
But Romney is unreliable on every issue where Paul is consistent. So would a libertarian who believes that Medicare violates the Constitution, as Paul has suggested many times, entrust freedom's fate to the author of "Romneycare"? And would a Pentagon critic who has condemned American sanctions against Iran, as Paul has so often done, support the instrument of the same neoconservative faction that led the United States to invade Iraq on false pretenses?
Evidently the answer is that Ron Paul would, for nothing more than a few moments on the convention dais and a few promises that will never be fulfilled. Between now and September, we may see whether such feeble compromises will satisfy or infuriate the young activists who have rallied behind the avuncular doctor's "revolution."