Rubio Is On The Comeback Trail In Nascent Presidential Campaign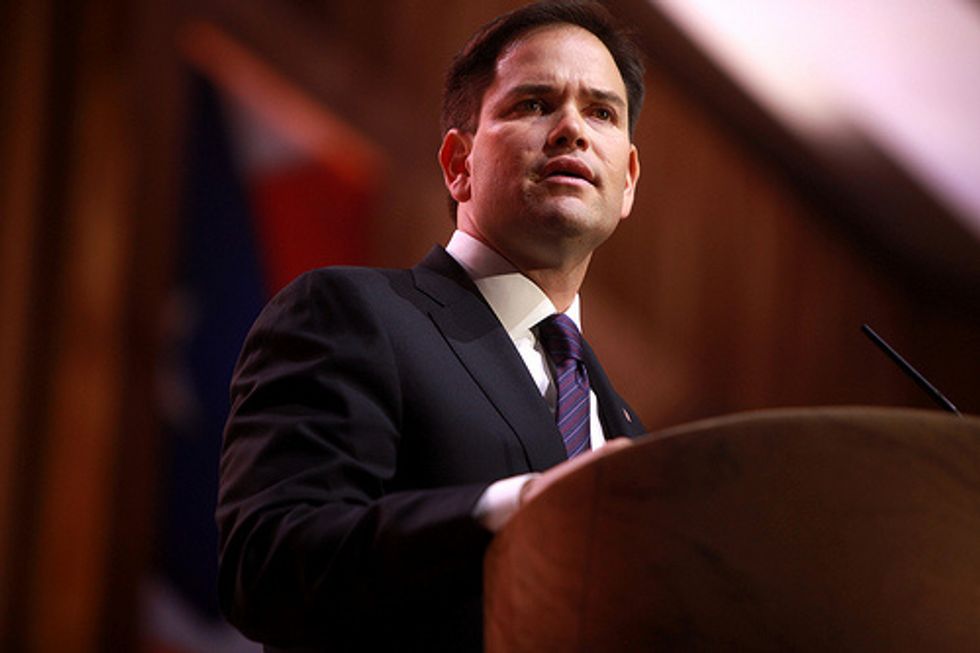 By David Lightman, McClatchy Washington Bureau (TNS)
WASHINGTON — Marco Rubio is hot again.
The junior senator from Florida is in the midst of a comeback, helped by a stand against easing relations with Cuba, some savvy campaigning in Iowa and a meeting that impressed wealthy donors.
He still faces a daunting path to the White House. Voters in his own state would rather he seek a second Senate term in 2016. He's no longer the only young Republican star in the field. And he continues to come under fire for a shift on immigration, particularly from the Latino community that Republicans want to attract.
Rubio seems unbothered by all this as he inches back to being one of the post-baby-boomer political stars, a status given him when he came to Washington four years ago. Political guru Karl Rove called him "the best communicator since Ronald Reagan." By February 2013, Rubio was on Time magazine's cover, hailed as "The Republican Savior."
Days later, Rubio's awkward lunge for a water bottle during a State of the Union response speech was a communications disaster.
Then he helped push a bipartisan overhaul of the nation's immigration system through the Senate. It went nowhere in the Republican-led House, and conservatives blasted Rubio for being too conciliatory. At a Capitol Hill tea party rally, signs blasted him as "Republican in name only."
He stopped praising the Senate approach, saying the House should simply pass less ambitious measures. Supporters of his immigration efforts were stunned.
"He was brave. He did a brilliant job in pushing the Senate bill. Then he got scared," said Frank Sharry, executive director of America's Voice, an immigration advocacy group. "He's gone from being a profile in courage on immigration to being another crass politician."
To the right, though, his move looked good.
"Now he gets it," said Senator Jeff Sessions (R-AL), a leading critic of the bipartisan legislation.
Rubio was also getting serious about running for president. He went for Iowa, an early supporter of Joni Ernst, then one of a crowd of Republican Senate candidates. She stunned experts with a landslide primary victory and easily beat a Democratic congressman in November.
"He got a lot of chits from that," said Iowa Republican Party Chairman Jeff Kaufmann.
Then came Cuba, and Rubio was suddenly the nation's most prominent critic of President Barack Obama's plan to normalize relations with Cuba.
His self-confidence seemed to reach into other areas. The senator said last week that he has not changed his communications strategy. If he seems more confident, he said, "none of that was a way of changing public perception."
Ask about his changing views on immigration legislation and last year's 20-minute answer is now a virtual sound bite. "The difference is that reality has set in," Rubio said. "The reality is we don't have the votes to pass a Senate bill or a comprehensive measure."
Times have changed, he said. Obama took executive action to allow millions of illegal immigrants to remain here, and Republicans won elections last year with an enforcement-first message.
Rubio continues to gain presidential traction. When he joined three other potential Republican presidential candidates in January at a meeting of major donors in California, he was a hit, winning an informal straw poll.
A few weeks later, Rubio hired Jim Merrill, the architect of 2012 Republican presidential nominee Mitt Romney's New Hampshire primary campaign.
Rubio still faces huge challenges.
He has a habit of talking quickly, rattling off his points at length, and he must persuade voters wary of Obama to support another first-term senator as president.
"He's still a bit of a greenhorn, especially on foreign policy," said Daniel Smith, a professor of political science at the University of Florida. Rubio chairs the Senate's Western Hemisphere subcommittee but has only been in charge since early January.
Rubio also faces a reluctant home-state audience. In a Mason-Dixon poll of Florida voters last month, 57 percent wanted him to seek another Senate term, while 15 percent thought he should pursue the presidency. A Quinnipiac poll last month had former Governor Jeb Bush winning nearly one-third of Republicans in Florida, historically a pivotal primary state, while Rubio got 15 percent.
"Rubio said Bush will not influence his own decision about running for president.
"Suffice it to say that I've said before that my decision on whether I run or not will not be based on anyone else's decision. And he would tell you the exact same thing," Rubio said.
More problematic is whether he can find a comfortable niche in the crowded Republican field. Even at 43, Rubio's no longer the only incandescent young up-and-comer.
Wisconsin Governor Scott Walker, who's at or near the top in recent Iowa and New Hampshire polls, is 47. Nor is Rubio, elected senator with Tea Party help, the candidate who most rouses that still-vocal constituency. Senator Ted Cruz of Texas, 44, has that edge.
Rubio dismissed the doubters.
"The campaign changes people's minds," he said. "If I run for president, I believe I can make a very compelling argument the Republican Party should choose me.
Photo: Gage Skidmore via Flickr