Russia Dismisses New Peace Push On Ukraine As Fears Of War Rise
@AFP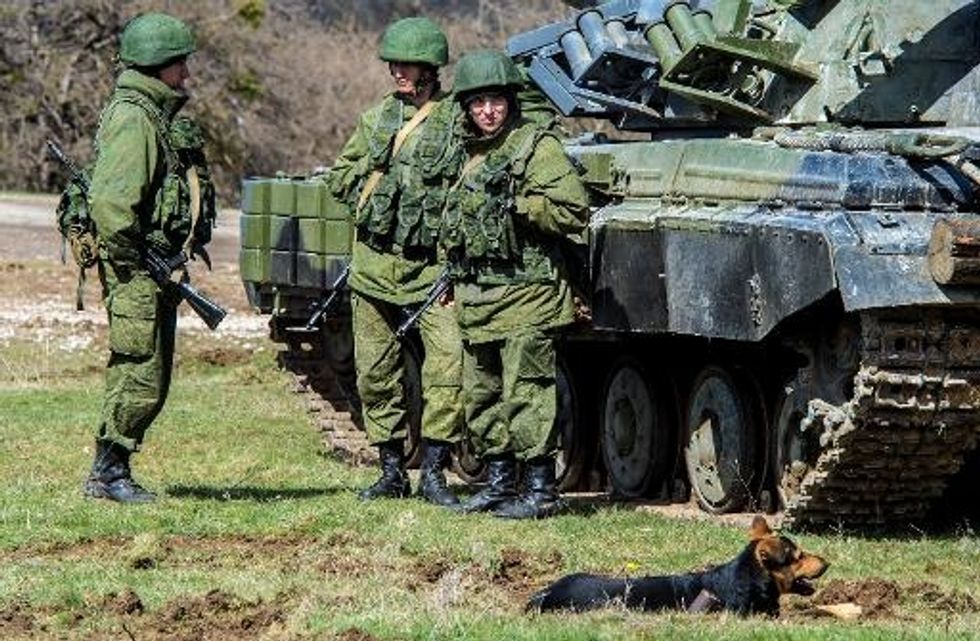 Slavyansk (Ukraine) (AFP) – Russia on Tuesday rejected a new peace initiative for Ukraine as fears of open war mounted over the ex-Soviet republic, whose troops are waging an increasingly deadly offensive against pro-Moscow rebels.
"Chaos and the risk of civil war" are looming, French President Francois Hollande warned after Kiev announced the death toll from an assault on a rebel-held flash point town in the east had climbed over 34.
"We are not very far from a military confrontation in Ukraine," added German Foreign Minister Frank-Walter Steinmeier in an interview to European newspapers.
The West, which is threatening to broaden sanctions on Russia over the worsening crisis, sees a May 25 presidential poll in Ukraine as crucial to hauling the country back from the brink.
On Tuesday, the Swiss presidency chairing the Organization for Security and Cooperation in Europe urged a suspension of hostilities for that election to take place.
"We need a ceasefire for the election," Swiss President Didier Burkhalter said.
Ukraine's foreign minister, Andriy Deshchytsia, appealed to 30 of his counterparts assembled in Vienna to help "eliminate the external threats and provocations supported by Russia" to ensure the election goes ahead.
But Russian Foreign Minister Sergei Lavrov, also at the Vienna meeting of the Council of Europe, said holding the vote during the current violence would be "unusual." President Vladimir Putin's spokesman has been more blunt, calling it "absurd."
Lavrov also dismissed a European push spearheaded by Germany to hold fresh peace talks on Ukraine after the collapse of an April 17 agreement that Moscow has declared dead.
Any talks excluding the pro-Russian rebels active in Ukraine's east and southeast "would hardly add anything," he said.
Lavrov charged the Western nations backing Kiev's government "are not ready to agree for the southeast to take part in a national dialogue on equal terms."
The diplomatic impasse came as Ukraine spiraled into deeper violence.
Nearly 90 people have died in less than a week: half around the eastern town of Slavyansk, held by rebels since early April; and half in the southern port city of Odessa, where clashes culminated in a deadly inferno last Friday. Most killed have been pro-Russian fighters and activists.
Putin has so far held off ordering an invasion to "protect" Ukraine's Russian-speaking population.
But he has kept an estimated 40,000 troops on the border for the past two months. And the Kremlin claims to be receiving "thousands" of calls for help from eastern Ukraine.
The U.S. general commanding NATO's military operations, Philip Breedlove, said Russian special forces the West believes are deployed covertly "may be able to accomplish his (Putin's) objectives in eastern Ukraine" without the need to invade.
Kiev and its Western backers see Moscow's main aims as making sure Ukraine's east holds a planned "referendum" for independence on Sunday, and sabotaging all possibility of the nationwide presidential election two weeks later.
With those deadlines ticking closer, Ukraine's authorities are stepping up their offensive to crush rebels holed up in Slavyansk, a town of more than 110,000 people that is the epicenter of the insurgency.
"Four of our fighters were killed and 20 were wounded" there in fierce fighting on Monday, Interior Minister Arsen Avakov said on his official Facebook page.
"According to our estimates over 30 terrorists were killed and dozens were wounded," he said.
In a sign of how well-armed and trained the pro-Russian fighters are, on Monday they shot down a helicopter gunship near the town — their third since the assault on the town began last week.
An AFP reporter inside Slavyansk said the rebels were reinforcing defenses around a security services building they occupy. He also said basic foodstuffs and other items were running increasingly short.
Locals hostile to Kiev's government have strewn tree trunks and tires across the streets to slow any army advance.
Separately on Tuesday, all flights in and out of Donetsk — a regional industrial hub of more than one million people — were suspended for hours, according to airport authorities, who gave no reason for the day-long closure.
Russia says the insurgency in Ukraine is a spontaneous rejection of the Kiev government that came to power in February, after street protests forced out the pro-Kremlin president.
Russian state media, seen in east Ukraine, constantly refer to the new administration as being run by "fascists" who embrace a Nazi-style ideology.
That propaganda will likely become even more shrill on Friday, when Ukraine — like Russia — observes a holiday commemorating the Soviet victory over wartime Germany.
Putin, according to Russian reports, could make a triumphant visit to annexed Crimea on that day, after overseeing a parade of Russian military might on the Red Square in Moscow.
German Chancellor Angela Merkel, Europe's point-woman in dealing with Putin over the crisis, said such a trip by the Russian leader would be a "pity."
Relations between the West and Russia are already plumbing depths not seen since the Cold War, when Putin was stationed as a KGB officer in the German city of Dresden.
The United States and the European Union are already exerting some sanctions pressure on targeted individuals and firms in Russia.
Washington says they will be expanded to punishment of whole sectors of Russia's slowing economy if Ukraine's May 25 presidential election is prevented from taking place.
That threat, on the back of Ukraine's rising violence, sent stocks lower on Tuesday.
"The situation in Ukraine looks set to be something that will continue to influence financial markets for a considerable amount of time," said a London-based broker, Jonathan Sudaria of Capital Spreads.
Michael Clarke, head of the Royal United Services Institute, a security think-tank, said the situation was likely to deteriorate in the run-up to the elections.
"We're entering into a very dangerous period and I don't think Putin is in full control of the forces he has unleashed," he told AFP.
AFP Photo/Dmitry Serebryakov