'Russia Stands Alone,' Obama Tells EU-U.S. Summit
@AFP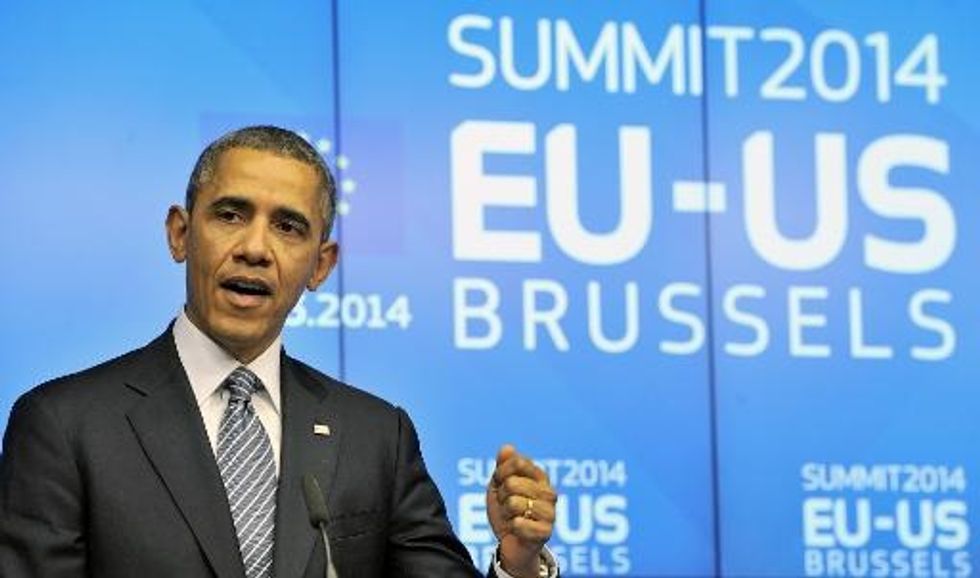 Brussels (AFP) – U.S. President Barack Obama said Russia stood "alone" on the Ukraine crisis as he paid his first ever visit Wednesday to European Union headquarters, cementing Western opposition to the takeover of Crimea.
Wrapping up a lightning 90-minute summit with the EU's top officials held across a luncheon table, Obama said "the world is safer and more just when Europe and America stand as one."
"Russia's actions in Ukraine aren't just about one country. They are about the kind of Europe and the kind of world that we live in," he told a packed news conference.
Viewed as the most important trip to Europe by a U.S. president in years because of the crisis over Crimea, it was Obama's first-ever summit talks in Brussels with the EU's top officials, EU Council and European Commission presidents Herman Van Rompuy and Jose Manuel Barroso.
Both the EU's 28 nations and the 28-member NATO military alliance remained determined to uphold the principles of sovereignty and territorial integrity, Obama said.
Russia in comparison increasingly "stands alone" on the international scene and had "miscalculated" in thinking it could drive a "wedge" between Washington and Brussels, he said.
The U.S. leader also said that the events in Ukraine had highlighted Europe's energy dependency on Russia and pointed to the need for European nations to diversify energy sources, notably with natural gas from the United States.
Discussing hotspots from Syria to Iran, as well as climate policy and trade, Obama and his hosts for starters lunched on crab cannelloni with mango and green apple.
The main course was brill in a crust with pea and shiitake mushroom mousseline followed by chocolate cake.
Obama, who was later to meet in Brussels with outgoing NATO chief Anders Fogh Rasmussen, said he had "some concern about a diminished level of defense spending" among members of the North Atlantic Treaty Organization.
"The situation in Ukraine reminds us that our freedom isn't free," he said. "We have to be willing to pay" for mutual security to ensure the maintenance of a "deterrent" force, he added.
Washington's share in NATO spending rose five points to reach a 73-percent share between 2007 and 2013.
Obama, who flew in after a nuclear security summit in The Hague, remains in the EU capital for less than 24 hours before heading for Italy, his next stop on a six-day European tour.
Meanwhile, Russia's military chief of staff General Valery Gerasimov said in Moscow that the Russian flag was now flying over all the military facilities in Crimea.
But in Ukraine's capital, interim president Oleksandr Turchynov raised the stakes by asking parliamentary approval for a set of military exercises with NATO partners that would put US troops in direct proximity with Russia's forces in the annexed peninsula.
While the Kremlin called the snub counterproductive, the World Bank warned on Wednesday that the Russian economy could shrink by up to 1.8 percent this year because of the effects of the crisis in Ukraine.
One of Obama's core messages for his Europe trip will be that Washington stands by security guarantees for its NATO partners, including post-Soviet states that joined the alliance.
And as the world economy trundles slowly back to recovery, Brussels and Washington also pledged new efforts to create the world's largest free trade area, a move that can potentially energize massive growth and create jobs.
A fourth round of talks to conclude the Transatlantic Trade and Investment Partnership (TTIP), worth hundreds of billions to both sides, wound up two weeks ago in Brussels with negotiators claiming progress but no breakthrough.
Obama and the EU officials also touched on a lingering controversy over the damaging revelations exposed by fugitive intelligence contractor Edward Snowden of U.S. spying on EU phones.
Obama has promised to reform data collection by U.S. intelligence agencies.
Ahead of the summit Obama visited the only U.S. World War I cemetery in Belgium with King Philippe and Prime Minister Elio Di Rupo.
AFP Photo/Georges Gobet