In Santa Monica, Obama Chastises GOP On Immigration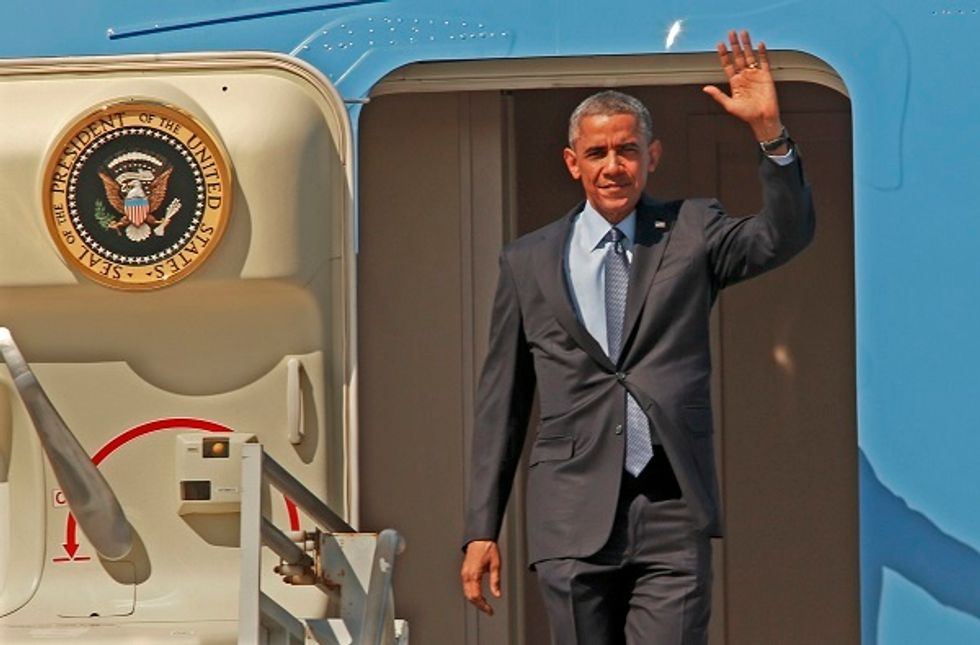 By Seema Mehta and Kathleen Hennessey, Tribune Washington Bureau
SANTA MONICA, Calif. — President Barack Obama said Thursday that Republicans would be committing political "suicide" if they continued to hold up an immigration overhaul effort in Congress, leading the next generation of young people to reject the party for years to come.
If they look at the GOP's immigration policies, a whole generation of Americans will determine "that party does not seem to care about me and my life," Obama said at a meeting in Santa Monica with young entrepreneurs.
Although the immigration legislation that stalled in the House is all but dead for the year, Obama said he still had hope for its passage. House Republicans will see the political peril ahead, he predicted.
"I'm confident, though, eventually — and I think it's going to happen over the next two years — Congress is going to see the light," he said.
Obama made the remarks at an event that sought to reach out to so-called millennials, the generation of Americans born roughly between 1980 and 2000. The stop was part of Obama's campaign season effort to promote his economic agenda to the Democratic base, particularly young people, women, blacks and Latinos.
The president himself has come in for criticism — and seen his poll numbers drop among Latinos — after backpedaling from a promise to unilaterally make changes in immigration rules by the end of summer. The White House announced the delay in September, bowing to Democrats who feared a backlash to his actions might endanger their efforts to retain control of the Senate.
Obama's Santa Monica appearance, held at Cross Campus, a co-working space catering to freelancers and entrepreneurs, was the first event in a three-day California swing dedicated mostly to fundraising for Democrats in tight races this fall.
After a quick visit to a volunteer office for West Los Angeles congressional candidate Ted Lieu, Obama traveled to the Brentwood home of actress Gwyneth Paltrow for a reception and a dinner. (Tickets for the reception started at $1,000, and the dinner cost at least $15,000 per person.)
There, Obama touted economic gains during his presidency but noted that many Americans "remain anxious."
"Most of the gains in our economy go to the folks in this lovely yard," the president said, adding that "everything I have done to this point and everything I want to do over the next two years is based on a simple proposition that here in America, it doesn't matter what you look like, where you come from, what faith you belong to, where you started, who you love. If you are willing to work hard and take responsibility, then you should be able to make it in America. That's the essence of who we are."
Before the event in Santa Monica, the White House released a report on millennials that described them as diverse, tech-savvy and highly educated. Forty-two percent of millennials identify with a race or ethnicity other than non-Hispanic white, roughly twice the share of the baby boomers when they were the same age. Sixty percent of adult millennials have attended college, whereas 46 percent of baby boomers did so, the report said.
The younger group provided a reliable pool of enthusiastic support for Obama in 2008 and again in 2012, although that support has flagged since. Still, they remain a target for November, along with other voter groups that tend to spurn midterm elections.
Obama noted that millennials entered the workforce during one of the worst recessions in the country's history, setting them back financially for years.
"A lot of cynics have said, 'Well, that makes many of you part of a lost generation,'" Obama said. "I don't buy that."
His unfulfilled economic agenda — raising the minimum wage and investing more in infrastructure and education — would quicken the economic recovery, Obama argued. And he took a swing at his opponents in Congress.
"The only reason we're not doing it right now is we've got a Congress that's been spending a little too much time worrying about the next election rather than the next generation," he said.
The president came away from the event with at least one benefit: a job offer.
Ariel Jalali, chief executive of Sensay, a firm that he told the president allowed people to "monetize" their knowledge and use it to help others, called a role there "super rewarding."
"You're offering me a job?" Obama replied.
"That's right," Jalali said. "So what do you think?"
The president allowed that he enjoys the prospect upon leaving office of being able to "dabble a little bit in the issues of the day while being in sweatpants and a baseball cap." He joked about checking out the job's perks but closed with a request that the young entrepreneurs keep the public interest in mind.
"So even as you're doing all this neat, cool, interesting stuff, do pay attention to what's not always as neat and cool, but really necessary, in Washington, D.C., and in your local communities," he said.
Photo: Anne Cusack/Los Angeles Times/MCT