Sao Paulo Police Crack Down On Anti-World Cup Protest
@AFP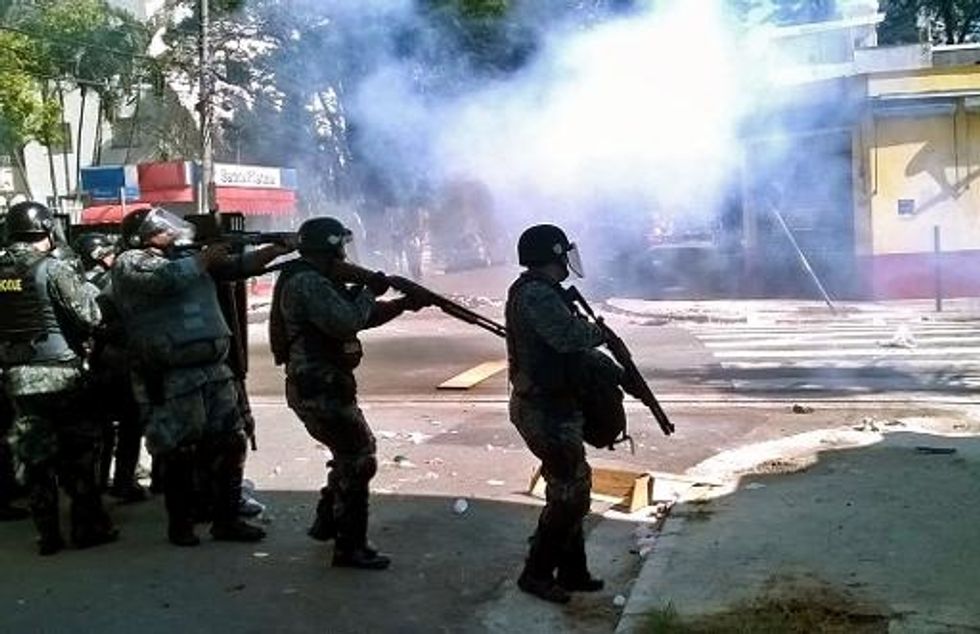 Sao Paulo (AFP) – Military police in Sao Paulo clashed with masked anti-World Cup protesters Thursday hours before the Brazilian mega-city hosts the tournament's opening match.
Around 100 activists clad in the black masks and scarves of radical protest movement Black Bloc tore down street signs and traffic lights and set fire to them to block off a central street, prompting police to fire rubber bullets and stun grenades to disperse them.
The protesters were trying to march toward the main avenue leading to Corinthians Arena, the stadium hosting the opening game between Brazil and Croatia on Thursday afternoon before a crowd of more than 60,000 people, including 12 foreign heads of state.
The clashes came after police fired tear gas and rubber bullets to break up an earlier, smaller protest near a Sao Paulo subway station.
That group, which had been brandishing a banner reading "If we have no rights, there won't be a Cup," had also vowed to march on Corinthians Arena.
But police carrying anti-riot shields forcefully broke them up before they could start.
One officer fired rubber bullets at a shirtless protester who stood in the middle of the street refusing to budge. Police then detained the man.
The demonstrators had also been chanting "There won't be a Cup" — the rallying cry of the protest movement against the more than $11 billion in government spending laid out for the tournament, which opponents say should instead have been used for education, health, housing and transport.
A CNN journalist and her producer were "slightly injured" while covering a protest when they were hit with a tear gas canister, the network said in a statement.
Brazilian news website G1 said five journalists had been injured in all — the two from CNN, one from the Associated Press, one from a French TV team and a Brazilian from broadcaster SBT.
One black-clad protester was also injured, an AFP correspondent said.
Gregory Leao, a 27-year-old law student who participated in the first protest, said the demonstrators' initial goal was to invade the stadium.
"The objective is to put an end to the World Cup. We realize we're not going to achieve it, but we believe Brazilians should rise up," he told AFP.
"Brazilians love football but they don't need this (World Cup) right now."
The sprawling South American country was visibly divided Thursday between excited fans decked out in green and yellow in fervent support of the national team and those fearful of anti-World Cup protests or determined to join them.
Also in Sao Paulo, hundreds of protesters had gathered outside the offices of the subway employees' union, which had threatened to resume a paralyzing strike Thursday but called it off at the last minute.
In Rio, striking airport ground staff — the latest to join the wave of strikes ahead of the tournament — invaded the road to the international airport and briefly blocked it off.
Their protest created a long traffic jam, causing some worried travelers to exit their vehicles and run toward the airport to catch their flights.
Around 500 protesters in downtown Rio also sought to revive the momentum of the million-strong protests that shook Brazil last year during the Confederations Cup — a World Cup dress rehearsal — shouting "FIFA, go home!"
AFP Photo/Laurent Thomet