The Leading Presidential Candidates Can Only Agree On One Thing: Make Arab States Fight ISIS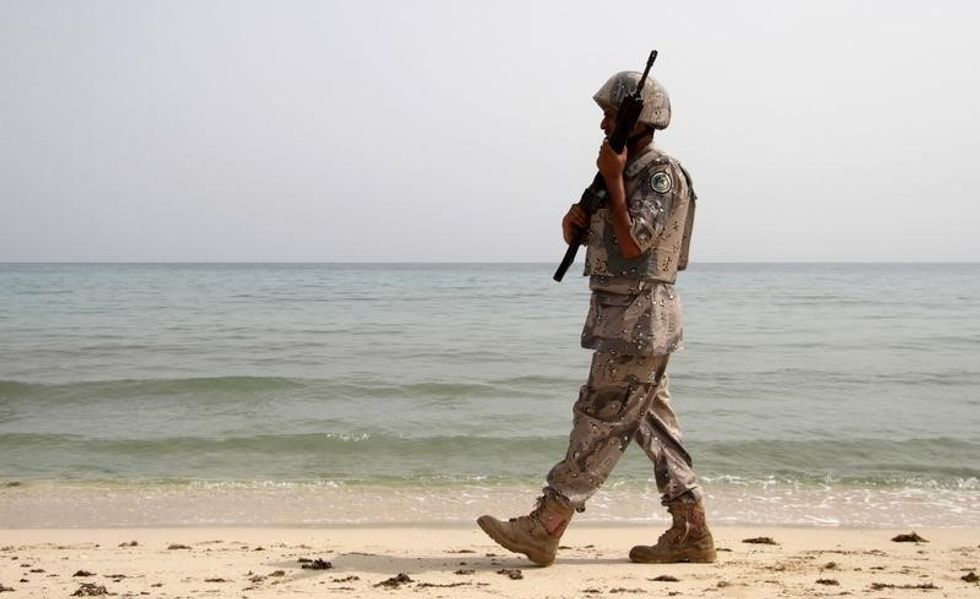 As the military campaign against ISIS continues, presidential candidates from both major political parties have dedicated substantial portions of their speeches and debate performances to addressing how to defeat the group. Everyone agrees: Arab and Muslim states should increase their involvement in the war.
Now, a coalition of 20 Arab and Muslim countries is holding military exercises near Saudi Arabia's northern border with Iraq.
Code named Operation Northern Thunder, the three-week-long military exercises are among the largest held exclusively by Arab and Muslim states in the region. Along with Saudi Arabia and its Arab Gulf allies, Pakistan, Egypt, Jordan, Senegal, Sudan, the Maldives, Morocco, Pakistan, Chad, Tunisia, Comoros Islands, Djibouti, Malaysia, Mauritania and Mauritius are taking part in the exercises, which are reported to include 350,000 troops, 2,500 warplanes, 20,000 tanks, and 450 helicopters. Combined with recent announcements by Saudi Arabia and the United Arab Emirates to commit troops to the fight against ISIS. It's a historic effort.
The timing of the exercises is important, given comments made on the campaign trail by presidential candidates regarding instability in the Middle East. During the New Hampshire Democratic debate in December, Vermont Sen. Bernie Sanderssaid the wealthy Gulf states should also help in fighting ISIS. "The troops on the ground should not be American troops, they should be Muslim troops. I believe that countries like Saudi Arabia and Qatar have got to step up to the plate and have got to contribute the money that we need and the troops that we need to destroy ISIS." Ignoring the fact that Saudi Arabia is struggling to make much headway against the Houthis in Yemen, or that Qatar's military only has 12,000 active personnel, the Arab states have been largely absent in the fight against ISIS.
Hillary Clinton aired similar views during a speech in front of the Council on Foreign Relations last November: "The United States should also work with our Arab partners to get them more invested in the fight against ISIS. At the moment, they're focused in other areas because of their concerns in the region, especially the threat from Iran. That's why the Saudis, for example, shifted attention from Syria to Yemen. So we have to work out a common approach."
On the opposite of the ideological spectrum, Florida Sen. Marco Rubio has made similar comments: "The only way to defeat ISIS is for Sunni Arabs themselves to reject them ideologically and defeat them militarily," Rubio said in an interview with The Guardian in November 2015. "They must be defeated on the ground with a ground force that is made up primarily of Arab Sunni fighters from Iraq, from Syria, but also from Jordan, from Egypt, from the Emirates, from Saudi Arabia." Asides from asking Sunni Arabs to reject a group they already reject by massive margins, Rubio has not been as enthusiastic as his fellow Republicans in promising to violate the Geneva Conventions and find himself before a war crimes tribunal.
Former presidential candidate and South Carolina Sen. Lindsey Graham gave more concrete plans before he dropped out of the presidential race. He proposed a 100,000 strong force from regional Sunni powers Egypt, Turkey and Saudi Arabia to help defeat ISIS.
Sen. Ted Cruz, who takes pride in being the most hated man in the Senate, promised to carpet bomb the region and/or drop a nuke to find out "if sand can glow in the dark." But he also advocated that the Kurds, who have exercised de facto independence for years in Iraq, take up more of the fight. "The Kurds are allies and they are boots on the ground. And when we work with them in concert, they're ready to fight on the front line, along with serious airpower. If it were a military objective to take ISIS out, I think that's what we would be doing," he said.
Donald Trump, ever the outlier, has promised to steal back ISIS's oil, apparently not noticing the irony of another American military adventure in the Middle East predicated on taking someone else's oil. "I've predicted a lot of things, you have to say, including, 'Get the oil, take the oil, keep the oil.' Right? I've been saying that for three years, and everybody said, 'Oh, I can't do that. I mean, this is a sovereign country. There is no country!'" he said at a campaign rally in January. He then blamed Clinton and President Barack Obama for creating ISIS, a product of neoconservative, Republican foreign policy.
There are numerous reasons why the Arab states have been unwilling to take a greater role in fighting ISIS. First and foremost, ISIS is seen as a product of Arab humiliation and Western military adventurism. Under Saddam Hussein, Iraqis lived under forced secularization, partly to keep Iraq's ethnic groups from using ethnic politics as a form of political mobilization.
Then there are issues of logistics. While armies no longer "march on their stomachs," they do require an enormous amount of logistical coordination that none of the wealthy Arab Gulf countries could implement. The position of the Iraqi government, informed by the bitter memories of the 2003 invasion, has been that it does not need any ground troops from Arab or western countries to fight ISIS. The Iraqi prime minister, Haider al-Abadi, said to the AP, "We don't want them. We won't allow them. Full stop."
Recent history also plays a role in the reticence of Arab states to send ground troops. The Arab League announced its opposition to the Iraq War less than a month before the war started. "We shall definitely oppose the war. We cannot be a part of it or contribute to it or sympathize with it," said Amr Moussa, the League's secretary-general, on March 2, 2003.
Asking neighboring states to right a historic wrong will find few sympathetic ears in any Arab capital. But at least America's presidential contenders can agree that they should.