Sean Hannity Has Given Donald Trump $31 Million In Free Publicity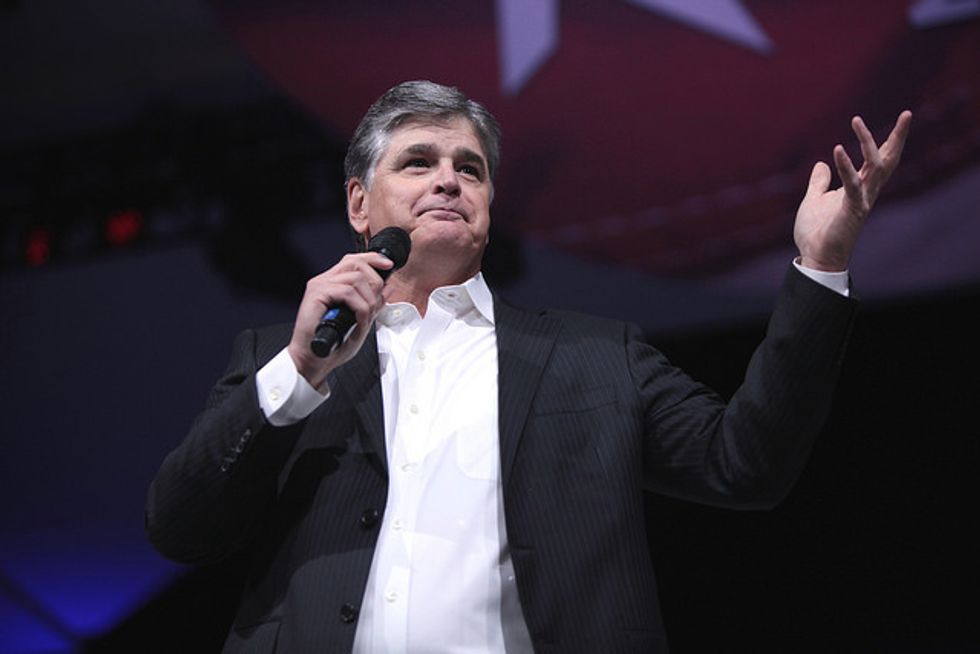 Published with permission from Media Matters of America
By Oliver Willis, Carlos Maza & Ben Dimiero
Fox News host Sean Hannity, who has been informally advising Donald Trump's presidential campaign while serving as its primary media cheerleader, has effectively turned his nightly prime-time show into Trump's second campaign headquarters. According to a Media Matters analysis, Hannity's program has given Trump what amounts to more than $31 million in free advertising in the form of dozens of fawning interviews with the candidate since Trump declared his candidacy in June 2015.
Hannity has devoted just over 22 hours of airtime to broadcasting interviews with Trump since the launch of Trump's campaign. That airtime is worth more than $31 million according to advertising value calculated by media monitoring service iQ Media. That coverage includes 51 original interviews and over a dozen re-airings of previously aired interviews. This year alone, Hannity has aired thirteen and a half hours of Trump interviews, four and a half hours of which have come since Ted Cruz and John Kasich dropped out of the Republican primary in early May, effectively ending the race.
IQ Media uses Nielsen data to determine the viewership of a given program and price data for advertising from Sqad to come up with an equivalent advertising rate.
These numbers only count the amount of time Hannity spent airing interviews featuring Donald Trump — they do not include the countless time Hannity spends carrying the Trump campaign's water without the candidate present, including similarly fawning interviews with Trump family members, surrogates, and supporters.
Hannity has repeatedly faced criticism for his obsequious Trump coverage, including from conservatives who have mocked Hannity for his "slavish" Trump cheerleading and accused him of hosting a "nightly infomercial" for Trump's campaign.
According to a previous Media Matters study, Hannity devoted far more airtime to interviews with Trump than with any of his 16 Republican presidential primary opponents. Just before dropping out of the race, Cruz complained that Rupert Murdoch and former network head Roger Ailes had "turned Fox News into the Donald Trump network."
New York Times media columnist Jim Rutenberg recently reported that, in addition to serving as "Trump's biggest media booster," Hannity has "for months peppered Mr. Trump, his family members and advisers with suggestions on strategy and messaging." Hannity defended himself by telling the Times that he's "never claimed to be a journalist" and that he is "not hiding the fact that I want Donald Trump to be the next president of the United States."
Hannity's efforts to promote Trump's candidacy aren't ending anytime soon — he's slated to host the second half of a two-hour Trump town hall tonight.
Methodology
Media Matters used iQ Media to ascertain the monetary value of Donald Trump's appearances on Hannity from May 1, 2015-August 23, 2015. The study includes all original appearances in Hannity's usual 10 p.m. EST time slot — repeat and reaired appearances were counted if they aired on a new day between 6 a.m. and midnight (overnight reairings of Hannity were not included). Trump interviews during early morning post-debate Hannity specials were counted. Interviews with Hannity guest hosts and guest interviewers were included if they aired on the program.
Photo via Flickr/Gage Skidmore