Secret Tape Shows Oath Keepers Planned Violence On Trump's Behalf
@next2godwin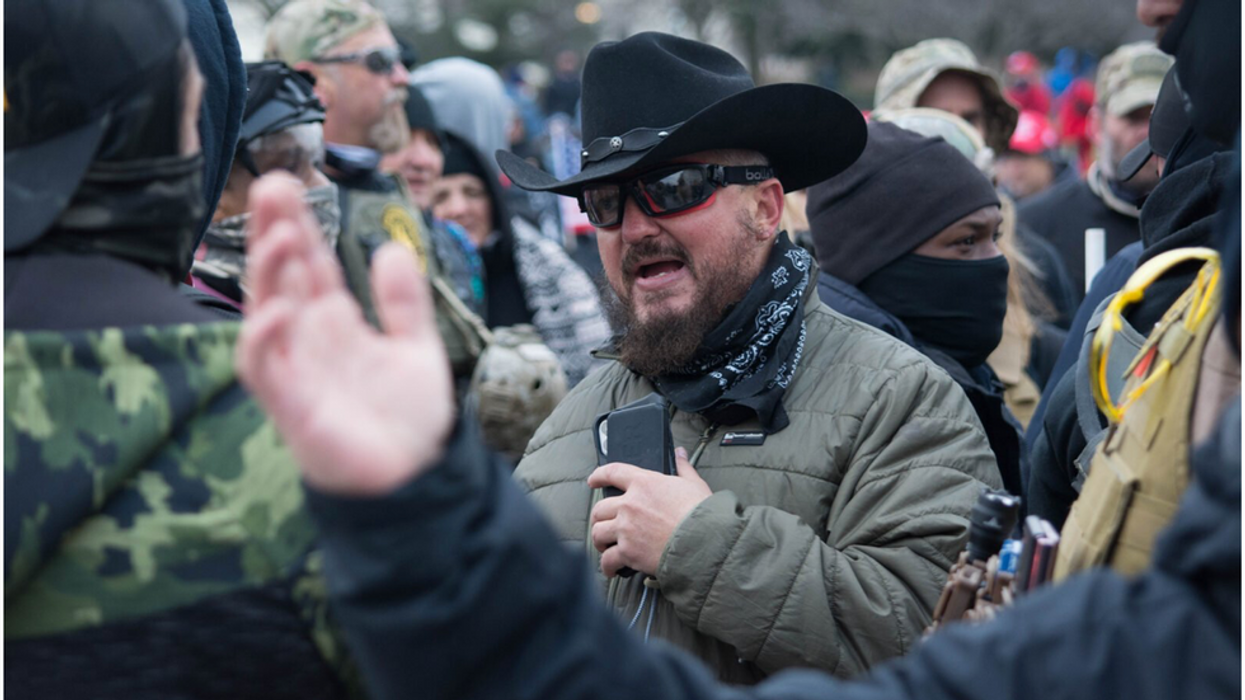 On the second day of the trial of Oath Keepers founder Elmer Stewart Rhodes and other associates charged with seditious conspiracy, Federal prosecutors played an audio of a November 9, 2020, meeting held by the paramilitary group held as they forged plans to "fight" on then-President Donald Trump's behalf.
Extremist Rhodes and his militant associates plotted to hinder the congressional certification of Biden's electoral victory, prosecutors told jurors on Tuesday, citing excerpts of the group's communications, including the audio, as evidence.
According to court records, Rhodes told over a hundred people in the secretly recorded two-hour-long phone call that he hoped Trump would invoke the Insurrection Act, a federal law that empowers a sitting U.S. president to deploy the military inside the country to suppress a rebellion.
"In order to get [Trump] to do that is that he needs to know that people are behind him," Rhodes said, "so we've got to be in D.C. … You've got to make sure that he knows that you are willing to die, to fight for this country."
Rhodes suggested the drastic declaration would serve as a legal cover for the group, which hoped Trump would deploy, too, to use force against fellow Americans they perceived as enemies.
"If he does that, then D.C. gun laws won't matter," Rhodes said. "I do want some Oath Keepers to stay on the outside and to stay fully armed and prepared to go in armed if they have to. So, if the s**t kicks off, then you rock and roll."
Rhodes expressed his willingness to "sacrifice himself" for the perceived fight, saying, "If the fight comes, let the fight come. Let Antifa go if they go kinetic on us, then we'll go kinetic back on them. I'm willing to sacrifice myself for that," he said. "If things go kinetic, good. If they blow bombs up and shoot us, great."
The defense played down the gravity of the prosecutors' allegations, asserting that their clients' reliance on the Insurrection Act was sincere, citing a 2020 New York Times article that was circulated in the group. The article stated, "If the president decides unrest rises to the level of insurrection, there is little Congress or the courts can do to stop him, legal experts say."
The other Oath Keepers arraigned in court — Kenneth Harrelson, Kelly Meggs, Thomas Caldwell, and Jessica Watkins, all of whom are standing trial with Rhodes — were also on the call, FBI agent Michael Palian testified to the jury.
Watkins and Meggs, prosecutors said, were heard on the call discussing what weapons to bring with them on their venture of violence.
"Pepper spray is legal. Tasers are legal. And stun guns are legal. And it doesn't hurt to have a lead pipe with a flag on it," Meggs said on the recording.
An "increasingly alarmed" attendee secretly recorded the two-hour-long meeting and sent a tip to the FBI later that month, assistant US attorney Jeffrey Nestler said Monday.
However, the tipster didn't hear back from law enforcement — the recipient of an avalanche of tips warning of violence on January 6, 20201 — until they resent the message in March 2021, Palian testified.
After the call, Palian said, Meggs and Watkins informed members of their states' arm of Oath Keepers that they would go to Washington.
"We have been issued a call to action for DC. This is the moment we signed up for," Meggs told Oath Keepers in Florida, according to the Washington Post. "Because of the city's strict gun laws," he said, "it will need to be all hand to hand," suggesting "mace pepper spray and stun guns."
Watkins, the owner of a bar in Ohio, told the state's Oath Keepers, including "anybody not on the call tonight," that "we have been issued a call to action for DC. This is the moment we signed up for," per CNN.
According to Palian, Rhodes had advocated for an armed response to Joe Biden's victory days before the recorded meeting.
"The final defense is us and our rifles," Rhodes wrote on November 7 in a group chat that included convicted Trump associate Roger Stone, according to the records. "Trump has a duty to stand, but so far [he] hasn't. As Roger Stone said. Trump has one last chance, right now, to stand. But he will need us and our rifles too. But will he FINALLY act? Only if WE act and call on him to lead us."
Rhodes and his four associates pleaded not guilty to the seditious conspiracy charges in the most serious case pertaining to the January 6 insurrection. A guilty verdict will see all four facing a maximum sentence of 20 years in jail.