Sen. Graham Says Kavanaugh Rejection Would 'Ruin His Life'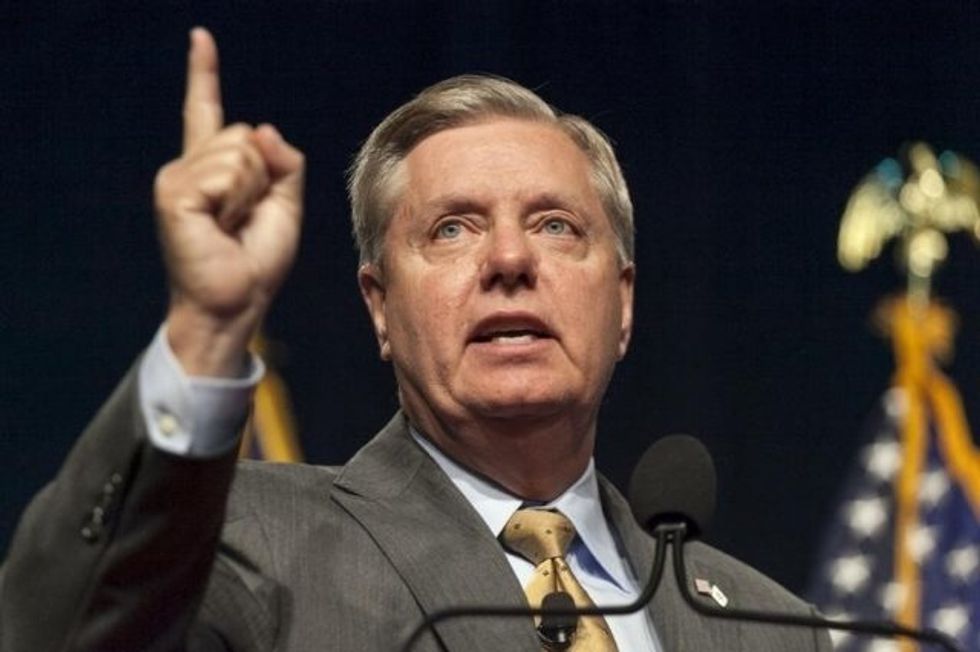 Reprinted with permission from Shareblue.
Republicans are painting Supreme Court nominee Brett Kavanaugh as the real victim for being credibly accused of sexual assault. And on Sunday, Sen. Lindsey Graham (R-SC) made the absurd suggestion that simply denying Kavanaugh the rare privilege of sitting on the Supreme Court would "ruin [his] life."
On Sunday morning's edition of "Fox News Sunday," Graham joined other Republicans in paying lip service to giving a fair hearing to Dr. Christine Blasey Ford, who has accused Kavanaugh of sexually assaulting her when the two were in high school.
But later in that interview, host Chris Wallace asked Graham: "Do you have an open mind on this, and is there anything that Dr. Ford could say that would persuade you to vote against Kavanaugh's nomination, honestly?"
"I want to listen to her, but I'm being honest with you and everybody else — what do you expect me to do?" Graham replied. "What am I supposed to do? Go ahead and ruin this guy's life based on an accusation?"
Former New Jersey Governor Chris Christie similarly tried to paint Kavanaugh as the victim on Sunday's edition of "This Week."
Christie speculated that if Kavanaugh's nomination were to fail, his current position as an appeals court judge could be endangered.
"This is a guy who is going to have his career and reputation stolen from him," Christie said.
What Kavanaugh actually faces, though, pales in comparison to what survivors of sexual assault have to go through.
First of all, Kavanaugh runs very little risk of losing his current job as an appeals court judge. He would have to be impeached by the House, and then convicted by a two-thirds majority of the Senate — an extremely high bar, especially given how loyally most elected Republicans support him.
More realistically, Kavanaugh runs the "risk" of not being elevated to the highest court in the land by a Republican majority that has bent over backwards to bully his accuser.
He runs the "risk" of not being allowed to sit in judgment over women's reproductive freedom for the rest of his life.
Christine Blasey Ford, on the other hand, risked everything to come forward.
Ford told The Washington Post that she feared for her life during the violent assault she says Kavanaugh committed.
She was so traumatized by the attack that she didn't tell anyone about it until decades later, as contemporaneous therapy notes from 2012 and 2013 show.
On top of that trauma, Ford received death threats after she went public, which forced her and her family into hiding.
Now, Ford faces the prospect of reliving her trauma at a hearing before the Senate Judiciary Committee on Thursday — despite Republicans' refusal to conduct an FBI investigation, or even to call any other witnesses besides Ford and Kavanaugh.
Kavanaugh's historically unpopular Supreme Court nomination may, indeed, be in jeopardy. But the only lives that stand to be "ruined" are Ford's, and the millions of American women who will have to live with — or die because of — Kavanaugh's regressive, anti-woman rulings.
Published with permission of The American Independent.