Senate Democrats Prepare To Bring Doomed Minimum Wage Bill To The Floor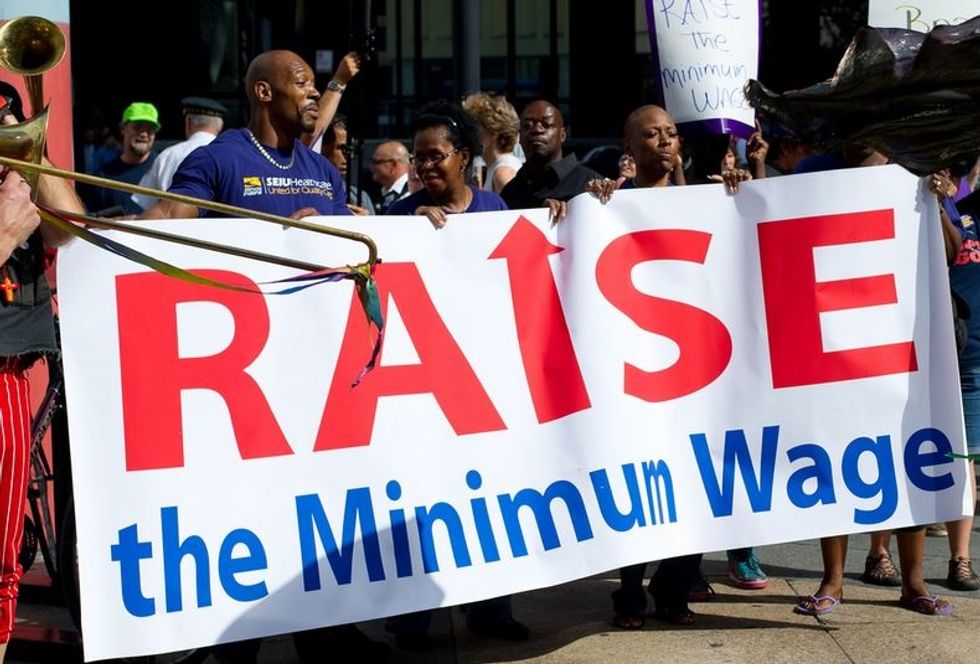 Despite firm GOP opposition, the Senate is expected to vote on Senator Tom Harkin's (D-IA) Fair Minimum Wage Act bill on Wednesday.
While the vote will bring greater attention to an issue that Democrats hope to highlight ahead of the 2014 midterm elections, the bill appears to have little hope of passing. Democrats concede that the legislation will not gain the 60 votes it needs to overcome Republican obstruction and reach the House, but they say that a vote is the first step in eventually passing a bill that raises the current $7.25-per-hour federal minimum wage to $10.10.
"We're going to keep bringing it back," Senator Charles Schumer (D-NY) vowed on Tuesday.
Echoing Schumer, Senator Richard Blumenthal (D-CT) promised that if the bill "fails on Wednesday, it's coming back."
"We will bring it back. We will not surrender," Blumenthal asserted, as reported by Bloomberg News.
Unfortunately for Blumenthal and Schumer, as well as other supporters of the Fair Minimum Wage Act, several other members of their own party have voiced concerns about the bill.
Among Senate Democrats who have hesitated to throw their support behind the wage hike — a list that includes Senators Mary Landrieu (D-LA), Mark Warner (D-VA), and Joe Manchin (D-WV) — Arkansas senator Mark Pryor is the only one who will definitely not be voting for the measure.
According to an aide, Pryor will miss Wednesday's vote because he wants to remain in Arkansas to offer assistance in the aftermath of the tornadoes that ripped through the state this weekend. But Pryor — whose re-election prospects appear vulnerable as he goes up against House conservative Tom Cotton — had already said that he opposes Harkin's bill, because it proposed too great a hike.
Like Pryor, Senate and House Republicans have explicitly said they would not support Harkin's bill — or any legislation that proposes a wage hike to $10.10. According to the GOP, a wage hike would negatively impact small businesses and ultimately result in the loss of "millions of jobs," as Senate Minority Leader Mitch McConnell (R-KY) put it.
Economists tend to disagree with conservative concerns over the potential negative impacts of raising the minimum wage — 602 economists have signed an open letter calling on President Obama and congressional leaders to raise the federal wage, citing research to conclude that "increases in the minimum wage have had little or no negative effect on the employment of minimum-wage workers, even during times of weakness in the labor market."
Raising the wage should be "common sense," as President Obama put it in March, but for now it can serve as another example of good policy lost to GOP obstruction. Wednesday's vote will be less about good policy — and more about good politics.
Photo: Pbarcas via Flickr