Senator Ayotte Threatens To Go Nuclear On Ambassador Rice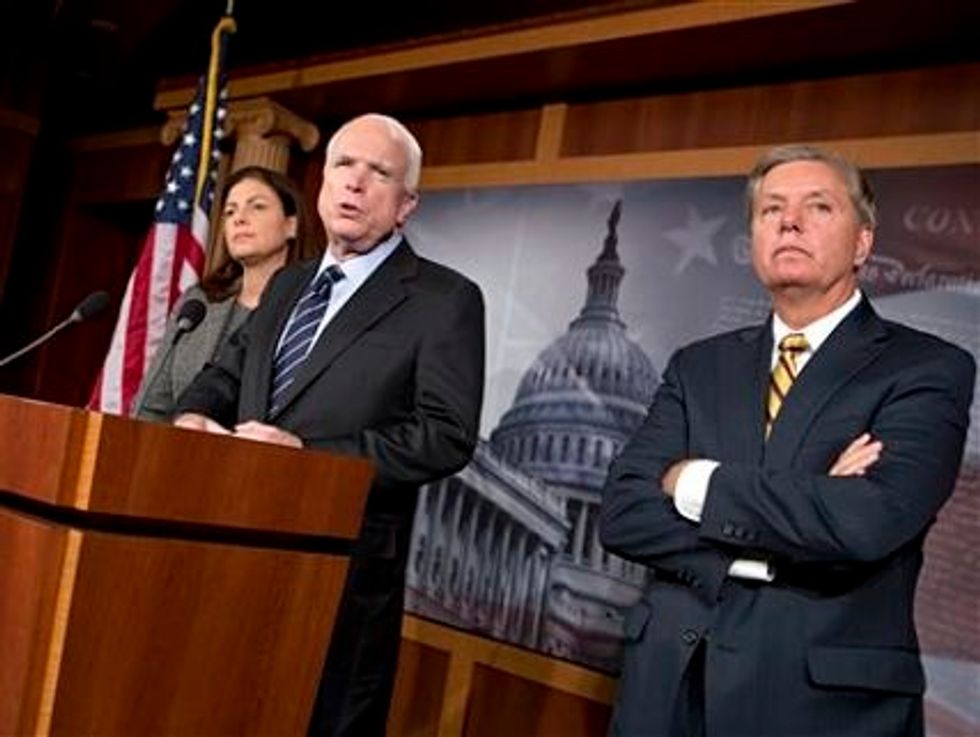 UN Ambassador Susan Rice met with senators Lindsey Graham (R-SC), John McCain (R-AZ) and Kelly Ayotte (R-NH) Tuesday morning in an attempt to assuage any questions they had about her comments following the tragic killings in Libya of four Americans, including Ambassador Chris Stevens, in September.
Rice clarified that the information she originally disclosed was not accurate in one significant way. The attack was not connected to the protests that were occurring simultaneously in several countries across the Middle East. However, she insisted that she was offering the best information she had at the time.
"We stressed that neither I nor anyone else in the administration intended to mislead the American people at any stage in this process, and the administration updated Congress and the American people as our assessments evolved," Rice said after the meeting.
The Republican senators emerged from the meeting uniformly insisting that their concerns hadn't been alleviated.
"We are significantly troubled by many of the answers that we got and some that we didn't get," Senator McCain said .
"All I can tell you, that the concerns I have are greater today than they were before," Senator Graham said. "We're not even close to getting the basic answers."
Senator Ayotte then added she would block Ambassador's Rice's nomination to replace Hillary Clinton as Secretary of State—a nomination that hasn't been announced yet. "I would hold her nomination until I had additional answers to questions," Ayotte said.
The Daily Beast 's Michael Tomasky was shocked by Ayotte's declaration . "That's not unprecedented, but it is a heavy, heavy move, especially coming from a fairly junior senator no one's ever heard of," he wrote. "And it's especially heavy to do it to a potential secretary of state."
Former governor of Utah and candidate for the GOP presidential nomination Jon Huntsman became one of the first Republicans to suggest McCain, Graham and Ayotte's response is overblown.
"The issue of Benghazi, I think you can attribute to the fog of war, more than anything else," Huntsman told the The Huffington Post . "When you're in a wartime setting and you have an attack like that — let's face it. No one is prepared for an attack like that."
Foreign Policy 's Tom Ricks, appearing on Fox News earlier this week, agreed with that assessment .
"I think that Benghazi generally was hyped, by this network especially," Ricks said.