After Setbacks, Tea Party Members Vow To Reinvent Movement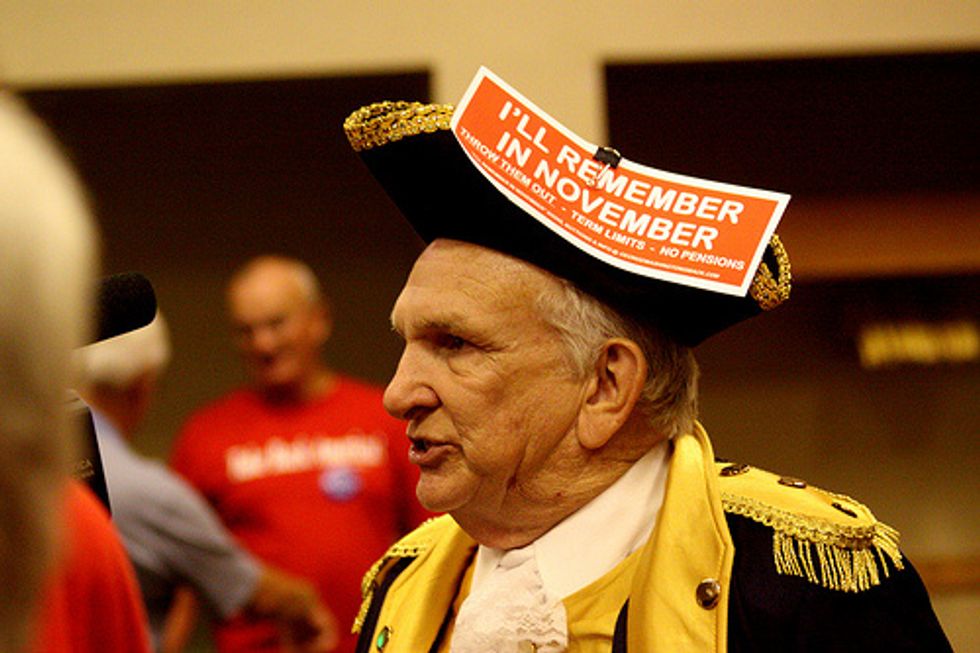 By Michael A. Memoli, Tribune Washington Bureau
WASHINGTON — By most measures, it's been a dire few months for the Tea Party.
Its candidates stumbled in two Texas primary races. Supporters in Congress failed to block bipartisan deals to increase government spending and raise the debt ceiling. And a high-stakes bid to defeat Obamacare led to an unpopular government shutdown that sent tea party approval ratings to new lows.
Five years after it emerged as the most potent force in conservative American politics since the Reagan revolution, the Tea Party is at a crossroads — and some critics have declared the movement all but dead.
Insisting that they've learned from the setbacks, however, stalwarts are vowing to reinvent their defiant brand of politics to ensure they stay part of the debate in Washington and particularly in the Republican Party.
"We've definitely matured and have gone into what many of us call 'Tea Party 2.0,' " said Amy Kremer, chairwoman of Tea Party Express, one of the largest national groups to spring out of the movement. "We no longer have protests in the streets, but we're working to elect people and affect legislation and do the things that really have to be done in order to effect change."
Sen. Marco Rubio (R-FL), whose 2010 election was one of the Tea Party's first triumphs, said it remained "a vibrant and significant movement." But, he said, the movement is shifting to a phase in which it is "beginning to think about post-Obama America."
"We're not going to have Barack Obama as president forever, but our country's problems will still be there," Rubio said. "You're beginning to see more of a focus not simply on just opposing Barack Obama's agenda, which continues to be important, but also about what we need to be for the next few years to give Americans a clear alternative."
A glimpse of that strategy was on display at a recent anniversary celebration hosted in Washington by the Tea Party Patriots, a group that claims 15 million supporters. Co-founder Jenny Beth Martin outlined goals and ideas that Tea Party groups will be rallying around in the coming year.
At the federal level, they plan to push for the so-called penny plan, which would require annual cuts of 1 percent in government spending until the budget is balanced.
They will seek a constitutional amendment to replace the tax code with a single fixed rate, ending a system of write-offs — including corporate loopholes and mortgage interest deductions — enjoyed by millions.
And they plan to take the fight to repeal Obamacare to the state level, pushing legislatures to enter into interstate health compacts that they say would allow states to ignore federal regulations and enact their own reforms. Though dismissed as a long shot by some, proponents hope the strategy will render the Affordable Care Act inoperable in those states and give compact members control over federal health care dollars.
The Tea Party, Martin said, has come a long way since it emerged out of the boisterous anti-tax protests on April 15, 2009. What began as "being upset and yelling at the TV" is evolving into a savvy operation, she said.
"They've had an election cycle now where they've seen wins," Martin said. "They've had one where they have seen more losses than they'd like to. And they've seen how the games in Washington are played."
Tom Balek, a small-business owner from Lewistown, Montana, who considers himself an original Tea Partyer, scoffs when he hears critics talk about its waning influence.
"The Tea Party is not dead," said Balek, who operates a blog and website for the Montana Tea Party Coalition. "The power that's there would surprise people who don't really know what's happening under the surface."
But skeptics say platitudes about the Tea Party's grassroots strength may ignore the reality of an increasingly unpopular movement whose fundraising power has diminished. An NBC/ Wall Street Journal poll found the movement's negative rating among Americans hit an all-time high of 47 percent during October's 16-day partial government shutdown.
"I don't think that they are raising the money nor do they have the sway that they did in the last midterm elections," said Steven C. LaTourette, a former Republican congressman from Ohio who is leading an effort to counter the influence of conservative lobbying groups that he blames for inciting divisions within the Republican Party.
Perhaps the biggest test for the Tea Party will be how it withstands an effort by the Republican establishment to reassert control over the GOP's tactics and agenda.
After the shutdown, Republican leaders moved to marginalize conservative groups catering to the Tea Party, and House Speaker John A. Boehner (R-OH) put off budget and debt ceiling fights that he feared could hurt moderates in an election year.
Such moves heightened the sense of alienation felt by Tea Party activists, who bristle at the suggestion that their movement is merely a faction of the GOP. LaTourette said Republican leaders must do a better job of communicating to Tea Party supporters "that we're not their enemy."
But integrating the established GOP with a movement that prides itself on being anti-Washington has proved difficult.
"The tradition of social and political movements is that they are always assimilated into parties," said Rep. Tim Huelskamp (R-KS), who was elected in the 2010 Tea Party wave and remains one of the House's most conservative lawmakers.
"This one is different. It says the parties are the problem."
Another top Tea Party priority is reshaping the next Congress.
Tea Party Express has endorsed eight candidates in House and Senate races, including three who are challenging Republican incumbents. FreedomWorks, another major group to spring out of the movement, has endorsed 14 members of Congress, five primary challengers and 10 candidates running in open or Democratic-held seats.
The goal is to send to Washington more politicians like Texas Senator Ted Cruz, the de facto Tea Party leader. Though Senator John Cornyn and Rep. Pete Sessions survived challenges from Tea Party candidates in Texas' primary this month, polls suggest the movement's supporters remain highly motivated compared to other voters.
According to a NBC/ Wall Street Journal poll conducted March 5 to 9, 76 percent of Tea Party Republicans are very interested in this year's midterm election, compared with 36 percent of Republicans who do not identify with the movement.
Kremer said recent setbacks had only served to rally Tea Party supporters, motivating them to keep pressure on the Republican leadership to ensure it does not back down in fights with President Obama over spending and health care. Many Tea Party supporters fear Republican leaders will embrace more moderate positions, suggesting internal party fights may worsen.
"It's going to be really interesting when we do take back the Senate" in the fall midterm election, Kremer said, predicting Republican leaders will resist tea party pressure to leverage their new power. "I don't think they want to govern as conservatives. They're used to status quo, business as usual."
Photo: Gage Skidmore via Flickr