'Sign Of Surrender' As Trump Loses Senate Vote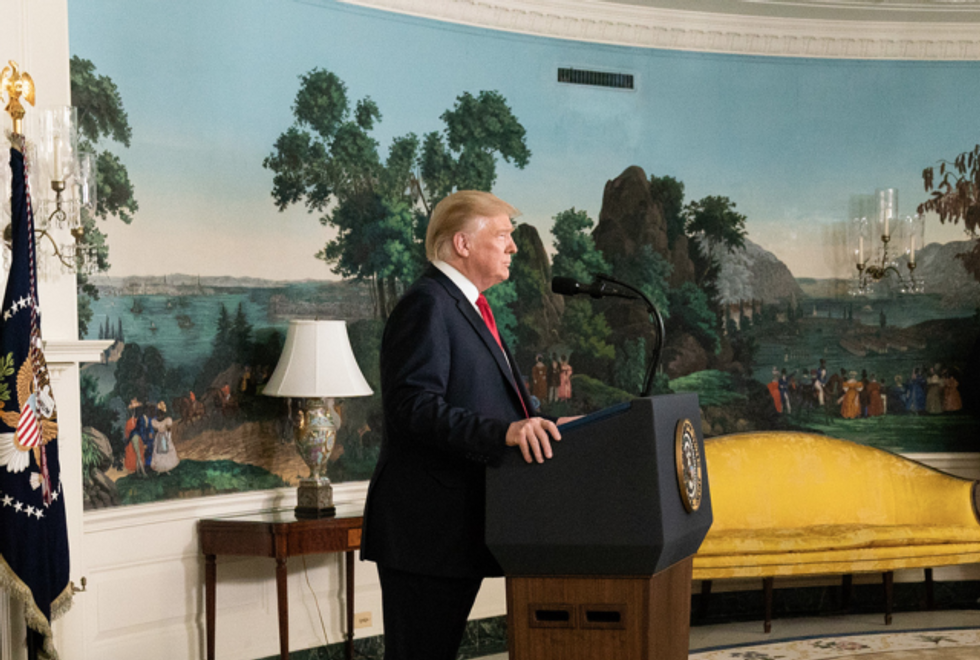 Reprinted with permission from AlterNet.
President Donald Trump just suffered a devastating defeat in the Senate amidst the fretted government shutdown fight.
While the government remains partially closed, the president's plan for an end to the shutdown, which included funding for his border "wall" as well as draconian new limits to asylum law, performed significantly worse on the floor of the Senate than did the Democrats' proposed clean bill to reopen the government.
Both bills were short of the crucial 60-vote threshold, but the president's proposal failed with a vote of 50-47 while the Democrats' plan garnered a vote of 52-44. Six Republicans defected from Trump and voted for the Democrats' bill: Sens. Mitt Romney (UT), Susan Collins (ME), Lisa Murkowski (AK), Cory Gardner (CO), Johnny Isakson (GA), and Lamar Alexander (TN).
Sen. Lindsey Graham (R-SC) said after the votes that he had just talked to Trump about the possibility of a three-week continuing resolution, known as a CR, that would allow the government to reopen while the debate about the border continues, according to Marianna Sotomayor of NBC News.
But shortly after word of Graham's comments spread, White House Press Secretary Sarah Sanders put out a statement walking it back: "The President would consider a CR only if it includes a down payment on the wall."
On MSNBC's "Deadline: White House," host Nicolle Wallace noted that Trump's capitulation on the State of the Union — he admitted Wednesday that he will hold off on delivering the speech while the government is shut down, as House Speaker Nancy Pelosi had insisted he must — was "the first sign of surrender" by the president, according to a source close to him.