Sondland Changes Testimony, Recalls Ukraine Quid Pro Quo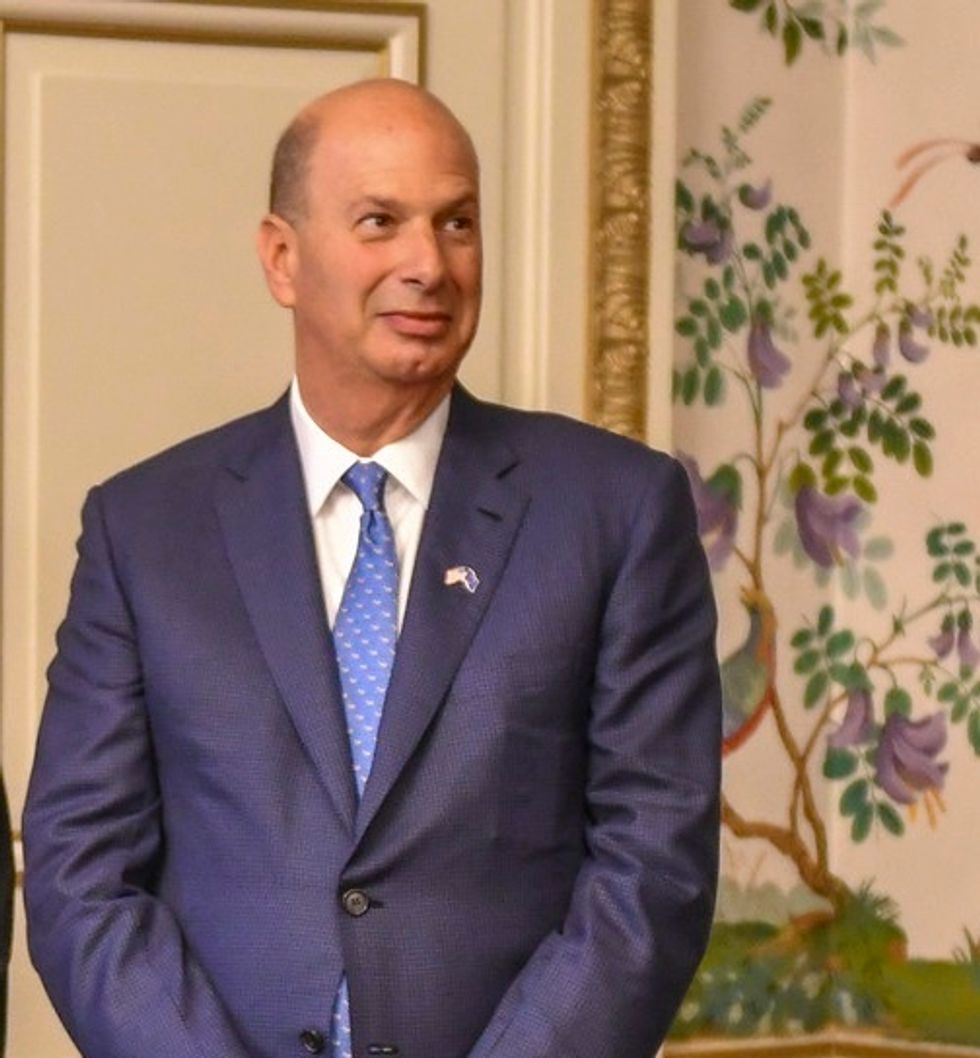 Reprinted with permission from Alternet.
As the impeachment inquiry has unfurled, witness after witness has provided testimony to the House committees detailing a damning and extensive plot by President Donald Trump to leverage his office to pressure Ukraine into launching investigations into his political opponents.
While no witness, it seems, has yet provided exonerating evidence or testimony that diminishes the president's culpability overall, some Republicans have latched on to certain elements of the public record as a thin defense for Trump. Ambassador Gordon Sondland — a major Trump donor turned diplomat — gave the president and his defenders the thinnest fig leaf of cover in the scheme by relaying, both in texts and to Congress, that the president had claimed there was "no quid pro quo" offered to Ukraine to prompt the probes.
Writing in the Wall Street Journal, Trump defender Kimberly Strassel wrote last month:
Democrats have highlighted several in which a State Department diplomat frets that aid is being withheld for political reasons. They neglect to point out that the U.S. ambassador to the European Union, Gordon Sondland, shut down that claim in his own text: "You are incorrect. . . . The President has been crystal clear no quid pro quo's of any kind."
Strassel was wrong to say that Democrats had ignored this part of the texts. Many had argued that it was so obviously a fabricated and desperate cover story that it showed consciousness of guilt, rather than any evidence that exonerated the president.
Rep. Lee Zeldin (R-NY) had likewise cited the text as a clear exoneration, saying:
There are text messages that make it absolutely crystal clear without any shadow of a doubt that there was no quid pro quo whatsoever and it was known as a policy of the United States government.
But in new, updated testimony made public Tuesday, Sondland is tell a significantly different story.
In light of the fact that other witnesses cast doubt on Sondland's suggestion that he didn't know if the release of the military aid was preconditioned on the Ukrainians announcing the investigation, the ambassador said his recollection had been "refreshed."
He said that in early September he told the Ukrainians that "resumption of U.S. aid would likely not occur until Ukraine provided the public anti-corruption statement that we had been discussing for many weeks." The statement would include references to investigations focused on the Democratic National Committee in 2016 and former Vice President Joe Biden's connections to a Ukrainian oil company.
This runs counter to what he previously told Congress, even if it doesn't explicitly contradict it. In his opening statement in a deposition on Oct. 17, Sondland said:
 Inviting a foreign government to undertake investigations for the purpose of influencing an upcoming U.S. election would be wrong. Withholding foreign aid in order to pressure a foreign government to take such steps would be wrong. I did not and would not ever participate in such undertakings. In my opinion, security aid to Ukraine was in our vital national interest and should not have been delayed for any reason.
He also said then:
On September 9, 2019, Acting Charge de Affairs/Ambassador William Taylor raised concerns about the possibility that Ukrainians could perceive a linkage between U.S. security assistance and the President's 2020 reelection campaign.

Taking the issue seriously, and given the many versions of speculation that had been circulating about the security aid, I called President Trump directly. I asked the President: "What do you want from Ukraine?" The President responded, "Nothing. There is no quid pro quo." The President repeated: "no quid pro quo" multiple times. This was a very short call. And I recall the President was in a bad mood.
There have been previous indications that Sondland may have misled Congress. And his lawyer had already publicly confirmed that Sondland admitted to a separate quid pro quo — that a White House meeting for Zelensky was predicated on a White House meeting.
But now his testimony is that, despite some of his previous claims, he "presumed that the aid suspension had become linked to the proposed anti-corruption statement" — i.e., the statement announcing the specific investigations Trump wanted. He doesn't say this "presumption" came directly from Trump, but he doesn't explicitly deny that in the testimony either. And it should be noted that his previous testimony was clearly carefully crafted to avoid addressing key facts and to talk around important questions.
His new amended testimony also goes on to say that, after he "presumed" that the aid was part of a quid pro quo, he "came to understand" that the statement would need to come from Ukrainian President Volodymyr Zelensky himself, not just the prosecutor general. In more obfuscatory language, he said he's not sure who he learned this from, but it might have come from Rudy Giuliani or U.S. envoy Kurt Volker.
Other witnesses had already reported that the quid pro quo offer had been made to the Ukrainians, but now Sondland makes clear that there's no dispute about what happened among those involved.
Defenders of the president will surely point out that this doesn't link the quid pro quo directly to Trump. And if asked directly if the orders came from Trump, Sondland or Volker would be likely to invoke executive privilege.
But there's no mystery here. We know Trump himself delayed the aid — Chief of Staff Mick Mulvaney admitted as much, and even said it was part of a quid pro quo (before lying and saying he didn't say that). It seems no one else — not the Pentagon, not the State Department —thought the delay was warranted. We know that in his phone call with Zelenksy, Trump tied Ukraine's discussion of military aid to the investigations he wanted to see. We know that Volker somehow came to know the aid was part of the quid pro quo, and conveyed this to Ukrainian officials. We know Sondland also came to know — apparently via another Trump emissary if not Trump himself — more details about the demands for the quid pro quo.
It was an illicit, clearly corrupt scheme, and Trump was at the top of it. It's all there. The facts are damning. The only question left is whether there are enough decent people left who care.