'Sore Loser' Coal Baron Still Running For Senate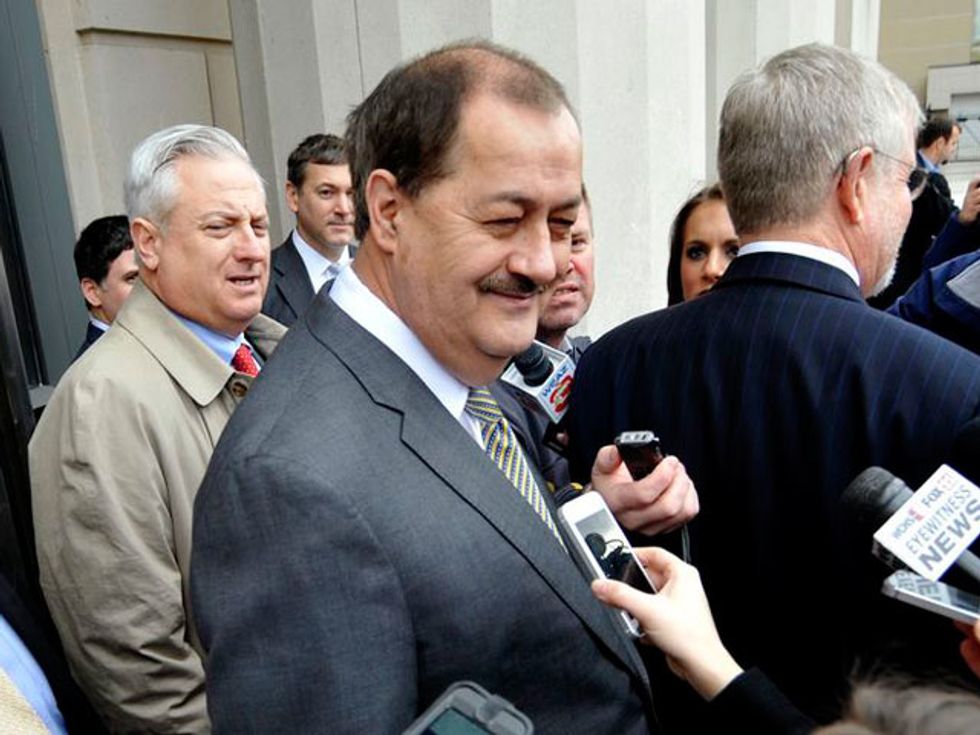 Reprinted with permission from AlterNet.
Don Blankenship, the coal baron imprisoned for a fatal mine explosion who lost West Virginia's recent U.S. Senate GOP primary, may become a 2018 political footnote for the unlikeliest reason: He is the first high-profile candidate to flaunt a state's "sore loser" law barring failed candidates from running in the fall as another party's nominee.
"They [the state legislature] wrote another law just a couple of months ago that takes effect in June trying to clarify their sore loser law. They obviously weren't comfortable with the sore loser law," Blankenship told Fox News, when asked about the legality of his continued candidacy after the Constitution Party made him its Senate nominee.
Blankenship stands a thin chance of prevailing, which was unusual when it comes to the 47 states that have "sore loser" laws, election experts said. West Virginia's latest version of this rule (first adopted in 1919) was signed into law in late March and is not slated to take effect until after the 2018 primary and might have some murky wording. Those factors give Blankenship a narrow legal argument.
"Although the establishment will likely begin their effort against us by mounting a legal challenge to my candidacy, we are confident—if challenged—our legal position will prevail, absent a politically motivated decision by the courts," the Republican-turned-Constitutionalist said last week in a statement.
Needless to say, that challenge seems imminent. West Virginia Secretary of State spokesman Mike Queen said Blankenship could not run for Senate in 2018 as a nominee of another party, but said it was premature to respond further without a formal filing by the Constitution Party. The GOP's primary winner, West Virginia's current Republican Attorney General, Patrick Morrisey, hasn't commented on Blankenship's latest plans.
To get on the November ballot, the party faces an uphill task typical of minor parties. The Constitution Party isn't one of four officially recognized political parties in the state. As a result, it has to obtain sufficient nominating petition signatures in each of the state's 55 counties, which, if done, would likely trigger a legal challenge.
Beyond the fall race's dynamics, namely that should Blankenship get on the fall ballot it may end up boosting Democratic Sen. Joe Manchin's re-election bid by diluting GOP votes, Blankenship's anti-establishment tirade has an element of truth. State sore loser laws are one of many ways the major parties use the law to consolidate their duopoly, intentionally disabling losing candidates as part of their nomination process.
Yet these candidate-controlling laws have unforeseen costs—to the parties and public, political scientists and election law scholars say. They push extremists into major party primaries, because it is harder for candidates to get on the fall ballot and win as third-party contenders or independents. Thus, they make the very elections that have the lowest turnouts and lure the most ideological voters—party primaries—more polarized.
Both parties have seen this dynamic in recent years. Today's dysfunctional Republican U.S. House majority is one consequence of internal polarization spinning out of control. Democrats have their version of this tension, as progressive outsiders and Washington-backed centrists vie for 2018 primary voters, echoing the last presidential campaign's divides between progressives and centrists. While increased polarization has many causes, sore loser laws are among them—exacerbating internal party divisions and leaving voters with fewer choices reflecting a wider range of views in the fall.
"Sore loser laws bring more ideologically extreme candidates into the party nomination process rather than allowing them to run separately in the general election, thus encouraging primary candidates to adopt more extreme positions to win nomination," wrote co-authors Barry Burden (University of Wisconsin Political Science Department), Bradley Jones (University of Wisconsin Political Science Department), and Michael Kang (Emory University School of Law) in a 2013 paper tracing their impact. "Without a sore loser law in place, the incumbent faces less pressure to associate himself with extreme positions."
"Sore loser laws… ensure the party primary is the only real gateway [in almost all races] to the general election ballot," wrote Kang in another paper. "The result is the sore loser law obstructs the exit from the party of even candidates who have been rejected by the party."
Will 2018 See 'Sore Loser' Law Challenges?
Reached last week, Burden said Blankenship could find himself in the company of other defeated 2018 primary candidates, from other states, looking for a way to overcome the law barring them from joining other tickets for the November election.
"Sore loser restrictions have slowly and quietly been adopted across the states over the past century," he said by email. "As a result, many politicians might not be aware of them. The increase in primary competition we are seeing in the 2018 election cycle might result in more candidates being caught by surprise if they fail to win party nominations but nonetheless want to run in the general election. There could be lawsuits challenging the constitutionality of the sore loser laws."
Losing candidates seeking a path forward have contacted Burden in the past. But that hasn't happened yet in 2018, Burden said. "However, we are just now getting into the heart of the primary calendar, so the number of candidates who lose primaries and look to other ways to run in November is likely to rise."
The most intriguing aspect of their research suggests sore loser laws have measurably increased polarization inside the major parties—in ways that aren't appreciated. Their research suggests they account for 10 percent of the ideological spectrum in Congress.
Thus, sore loser laws can be added to other known factors that weaken political parties. Perhaps the best-known of these factors, which both liberals and conservatives agree on, are limits on how much money political parties can raise from individuals and spend on candidates. Those limits have prompted wealthy people and outside groups to embrace tactics like super PACs, which then overshadow parties and candidates in key races.
From the start, establishment Republicans concerned about preserving their Senate majority didn't want Blankenship, an ex-convict coal baron, on their ticket. And, as wealthy fringe candidates often do, he injected vitriol into the Republican primary—frustrating that party and delighting Democrats.
As the Associated Press reported, "he took swipes at 'China people' and referred to Senate Majority Leader Mitch McConnell as 'Cocaine Mitch' in campaign ads during the Republican primary. Blankenship sold himself as 'Trumpier than Trump' during the race, but the president opposed him. The White House worried that Blankenship's baggage would make it all but impossible to defeat Manchin in the general election."
Should Blankenship get on the Constitution Party's fall ballot, Emory University Law School's Kang said he might have a "centralizing" effect on the race.
"It might swing the election to Manchin, who is probably the most ideologically centrist among them," he said by email. "That would be consistent with what we find empirically, should a court decide West Virginia doesn't have a restriction on sore losers—allowing sore losers to run in the general [election] tends to centralize a bit."
While it remains to be seen what will unfold around Blankenship's third-party candidacy, it is likely that he will not be the only defeated primary candidate in 2018 who is seeking a way to continue their electoral bids. You can expect the major parties to do everything they can to thwart such bids—as they don't want so-called spoilers in the ring.
Stepping back, it seems unlikely that the major parties will relinquish their power over primaries, including legal advantages like sore loser laws, when they have been losing influence due to campaign finance limits. But if they wanted less fractious politics, less ideologue-driven campaigns—and less polarization—the research suggests that they should relinquish control in the short run to obtain that cohesion in the longer run.
But that's not what the major parties and states are doing in 2018. As just seen in West Virginia, its legislature just updated its sore loser law and that rule is headed to court.