South Carolina's Rep. Jeff Duncan: Gun Background Checks Akin To Rwandan Genocide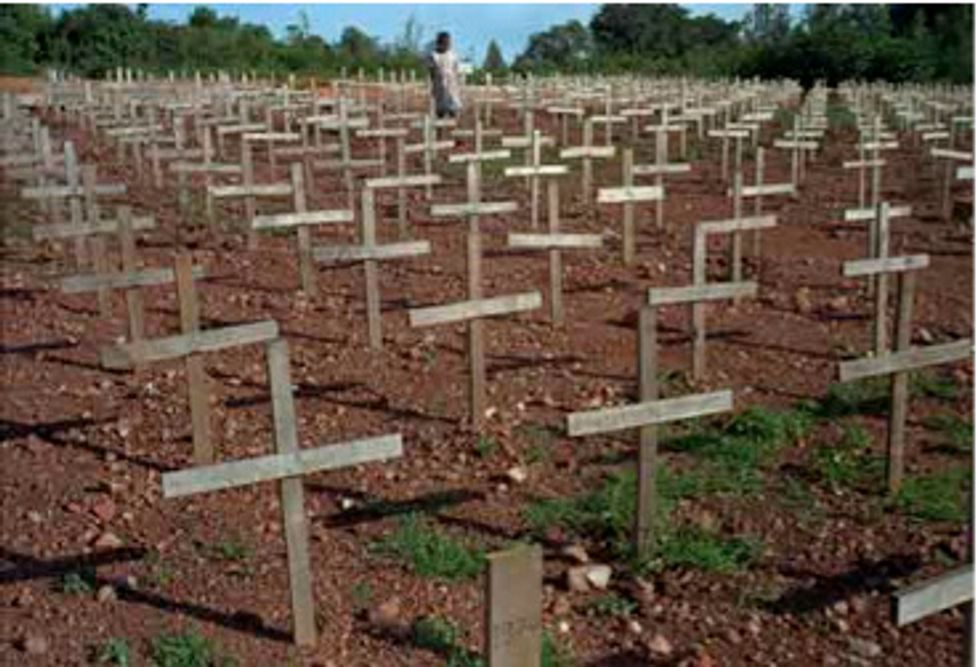 The gun crazies — commensurate with their reputation for fearmongering and overblown conspiracy theories — have been out in full force since the Newtown shooting this past December shocked the nation into coming to its collective senses about reforming gun legislation. All but the most extreme "I have every right to carry a loaded machine gun into a daycare center" firearms fanatics, and of course the NRA, now see that expanding background checks to weapons bought online and at gun shows is merely common sense.
You'd think.
Gun nuts are furiously defending their "right" to possess the artillery of a small nation by predictably characterizing any attempt to ensure the safety of innocent people as an attack — nay, a crime against humanity — not unlike the Holocaust. And heavens to Betsy, where will it all end? When good Christians are entered into a database of the mentally ill and forbidden to purchase their sacred killing machines for the crime of believing in Jesus Christ, the conservative version of whom would have brandished an AR-15 and started shooting like Al Capone the second someone cut off his donkey in traffic?
Well, according to Rep. Jeff Duncan (R-SC), keeping weapons out of the hands of criminals, the insane, and any combination of the two is akin to genocide! You heard right. Background checks will lead to a national gun ownership database, which will lead to the government spending its fictional infinite resources on sending jackbooted thugs to every door in the land to confiscate millions of weapons, which will naturally lead to… a genocide on the scale of Rwanda.
"The 2nd Amendment is (or should be) equal to the 1st Amendment and the 4th Amendment and all of the others," the congressman screeched on his Facebook page. "Ask yourselves why it is under attack? Ask yourselves about a National gun registry database and how that might be used and why it is so wanted by progressives."
He then went on to explain his line of thinking:
Read about the Rwandan genocide, the Hutu and Tutsi tribes. Read that all Tutsi tribe members were required to register their address with the Hutu government and that this database was used to locate Tutsi for slaughter at the hands of the Hutu. Since the government had the names and addresses of nearly all Tutsis living in Rwanda (remember, each Rwandan had an identity card that labeled them Tutsi, Hutu, or Twa) the killers could go door to door, slaughtering the Tutsis.
Wow. So Duncan — an elected member of the United States Congress — not only thinks there is a realistic chance of this happening to gun owners in this country, but that heavily armed, relatively privileged Americans are in the same position as were a million poor ethnic Tutsis, should the mythical Obama Thugs come a-knockin'. Nothing screams "defenseless victim" like a cache of military-grade weapons and enough ammunition to fire off 154 rounds in only a few short minutes to kill 26 actual defenseless victims — children and their teachers.
Every day, the manufactured "reasons" given by those on the right to resist sensible gun legislation reform get more absurd and transparent. But beyond that, these firearms fanatics get more and more offensive, trivializing and minimizing the real atrocities of the past by claiming that not being allowed to secretly amass an arsenal designed to kill as many people as possible,  as quickly as possible, is the moral equivalent of being wiped out by those same weapons.
The millions of people who have lost their lives to senseless violence — and their grieving loved ones — would beg to differ.
AP Photo