Southern Poverty Law Center Calls On Fox To Correct "Inaccurate" And "Irresponsible" Segment About The Organization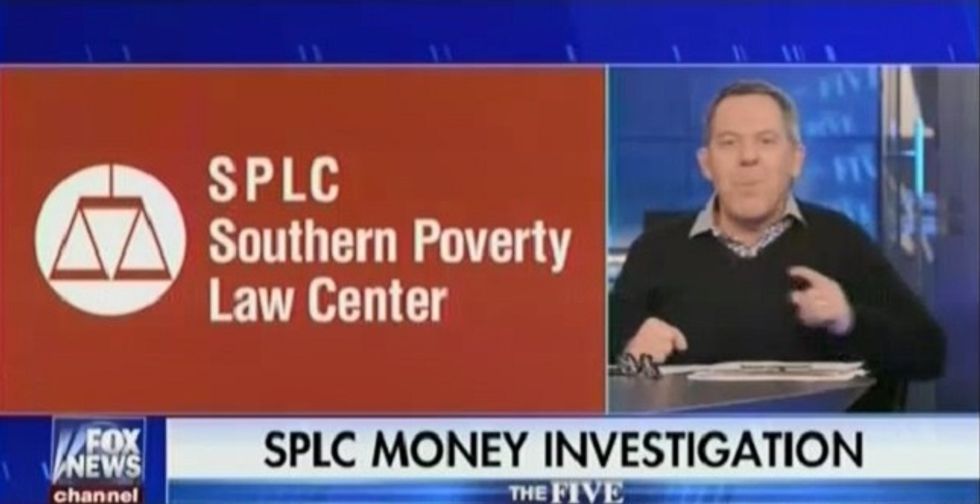 Reprinted with permission from MediaMatters.
On the September 6 edition of Fox News' The Five, Fox host Greg Gutfeld repeated the false suggestion that despite the Southern Poverty Law Center's (SPLC) long-standing reputation as one of the country's leading progressive legal organizations, it "provided just 61 grand in legal assistance" in 2015. In reality, the SPLC spent over $1.8 million on "case cost expense" and over $15 million on "initiatives on behalf of its clients that were directed by its legal services" that year according to the organization and its 990 Form. Gutfeld was repeating a botched August 31 analysis of the SPLC's 2015 tax return by the right-wing Washington Free Beacon, which remains uncorrected. The SPLC is now calling on Fox to correct the "inaccurate, defamatory, and irresponsible" segment.
According to the original article published by the Beacon, based on their review of the SPLC's return, "The SPLC, which claims to boast a staff of 75 lawyers who practice in the area of children's rights, economic justice, immigrant justice, LGBT rights, and criminal justice reform, reported spending only $61,000 on legal services in 2015." Gutfeld ran with the figure in a monologue about the Beacon report, claiming that the organization "provided just 61 grand in legal assistance," and adding, "the Southern Poverty Law Center appears to have no poverty and do virtually no law."
GREG GUTFELD (CO-HOST): So this is funny. You ever heard the Southern Poverty Law Center? They're a hard-left outfit that loves to label people as extremists. Their ever-growing list seems to defame everyone. Ben Carson, he's an extremist. Rand Paul. They called Maajid Nawaz an anti-Muslim extremist, and get this, he's a moderate Muslim battling religious extremism. It makes no sense. There Hirsi Ali, a black feminist who protests against genital mutilation. SPLC placed her name in a guide to anti-Muslim extremists. So that's extreme, being against genital mutilation? I wonder what they'd make of Gandhi. But that's not the funny part, it's the money, this poverty center has loads of it. A $320 million endowment and chucks almost 20 percent of it into offshore equities. Cayman Island stuff, I don't understand it. So this poverty group sits on a pile of offshore dough. That's like a personal trainer with a gut, or a priest with a harem. The center paid out $20 million in salaries in 2015, but provided just 61 grand in legal assistance. So the Southern Poverty Law Center appears to have no poverty and do virtually no law. It's the most misleading name since the Democratic Party. Yes, count it.
But a review of the 990 Form linked to in the Beacon article shows that the $61,808 cited from line 11b is for "legal" "fees for services (non-employees)," a figure that is different from the "case cost expense" on line 24d (the money that SPLC's "staff of 75 lawyers" spent in court on behalf of their clients). That figure was over $1.8 million.
In a September 8 letter, SPLC's General Counsel asked that Fox News "acknowledge on the air its errors in the story about the SPLC on The Five program." As the letter explains, Gutfeld's claim was part of a segment that was "inaccurate, defamatory, and irresponsible" and the figure he recycled from the Beacon "represents the amount that the SPLC spent on its own corporate legal services, not the amount it spent providing legal services for others. The same page of the SPLC tax returns that lists the $61,000 figure for internal legal services shows that the SPLC spent more than $1.8 million on out-of-pocket case costs for litigation brought on behalf of its clients." Addionally, the letter explains, "the SPLC spent more than $15 million on initiatives on behalf of its clients that were directed by its legal department" that year. The letter goes on to say, "Even a cursory review of the materials on our website would demonstrate the outrageousness of Mr. Gutfeld's statement that the SPLC 'd[oes] virtually no law.'"
 Below is the letter from the SPLC: