S&P 500 Tops 2,000 Mark For First Time
@AFP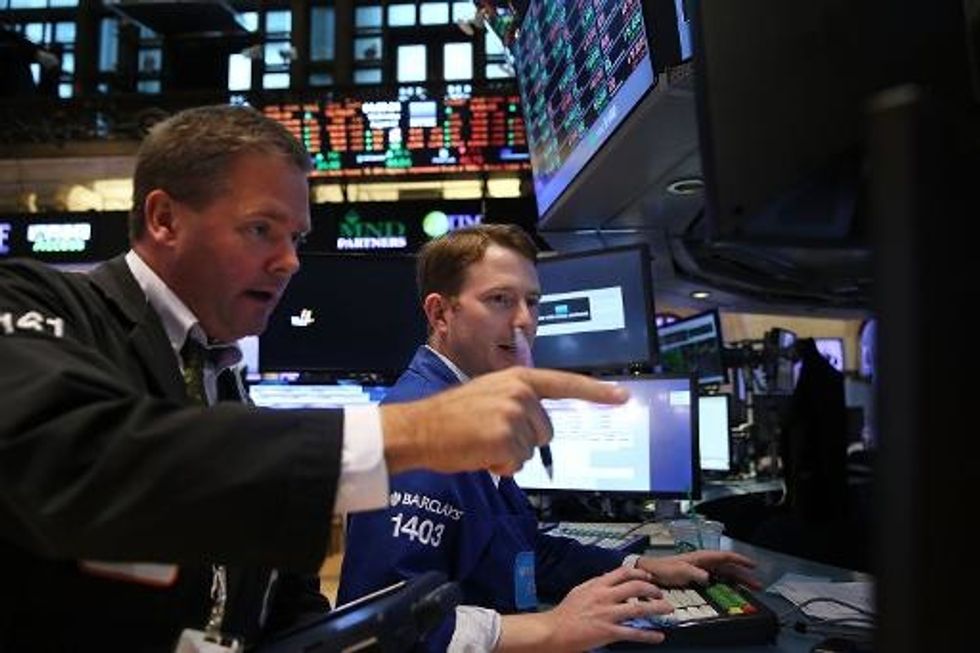 New York (AFP) — The S&P 500 topped the 2,000 mark for the first time Monday helped by more promises of economic support from the United States and European central banks.
A fresh burst of merger activity also sparked buyers, with Switzerland's Roche paying $8.3 billion for smaller pharmaceutical company InterMune, and fast-food chains Burger King and Tim Hortons discussing a tie-up.
An hour into trade, the Dow Jones Industrial Average was up 91.32 points (0.54 percent) to 17,092.54.
The S&P 500 added 10.49 (0.53 percent) at 1,998.89, after earlier having just barely topped the 2,000 mark for the first time ever.
The broad-based index was up more than eight percent for the year.
The tech-rich Nasdaq Composite Index meanwhile gained 27.53 (0.61 percent) to 4,5666.08, its highest level since the dot-come crash 14 years ago.
Patrick O'Hare of Briefing.com said markets were helped by "signs of relief that central bankers are still pushing policy accommodation; signs of relief that Russia didn't attack Ukraine; signs that M&A activity is picking up; and signs that market rates continue to be repressed."
Speaking at the Federal Reserve's central banking symposium in Jackson Hole, Wyoming, on Friday, both Fed Chair Janet Yellen and European Central Bank chief Mario Draghi assured that they would keep easy-money policies in place — and, for the ECB, add to them — as long as necessary to boost employment.
Roche's $74 a share offer for InterMune, which developed a treatment for the deadly lung affliction pulmonary fibrosis, sent InterMune's shares up 35.6 percent to $72.96.
Burger King said it was in talks to buy Canada's coffee and donut chain Tim Hortons with the aim of moving Burger King's headquarters from the United States to Canada to take advantage of lower corporate tax rates.
Burger King shares gained 14.9 percent while Tim Hortons, traded on the Toronto exchange, added 20.23 percent.
Goldman Sachs rose 1.7 percent after last Friday's late announcement of a deal with the Federal Housing Finance Agency to settle allegations it sold misrepresented mortgage bonds to Fannie Mae and Freddie Mac ahead of the financial crisis.
Goldman is buying back $3.15 billion of the bonds, with the penalty accruing to it estimated only at $1.2 billion, the difference between the market value of the bonds and what it is paying the FHFA.
Bond prices were little-changed. The yield on the 10-year U.S. Treasury held steady at 2.40 percent from Friday, while the 30-year dropped to 3.15 percent from 3.16 percent. Bond prices and yields move inversely.
AFP Photo/Spencer Platt
Interested in economic news? Sign up for our daily email newsletter!