Surfing That Blue Wave: A Democrat With The 'Empathy Factor'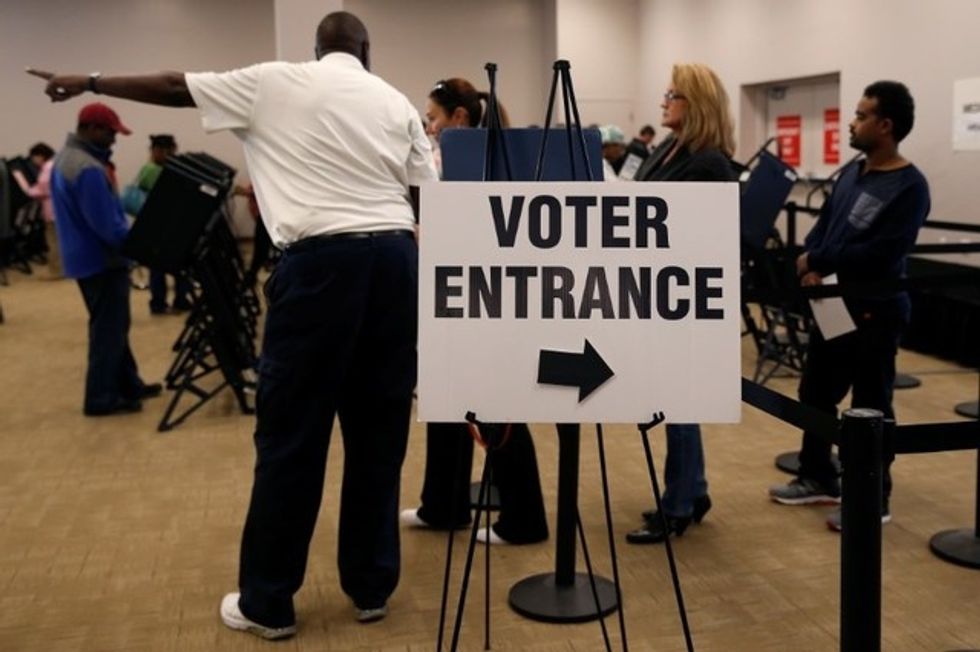 The year's first primaries and special elections for Congress and state legislature have shown 2018 is shaping up as a historic blue voter turnout, a cycle where a wave of new Democratic women could be elected, and a year where progressives will move from the sidelines into state and federal office.
But beyond these top-line trends, there appear to be deeper common threads among Democrats who are winning primaries and special elections. On top of communication skills, endorsements, funding, and other essential campaign ingredients, many share track records and careers helping others — especially on personal health and household issues. Their campaign platforms typically begin there, starting with personal struggles and unfolding in concentric circles centered on people, while emphasizing the need for improved healthcare, educational opportunity, jobs, and economic stability.
It's incomplete to say the winners so far are pragmatic centrists or passionate progressives. There appears to be a big slice of first-person centered priorities in their biographies and current campaign agendas. Call it an empathy factor, which contrasts to loftier or more ideological rhetoric emanating from their local opponents, state capitals, and Washington. Although admittedly impressionistic, this observation is based on the statements of candidates running in 2018's primaries and special elections, both winners and losers.
A good example can be seen in last January's upset by Democrat Patty Schachtner in Wisconsin's 10th state senate district. The district is in the westernmost part of the state, closer to Minneapolis-St. Paul, Minnesota, than to Wisconsin's major cities. Schachtner, the St. Croix County medical examiner, ran for a seat held for the past 17 years by a Republican. In her party's primary, she faced the statewide director of a non-profit group seeking to end the corrupting influence of money in politics, and a farmer/small businessman dismayed by cuts to education and environmental protection. Schachtner emphasized her work with law enforcement and community leaders on mental health and addiction, countering rising health costs, and the need for local job training options.
Her Republican opponents, in their primary, were an attorney/businessman and the owner of a large manufacturing plant. The attorney, who won the primary, emphasized that state government was never the answer and wastes money; he sought tax cuts, stronger gun and property rights. His opponent, the manufacturer, wanted to eliminate the state income tax, help retirees keep more money, and pledged to combat the ravages of opioid addiction.
Schachtner won the special election 55-to-44 percent, compared to her Republican predecessor's 63-to-37 percent victory in 2016, the same year that President Trump beat Hillary Clinton in the district 55-to-38 percent. That turnaround is typical of the blue wave many forecasters are predicting for 2018. However, this race's deeper contours can be see in other contests around the U.S. with similar dynamics, positioning and outcomes.
Another example can be found in the February special election in Florida for its District 72 House seat near Sarasota. The district's boundaries were changed in 2010 by the GOP to include more reliable Republican voters—an example of the extreme gerrymandering that's now before the U.S. Supreme Court. Democrat Margaret Good, a Sarasota lawyer and first-time candidate, won 52 percent, compared to the 45 percent for Republican James Buchanan and 3 percent for Libertarian Alison Foxall.
Both Good and Buchanan had high-profile help. She was endorsed by former Vice President Joe Biden and joined on the campaign trail by presidential candidate and ex-Maryland Gov. Martin O'Malley. Buchanan campaigned with Corey Lewandowski, Trump's first campaign manager, and was backed by Florida's GOP U.S. Senator, Marco Rubio.
But while saying she would be a change agent—a cliché— Good prioritized environmental protection, such as better hurricane preparedness, commitments to public schools, health care, and employment training. Buchanan, who also was running for the first time, emphasized a more traditional Republican agenda. Overall, the voter turnout was 36 percent of registered voters, which was more than double what local election officials described as typical in special elections.
Health care insecurities also played a big role in a special election for a state House seat in Missouri, where Democrat Mike Revis, 27, beat Republican David Lifton, 59. Revis, a procurement manager, campaigned as a centrist Democrat who focused on education, expanded access to health care, and support for unions. Linton, an attorney, emphasized his opposition to abortion and support of gun and property rights.
Revis, who won by 3 points — in a district where Trump beat Clinton by 28 points — isn't a progressive. He's a member of the National Rifle Association and former intern for former Gov. Jay Nixon's Civic Leaders Internship Program, all centrist credentials. But beyond the race's generational differences, Revis emphasized household-based concerns rather than ideological concepts.
There are other examples where candidates who appeared to have more first-hand experience with familiar, down-to-earth issues prevailed. In a special legislative election in New Hampshire, Democrat Phillip Spagnuolo, who runs an addiction recovery center and did not oppose a major Canadian-U.S. hydropower corridor through the district, won. He beat Les Cartier, a retiree and Republican who shared almost identical stands with Spagnuolo on many issues, but said the power line project could mar the landscape and hurt tourism. Yet again, more personal and immediate impacts—in this case, construction jobs—won.
While every race is different, some of these currents were influential in Nebraska this cycle as well. Running in the Democratic congressional primary for one of the state's three House seats, progressive Kara Eastman — a first-time candidate who runs Omaha Healthy Kids Alliance, a non-profit focusing on health policy — beat former Rep. Brad Ashford, who wanted his seat back. Eastman won with 51 percent against 49 percent for Ashford in last Tuesday's primary. Virtually every party organization in Washington supported Ashford, from the Democratic Congressional Campaign Committee to pro-choice Emily's List, assuming that a comeback bid would fly in a blue-wave year.
Eastman's agenda reflected the more personal side of the Bernie Sanders platform. With her healthcare background, she campaigned for 'Medicare for All,'  free undergraduate education, gun controls starting with universal background checks, and adopted racial equality and social justice stances that resonate with younger voters. In a video ad, she declared herself "tired of hearing Democrats don't have a backbone, that we don't stand for anything. That changes now."
Notably, Eastman took advantage of online media to organize and fundraise—and said it contributed to her upset victory. "This win wasn't a surprise to us—we've seen your support at the doors, in the community, at our events, and right here on this Facebook page," she said. "Thank you for being a part of this, and for encouraging and supporting me. We are ready for the general election, and to take back the House this fall!"
The year's successful campaigns aren't just being driven by opposing all-things-Trump by or embracing cliché-ridden party playbooks, as these snapshots suggest. Candidates who are speaking to voters' personal lives and demonstrating prior commitments to solving related problems seem to be winning. While that rubric plainly includes more women, Democrat-leaning voters, turning out at levels not seen since the 1974 midterm after Nixon resigned, are not reflexively voting for anyone.
Voters seem to be choosing the Democrat who understands what they are facing and expressing knowledge and determination to do something about it. Given the divisive tone emanating from the Trump administration — with many Republican candidates casting their campaigns in that mold — it's not surprising that voters are seeing exactly what is not coming from Congress or state capitals: Candidates who validate the real challenges in their lives and authoritatively suggest ways to address them.