Surprise: Biggest Arizona Daily Endorses Democrat For Senate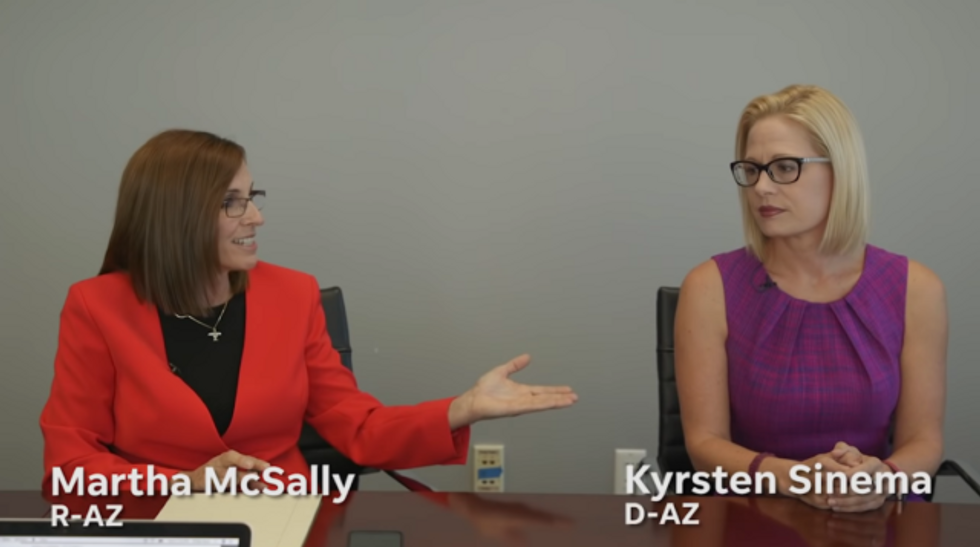 Reprinted with permission from AlterNet.
The Arizona Republic, the state's largest newspaper, on Sunday endorsed Democrat Kyrsten Sinema over Republican Martha McSally, marking the first time the paper has endorsed a Democrat for Senate since 2000.
Sinema and McSally, both members of the U.S. House of Representatives, are locked in a tight race to replace Sen. Jeff Flake (R-AZ).
"McSally and other groups have painted Sinema as a tutu-wearing leftist who – repeat it with us, because we know you've seen the ad –– was protesting our country while McSally was on a combat mission defending it," the editorial board wrote.
But the attack ads do little to show Sinema's centrist side, the paper argues, noting "more than 60 percent of the bills she co-sponsored this session were introduced by Republicans," and Sinema sides with Donald Trump's agenda 62 percent of the time.
"Maybe the vitriol of a hard-fought primary got to McSally. But she looked like the smaller person in their only televised debate, repeatedly calling Sinema a liar and, later, a traitor for her decade-old Taliban comments," the editorial board surmised. "McSally even sent out a press release saying the penalty for treason was death (though she later clarified that she doesn't mean Sinema should die)."
"If you have grown tired of the toxic culture that has taken over Capitol Hill; if you long for more collegial leadership focused on solving problems, not settling scores; if you want a federal government that works, not wages constant war; you must send people to Washington who can change it. People who not only talk bipartisanship but determinedly practice it," the editorial board wrote.
"In a Washington in which rancor and malice are disturbingly normal, Sinema is the antidote. Leaders like her can come from any party and they are needed more than ever," the op-ed reads.
Elizabeth Preza is the Managing Editor of AlterNet. Follow her on Twitter @lizacisms.