Swim Star Phelps' Form Suggests Olympics Story Not Over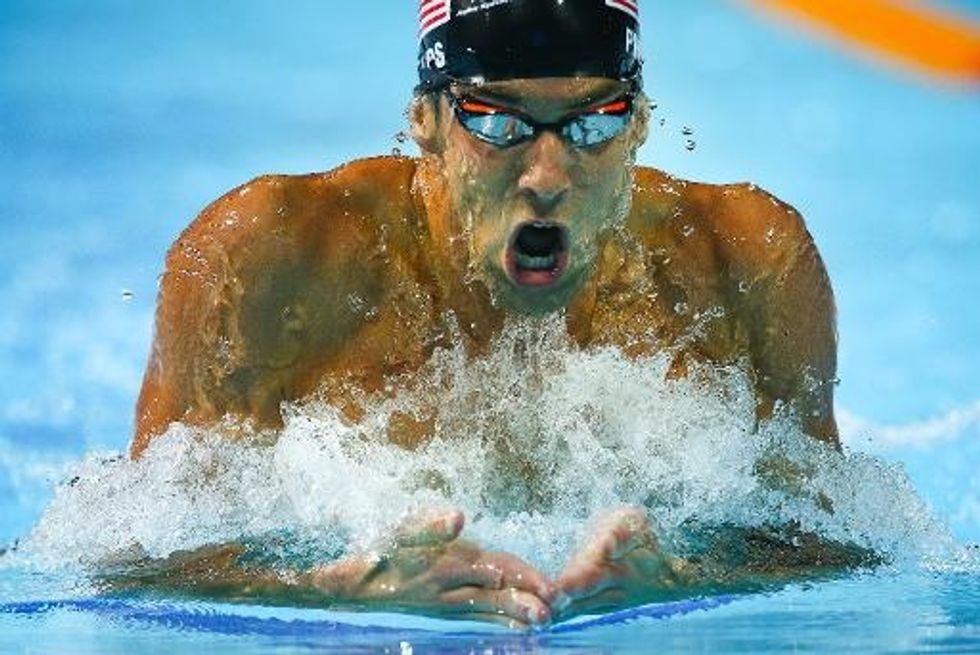 By Robert Smith
Gold Coast (Australia) (AFP) — Michael Phelps showed he could be on track for even more Olympic glory after making a winning return to international competition just a few months after coming out of retirement.
The greatest Olympian, with 18 golds among his 22 medals at the Games, is laying the foundations to add to his unrivaled tally at the 2016 Rio Olympics.
Phelps, who will be 31 by the time of the Rio Games, won three gold medals at the Pan Pacific Championships on Australia's Gold Coast, which ended Sunday.
He swept to victory in the 100m butterfly and was also part of the successful men's medley and 4x200m freestyle relay teams.
And Phelps was denied by just two-hundredths of a second by Japan's Kosuke Hagino in the final of the 200m individual medley, an event he has won three times at the Olympics.
But significantly, it was the manner of Phelps's improvement throughout the four days of the Pan Pacs meet that made a lasting impression.
The 6ft 4in swimming wonder was finishing his races with his trademark surge, wiping away the memories of his winless campaign at the U.S. Championships earlier this month.
"It shows that I can finish races well. I finished pretty strong in all my swims here, now I just have to step on the first half," he said.
A more streamlined Phelps — he has shed 30 pounds — said he was already laying out training plans with his long-time coach Bob Bowman looking ahead to next year's world championships in Russia, and beyond to Rio.
"I have already started talking with Bob about some of the things that I need to do, like times that I need to go even before the world champs next summer," he said.
"I think for my first real international meet back we accomplished everything we wanted to.
"We were able to find out some of the things that I need to improve on over the next year and things I want to improve on."
Bowman, who has mentored Phelps since he was an 11-year-old at Baltimore, is adamant there is further improvement in his swimmer as he begins his second "life" in the pool.
"He can definitely improve his 100m free," Bowman said.
"I never thought he got there where it could have been. You'll probably see him swim the 200. He'll be trying to find a relay spot somewhere.
"I think he can get faster in his IM (individual medley) and I think he can get faster in butterfly.
"That's the only reason he really came back. If he didn't have a chance to get faster, I don't think we would have done it."
But what was particularly noticeable at the Pan Pacs was Phelps's sheer enjoyment to be back in competitive swimming again.
He often spoke about his happiness at being in the team environment, with special emphasis on the bonding in the relay teams.
"It's nice. It's relaxing but one of the biggest things is that I want to be a part of the team and I want to be in the swimming," he said.
"I've started talking to other people. I used to never talk to anybody.
"I think one of the biggest things is I want to be part of the team. I want to be in there swimming."
Phelps didn't have all things go his way at his fourth Pan Pacs, where he has won a total of 16 golds since Yokohama in 2002.
He looked to be reeling in Hagino in the final lap of the 200m medley after trailing by 0.66 secs at the final turn, but the Japanese managed to hang on for a prestige win.
And he simply couldn't go with the sprinters in the men's 100m freestyle, finishing fourth behind Australia's Cameron McEvoy, Olympic champion Nathan Adrian, and world champion James Magnussen.
"It is frustrating at times, but it's usually how I respond well, so this is going to be a fun year and it's going to be an exciting year," he said.
But this is a long-term plan and it's still just under two years to Rio, where Phelps is aiming to deliver.
"I know there is a lot can happen in a year with training, I'm looking forward to it, it's a building year for me," he said.
AFP Photo/Patrick Hamilton
Interested in sports news? Sign up for our daily email newsletter!