Sylvester Stallone Is Back As Rocky Balboa, Who's In A Fight With Mortality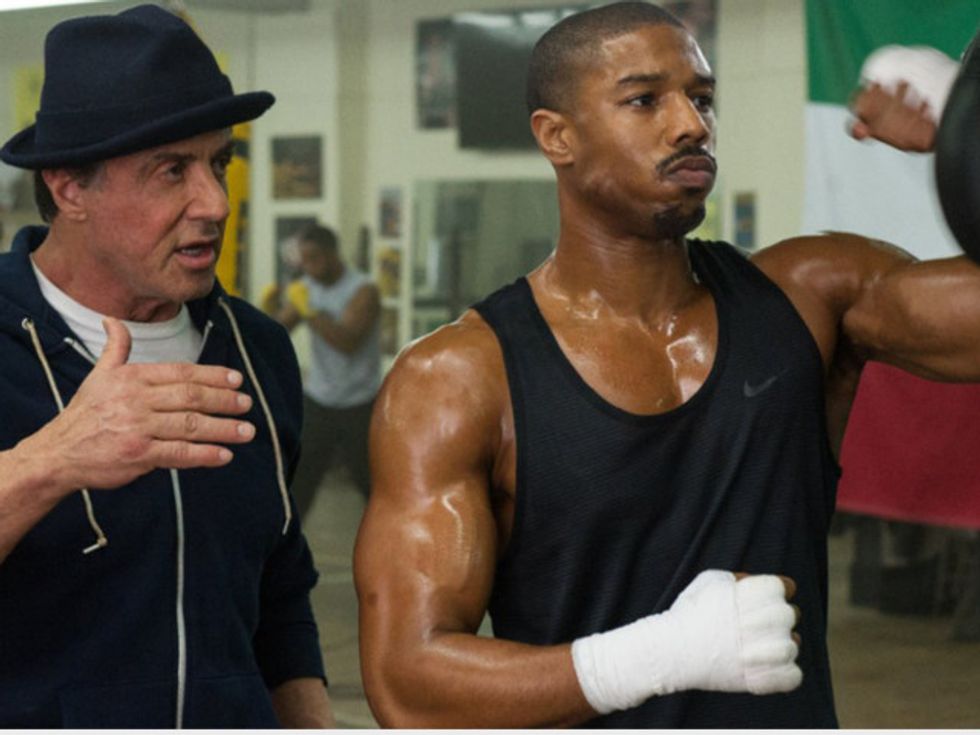 By Josh Rottenberg, Los Angeles Times (TNS)
In Sylvester Stallone's mind, he had hung up the boxing gloves. No more jogging up the Philadelphia Museum of Art steps. No more "Yo, Adrian!" No more one-armed push-ups to the strains of Gonna Fly Now. No more Rocky.
After 2006's Rocky Balboa, the sixth installment in the series about the perennial-underdog fighter, Stallone figured he was most likely forever done playing the character he'd first brought to life in the seminal 1976 smash Rocky.
"That movie was the toughest sell of all," the actor recalled of Rocky Balboa on a recent afternoon. "Rocky V was considered a failure financially and critically. Now 15 years have passed. 'You want to play a boxer who's 60 years old — you're joking, right?'" He let out a low chuckle. "This was Max Bialystock territory." When the film proved a commercial and critical success, earning $156 million worldwide, Stallone figured he should probably quit while he was ahead.
But if we've learned anything about the Italian Stallion, it's that whenever you think he's down for the count, he somehow manages to get back on his feet. It's that indomitable spirit that has made him one of the most beloved characters in movie history. (When the American Film Institute ranked the greatest movie heroes in 2003, Rocky came in at No. 7, between Clarice Starling and Ellen Ripley.)
On Nov. 25, audiences will get one more chance to see Stallone reprise the role that launched him to sudden worldwide fame four decades ago. In Creed, a spinoff of the Rocky franchise directed by Ryan Coogler (Fruitvale Station), the aging Balboa reluctantly agrees to train an up-and-coming fighter named Adonis Creed (Michael B. Jordan), the son of his former rival Apollo Creed. This time, Rocky doesn't personally get in the ring; instead, his biggest fight is with his own mortality as he faces a battle with cancer.
At 69, Stallone finds the idea that Rocky has now come full circle — from small-time lovable loser to world champion to grizzled mentor — both fitting and strange. "I'm now the same age Burgess Meredith was in Rocky — isn't that weird?" he said. "I'm the guy who's knocking on the door going, 'Hey, kid.' It's an unbelievable feeling. I'm very proud of it."
He smiled his crooked smile. "Rocky is the one thing I've done right. I'd say my life is about 96 percent failures, but if you just get that 4 percent right, that's all you need."
In person, with his muscles bulging under his shirt, Stallone still looks as though he could lay flat a much younger man. Not that he'd want to — like Rocky, he has always been a teddy bear at heart. Before achieving fame, he said, "I walked around with a deep-seated inferiority complex." He still comes across as modest and self-deprecating, aiming his toughest jabs at himself.
Stallone's quietly soulful performance in Creed already has some Oscar pundits considering him as a potential supporting actor nominee, but he brushes off that sort of talk. "Can you imagine? That would be really funny, wouldn't it?" Though he was nominated for best actor for the first Rocky as well as for his screenplay, he has often been treated as a punching bag over the years for what some have deemed his limited acting range and tendency to play monosyllabic roles.
And yet, when Stallone has tried to branch out and play against type, he's often been smacked down for that as well. In 1997, he received some of the best reviews of his career for his understated turn as a small-town sheriff in the drama Cop Land, but he ultimately felt the film hurt his career. "I was hoping it would be a game-changer, but the feedback from the studio was that it confused people," he said. "I didn't mean to confuse people — I was just trying to stretch. That began a long doldrum."
Over the course of his career, Stallone has appeared in roughly 60 movies — big hits, big flops and everything in between. But he knows he will always be best known for Rocky and John Rambo, the muscle-bound, machine-gun-toting Vietnam vet he played in four films. For a long time he fought against that, but at a certain point he came to accept it and even see it as a blessing.
"There are great careers I envy — like Tom Hanks has done amazing work — and you just have to give them their kudos," he said. "I wish I'd had the foresight to have been a little more adventurous a little earlier on. But I get it. Nobody wants to see Bruce Springsteen sing opera. Now I think, 'My God, did I get lucky.'"
Coogler, 29, grew up with a deep love for the Rocky movies that had been instilled by his father. Still, until he met Stallone in person to pitch him the idea for Creed, which he co-wrote with Aaron Covington, he didn't fully appreciate the depth of his talent.
"I watched all these Stallone movies growing up in the '90s like Demolition Man and Cliffhanger, but he was still Rocky to me, so I went into his office expecting him to be that character," Coogler said. "As soon as I met him, I realized he's the exact opposite. He doesn't walk like Rocky, he doesn't move like Rocky, his personality is totally different — the only thing that's recognizable is the voice. I remember thinking, 'This dude is a phenomenal actor to pull off that character and have it be so natural.' I feel he's been underused."
To say that Stallone — who had written all six Rocky movies and directed four of them — was initially resistant to Coogler's Creed pitch would be an understatement. "I was dead set against it," he said. "I just didn't ever see taking this character into this realm. Finally my agent said, 'For a guy who played Rocky, you're kind of a chicken.'"
Eventually, Stallone warmed to the idea of bringing Rocky back for one more round, this time as a kind of ringside Buddha and father figure to a younger fighter. "There are certain things I'm allowed to say through Rocky that I can't say through Rambo or anyone else," he said. "Rocky is very preachy. He's just always talking. That's what Rocky really is: a springboard for the way I see life or wish life was."
The fact is, Stallone knows that, even though he brought Rocky into this world, the character doesn't just belong to him anymore. He belongs to all the moviegoers who have been inspired by him over the years, to everyone who's played Eye of the Tiger to psych themselves up for some challenge, to all those people who, to this day, pose for photos at the top of the Philadelphia Museum of Art steps with their arms raised in triumph.
"How many people run up those steps?" Stallone said. "It's incredible. Women who are eight months pregnant. People from different cultures. Intellectuals who have nothing in common with Rocky. They're not running for Sylvester Stallone — I get that. They're running for the Rocky in them."
©2015 Los Angeles Times. Distributed by Tribune Content Agency, LLC.
Photo: Sylvester Stallone, left, and Michael B. Jordan in "Creed." (Barry Wetcher/Warner Bros. Entertainment and MGM)