Syria And Ukraine: Two Fronts In Russian War For Influence
@reuters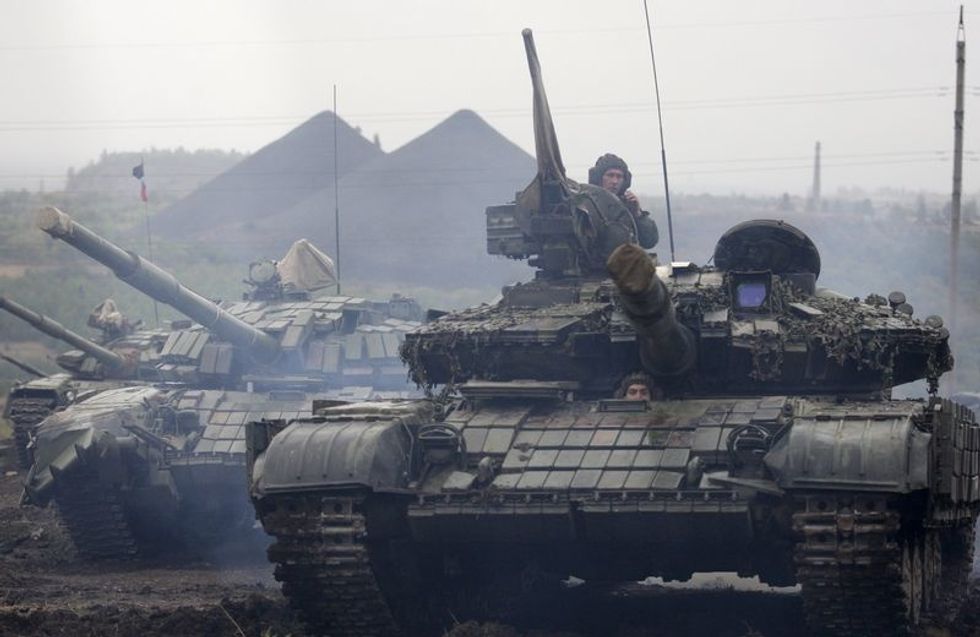 By Robin Emmott and Phil Stewart
BRUSSELS/WASHINGTON (Reuters) – Russia's air strikes in Syria are in part designed to extract concessions from the West over Ukraine by making Moscow a key player in any attempts by world powers to hammer out a post-conflict settlement in Damascus, some Western officials believe.
While the Syrian capital lies 1,800 miles (3,000 km) south of Kiev, for Russian President Vladimir Putin they are two fronts in the same war that is aimed at blocking Ukraine's European integration, some EU, U.S. and NATO officials say.
Publicly no officials will make such a link, saying it is too speculative and French diplomats hosting a high-level meeting with Putin in Paris on Friday are reluctant to draw any conclusions.
But privately, a number of senior officials and diplomats have told Reuters they believe the Russian leader's aim is to use his intervention in Syria partly to pressure the West to tacitly accept Russia's 2014 annexation of Crimea and gradually lift the sanctions imposed by the West in retaliation.
The Kremlin says Russian air strikes are targeting "well-known" terrorist organization inside Syria.
Strategically, Putin's air strikes are securing his interests, protecting Syrian President Bashar al-Assad and Russia's Syrian port in Tartous, which complements Russia's access to the Black Sea that it now controls after taking the Crimean peninsula.
Western officials also see other motives, including that Moscow may also say that its military involvement in the Syrian civil war, its first intervention in the Middle East in decades, could also be used to help stem the record numbers of refugees flowing to Europe.
Most see a way for Putin to make himself "an indispensable interlocutor for the West", as one EU official put it, while recognizing he is defending a long-time ally, the Assad dynasty.
"It's the same game," said another official closely involved with Ukraine policy. "Putin's involvement in Syria is a way to seek concessions, to get the West to avoid talking about Crimea, drop sanctions and accept a frozen conflict in eastern Ukraine."
FREEZE, THEN RE-HEAT?
But some in Brussels and Kiev, who accuse Russia of supporting the separatist rebellion in eastern Ukraine, believe the timing of the dramatic fall in violence in eastern Ukraine and Russia's air strikes in Syria is no coincidence.
Ukraine's Foreign Minister Pavlo Klimkin, referring to the rebel-held regions of Luhansk and Donetsk, said he was under no illusions. "The ceasefire is in better shape because the Russians have decided it should be so."
After 16 months of fighting and 8,000 deaths, the conflict has ebbed to its lowest point since a peace deal in February and efforts are underway to withdraw tanks and weaponry.
It could still flare up, but for now, the developments minimized criticism of eastern Ukraine at the United Nations this week and Putin barely mentioned the conflict in his speech.
Instead, Putin's Syrian move to strike Islamic State militants dominated the U.N. gathering, leaving President Petro Poroshenko relying on his own diplomats to provide the loudest applause for his remarks condemning Russia at the assembly.
Russian diplomats boycotted Poroshenko's speech. Moscow rejects the West's accusations that it has armed the rebels and has troops operating within eastern Ukraine. Putin blames the crisis on the West, which he says plotted a coup in Ukraine.
EXPLOITING DIVISIONS
While Western officials welcome the drop in violence, they are also wary of governments taking the developments at face value, worried that EU countries traditionally closer to Russia may now wish to take a softer line on Moscow and discuss lifting economic sanctions that expire at the start of next year.
Sigmar Gabriel, Germany's vice chancellor, favors easing sanctions to win Moscow's cooperation in the conflict in Syria.
However, Chancellor Angela Merkel's chief of staff Peter Altmaier and Foreign Minister Frank-Walter Steinmeier have dismissed the idea of a quid pro quo. "We don't want to mix things up," Steinmeier said.
Europe's former Soviet republics are also cautious.
"To trust a country which itself is … participating aggressively in the territory of another country, it would be very hard to trust that such country can bring peace to someone, or that it has sincere intentions," Lithuania's President Dalia Grybauskaite said in New York, referring to Russia.
On Friday, Putin will meet Ukraine's Poroshenko along with French President Francois Hollande and Chancellor Merkel in Paris to discuss the Ukrainian conflict and the Minsk deal they agreed in February in the capital of Belarus.
Putin has sought to exploit divisions among EU governments as some countries, including Greece, Hungary and Italy were reluctant supporters of asset freezes, travel bans and measures to block Russian access to capital, preferring dialogue.
Freezing the situation in Ukraine by not fully implementing the 12-point Minsk peace plan but de-escalating the conflict, – serves Putin because it allows him to turn on and off the conflict at will.
"A frozen conflict can always be unfrozen," said Jacek Saryusk-Wolski, a Polish center-right EU lawmaker active in Western efforts to integrate Kiev. "He wants to be able to control the conflict and block Ukraine in its European course."
(Additional reporting by Alessandra Prentice in Kiev, Noah Barkin in Berlin, Paul Taylor in Athens and Andrius Sytas in Vilnius; Editing by Giles Elgood)
Tank crew members of the self-proclaimed Donetsk People's Republic take part in a military drill outside the urban settlement of Torez in Donetsk region, Ukraine, September 14, 2015.  REUTERS/Alexander Ermochenko