Syria's Assad Set For Victory In Wartime Vote Slammed By West
@AFP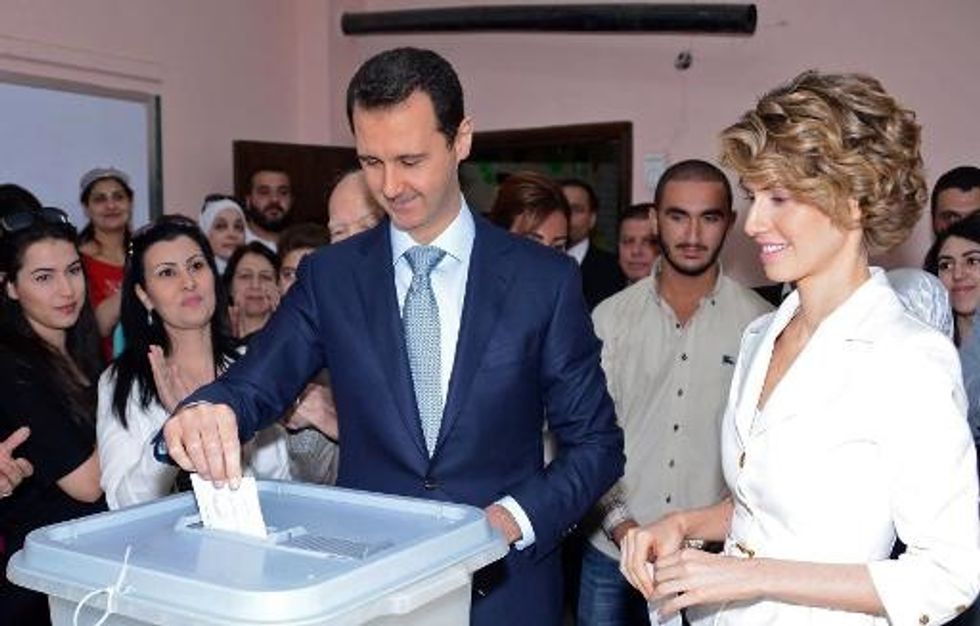 Damascus (AFP) – Syrian President Bashar al-Assad was on course Wednesday to claim a sweeping victory in an election held amid raging conflict that Washington called a "disgrace".
Official results are only expected to be announced later this week, but a landslide win for Assad over two little-known challengers has never been in doubt.
There was no election Tuesday in the roughly 60 percent of the country outside government control, including large areas of second city Aleppo.
And in government-held areas, people cast their votes despite nationwide violence that killed 209 people on polling day, including 71 civilians, a monitoring group said.
State media trumpeted a big turnout which they said prompted polls to be kept open until midnight — five hours later than scheduled.
Pro-government newspaper Al-Watan said "millions" had voted, "defying terrorism and its mortars, rockets, car bombs and suicide attackers, to prove the legitimacy of President Bashar al-Assad for a new term that will last until 2021."
It put turnout at 70 percent in some provinces, although opposition activists were quick to charge that people voted out of fear not conviction.
Assad "thanked all the Syrians who turned out en masse to vote."
His office's Facebook page said Syrians "are proving day after day their belief in a culture of life, hope and defiance, in the face of a culture of death, terrorism and narrow-mindedness."
Of the 27 people killed in government-held areas on election day, 19 died in Aleppo, three of them children, the Syrian Observatory for Human Rights said.
Three more people died in Damascus as rebels fired 130 mortar rounds from the suburbs.
The sound of the mortar bombs and government strikes punctuated voting in the capital throughout the day.
Nine medical workers were killed in a raid on Zibdin, an opposition-held town near Damascus, the Observatory said.
The U.S. said it was a "disgrace" to hold an election in the midst of a three-year-old civil war that has killed more than 162,000 people and driven millions from their homes.

Tuesday's election had "intentionally denied millions of Syrians the right to vote," State Department spokeswoman Marie Harf said, adding the regime "continues to massacre the very electorate it purports to represent and protect".
Opposition activists have criticized Washington for failing to take decisive action on the conflict, despite its repeated calls for Assad to step down.
In a swipe against the U.S. administration, former American ambassador to Syria Robert Ford told CNN he had retired last month after almost three years working with the opposition because he could no longer defend U.S. policy.
"We have been unable to address either the root causes of the conflict in terms of the fighting on the ground and the balance on the ground, and we have a growing extremism threat," Ford said.
He was alluding to the growing sway in rebel-held areas of Al-Qaeda loyalists and more extreme jihadist groups.
Harf said the administration of President Barack Obama shared Ford's "frustration" at a situation in which "there are no easy answers".
"We have a lot of tools at our disposal that we're using, but there is no solution that will happen overnight."
Assad ally Moscow, which has welcomed the election as a step towards a political solution, called for the appointment of a new UN envoy as quickly as possible.
Lakhdar Brahimi, who brokered two rounds of abortive peace talks between Damascus and the opposition this year, stepped down on Saturday saying his mediation efforts had reached stalemate.
He had infuriated Damascus by criticizing Tuesday's election as an obstacle to his peace efforts.
Russian ambassador to the United Nations, Vitaly Churkin, who has just taken over the chairmanship of the Security Council, said it would be "fundamentally flawed" to ignore the need for a quick successor to Brahimi to relaunch peace efforts.
"We believe that, after just two five-day rounds of talks, to say that things are so stalemated that there is no need to continue those negotiations, this is not to us entirely persuasive."
Moscow, which sent observers to monitor Tuesday's election, has infuriated the West by four times vetoing draft Security Council resolutions in defense of its Damascus ally.
AFP Photo