Temperatures In The Southwest Are So Hot Airlines Are Canceling Flights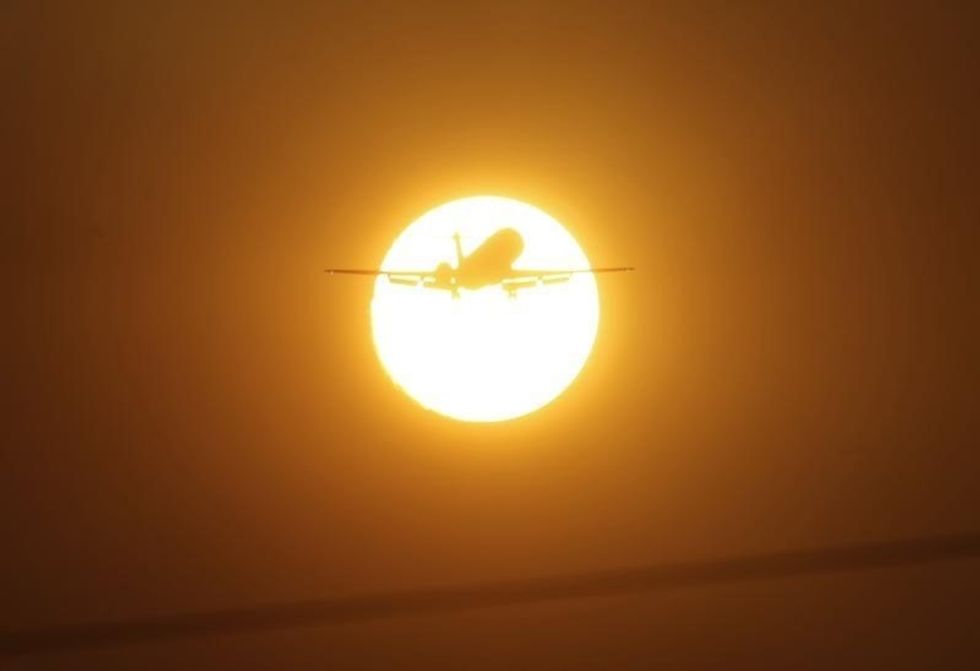 Reprinted with permission from Alternet.
An intense heat wave is engulfing the southwest U.S. this week, with temperatures so hot commercial airlines have had to cancel flights. About 38 American Airlines flights have been canceled from Phoenix, where forecasts say temperatures could reach up to 120 degrees Fahrenheit, surpassing the 118 degree threshold in which it is safe for airlines to operate.
The peak of the heat wave is said to last from Monday to Wednesday, which could prompt more flight cancellations if temperatures continue to surpass 118 degrees.
Heat waves reflect an alarming and deadly trend in global warming. A study published Monday in Nature Climate Change found that about 30 percent of the world's population is exposed to heat waves for 20 days in a year. Unless actionable steps are taken to reduce carbon emissions, a majority of the world's population—up to 75 percent of people—could experience a deadly heat wave by 2100.
Those facing the greatest threat from heat waves live in wet, tropical areas, where even slight upticks in temperature or humidity can cause heat-related sickness or death. In India, thousands of people have died from recent heat waves, even though the country's mean temperature has only increased 0.9 degrees in the past 50 years. Since these tropical regions in the Global South are poorer than industrialized countries like the U.S., people living in these countries are very susceptible to the effects of climate change and will ultimately bear the brunt of rising global temperatures.
"In Chicago people can escape the heat, but that's not the case for many poor people in India," Steven Davis, co-author of the study and a professor at the University of California, Irvine, said to National Geographic.
Other regions in the U.S. southwest have seen scorching, record-breaking temperatures in the past few days, prompting excessive heat alerts. In Death Valley, California, temps could reach 127 degrees, and locals and tourists in Las Vegas could experience heat between 112 and 117 degrees. Even residents in the Bay Area—a region that normally has milder summer temperatures than the rest of the west and southwest—experienced unusual heat this weekend, with temperatures ranging from 70 degrees along the San Francisco coast to about 100 degrees inland. And while Arizona is notorious for its hot summers, meteorologist Eric Holthaus noted that the number of days exceeding 100 degrees has increased by 55 percent in the past 30 years. On a wider range, temperature measurements show that 92 percent of U.S. cities have gotten hotter since 1970.
Heat is a silent killer. The human body can only withstand so much heat before experiencing health problems. To regulate the body's internal temperature when facing hot weather, the body sweats to cool itself down. If the heat index, a combination of temperature and humidity, reaches 104 degrees Fahrenheit, the body begins to heat up. If internal temperatures begin to hit 104 degrees, cellular machinery that helps the body adapt to heat breaks down, causing one to move from heat exhaustion to heat stroke. In the U.S., the combination of record-hot days and nights in recent years has made it even more difficult for the body to maintain normal internal temperatures.
Extreme heat waves, such as the one moving through the southwest, kill people in more than 60 parts of the world each year, according to National Geographic. Research from Richard Keller, professor of medical history at the University of Wisconsin-Madison, also shows that heat kills 10 times more people in the U.S. than tornadoes or other forms of extreme weather. The Chicago heat wave in 1995 resulted in about 700 heat-related deaths. In 2010, a deadly heat wave killed at least 10,000 people in Moscow. About 70,000 people died in Europe during the sizzling summer of 2003.
Celisa Calacal is a junior writing fellow for AlterNet. She is a senior journalism major and legal studies minor at Ithaca College in Ithaca, New York. Previously she worked at ThinkProgress and served as an editor for Ithaca College's student newspaper. Follow her at @celisa_mia.
This article was made possible by the readers and supporters of AlterNet.