Tennis Greats Ashe and King Showed We Are Created Equal
@JamieStiehm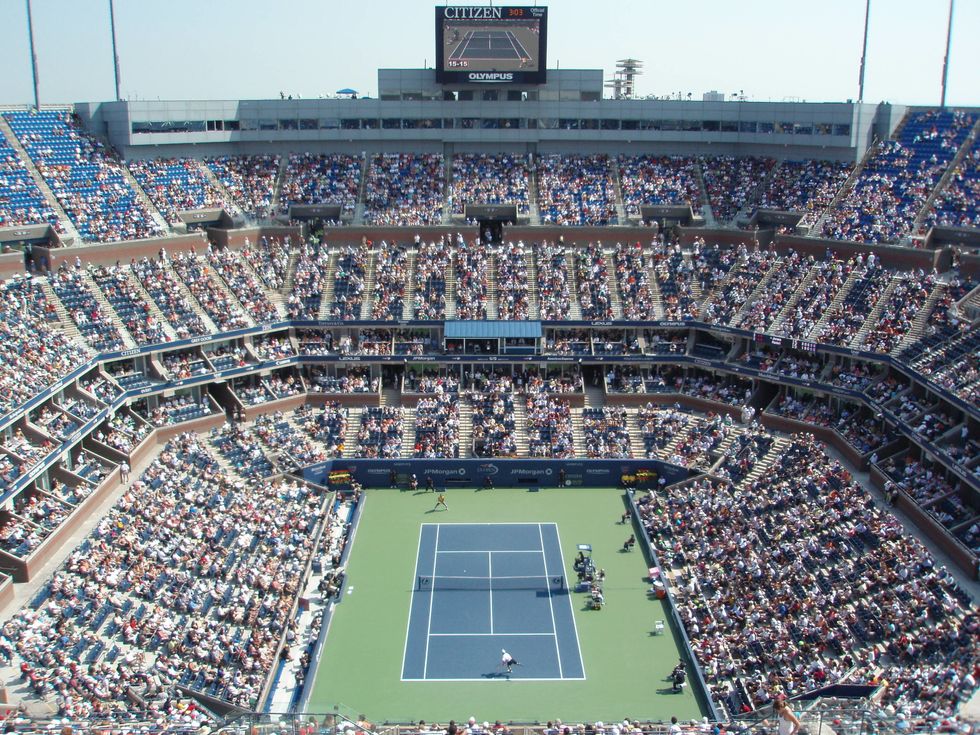 Reprinted with permission from Creators.
The U.S. Open is time travel for me. Just hearing the sound of tennis balls in the end-of-summer classic tournament takes me back to when I was a tennis player. Growing up in California in the '70s, there was no other game like tennis for a girl.
The place names at the U.S. Open are a perfect match for my memory. The Arthur Ashe Stadium draws in 23,000 New Yorkers to watch spirited nighttime matches — a stark contrast to Wimbledon's day matches in dress, demeanor and vibe.
Arthur Ashe, the late champion of infinite class and grace, was my favorite male player. I knew his life story, or thought I did. Ashe broke the color barrier in American men's tennis and Davis Cup competition, overcoming a youth spent in segregated Richmond, Virginia, where Confederate statues lined Monument Avenue.
Billie Jean King has the National Tennis Center named for her. How did such a good decision get past the judges? Billie Jean King, like Ashe, had a beautiful backhand and was a trailblazer off the court.
My favorite female player stood for something. Do you remember "women's lib"? Short for women's liberation, it was a sister to the civil rights movement. Nobody made that more real to me than Billie Jean King.
Better yet, do you remember "male chauvinist pig"? Nobody made that term more real to a generation of girls than Bobby Riggs. A 55-year-old player, he boasted that he could beat any woman player. Unfortunately, he did defeat Australian player Margaret Court, kind of "psyching her out." (Another phrase from the '70s repertoire.) So Billie Jean had to settle the score with Riggs on behalf of womankind.
"Battle of the Sexes," a new movie about their epic match is coming out later this month, starring Emma Stone and Steve Carell. I matched the trailers against strands of my memory as a girl. Stone plays her character cool, but I swear Billie Jean had more fire and juice in real life. (She's now 73.) You never had to guess what she was on her mind. She inspired people on and off the court with her outspokenness, even singer Elton John, who wrote "Philadelphia Freedom" for her.
The actual Battle of the Sexes between King and Riggs in 1973 was a huge cultural event that transcended tennis. It was played in the Houston Astrodome, the most watched televised event of the era. All my friends came over to watch. Billie Jean was invincible. She defeated the brash Riggs in three straight sets — yes! — and lifted us sporty girls up on a giant zeitgeist just as the women's movement and Title IX were underway.
As John McEnroe says, "Billie Jean King beat the s—- out of Bobby."
Indeed King was a revolutionary figure while the younger Chris Evert of Florida was the good girl. It's not widely known, but King started the sisterhood of professional women's tennis, persuading her peers to break off from touring with men players, because tournaments always gave more prize money to men. King had the courage to say the public would watch women's tennis on its own, apart from men's tennis. The Virginia Slims women's tour was her dream, her launch, her refusal to put up with pay discrimination.
Today the U.S. Open awards $3.7 million, the same sum, to the men's and women's singles champions. Thanks to Billie Jean King's fighting spirit.
I gripped her Wilson wood racket in my calloused hands when I played under the sun year-round. In a quiet revolution, a lifelong tennis champion, "Dodo" Bundy Cheney, founded Santa Monica's Teen Tennis league, where girls competed freely against boys across a net and won or lost with a salty handshake. Team sports for girls were on the way, but tennis made my world of characters. There was my black friend, Eric, who had Ashe-like strokes with nary a lesson. One girl went on to play at Harvard; a guy coached there. The Malibu players were part of my high school crowd. Sean Penn came to the game late, but ablaze. He once watched me play a match.
Tennis was truly open. We were all created equal.
A statue of Ashe now stands on Monument Avenue.
The culmination came when King and Ashe won Wimbledon the same year. 1975. Sweet to see them dance.
To find out more about Jamie Stiehm, and read features by other Creators Syndicate writers and cartoonists, visit the Creators Syndicate website at www.creators.com.