Texodus' Driving Republican Fears Of Losing Lone Star State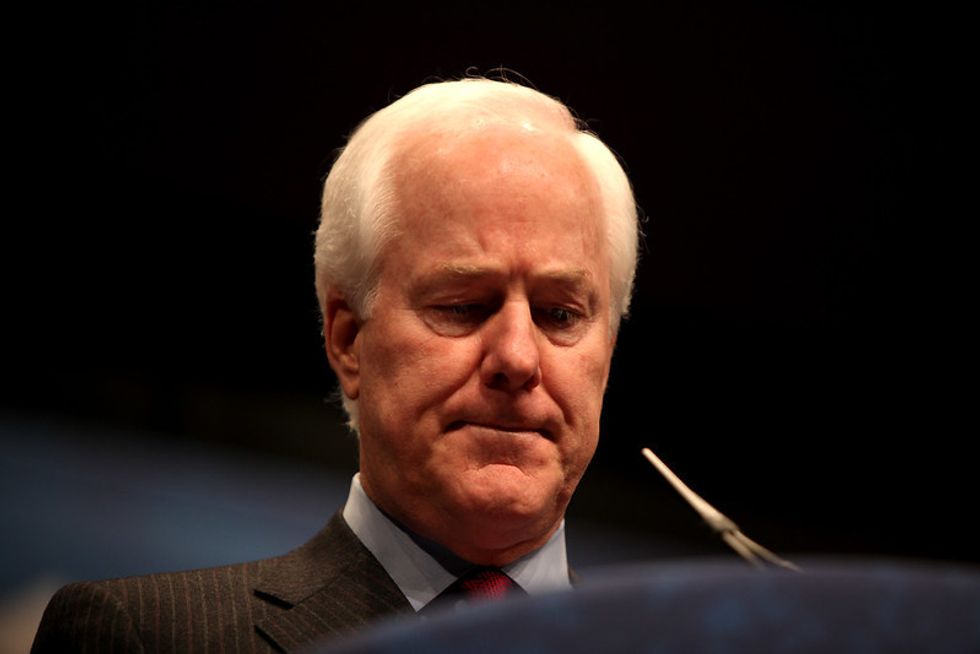 GOP strategists are beginning to worry that Democrats have a real shot at flipping several congressional seats, after a sixth Texas Republican, Rep. Mac Thornberry, announced he would not run for reelection in 2020, Axios reported Tuesday.
"It sucks being in the minority, and a lot of these guys haven't been in the minority since '06, and they are fearful there isn't a lot of hope to get the majority back in this cycle," Jeff Roe, a GOP political consultant with experience in Texas, told the outlet.
Donald Trump's recent impeachment troubles may be adding to the angst. Thornberry told a reporter just weeks ago that he would run in 2020, but that was before Trump's phone call with Ukrainian President Volodymyr Zelensky came to light. In that call, Trump solicited information from the Ukrainian president to help his 2020 campaign, an abuse of power and violation of the law.
Shortly after the facts came to light, House Speaker Nancy Pelosi announced the beginning of a formal impeachment inquiry into Trump's wrongdoing. Not long after, Thornberry announced his retirement.
Republicans in the House have faced trouble for a while.
"We need a new Republican Party because the one we have is getting our asses kicked in House races," a Texas GOP strategist who was granted anonymity, told Axios.
Republicans lost the House majority in 2018 after a massive blue wave saw Democrats pick up 40 House seats and hand power to Pelosi. In that election cycle, Democrats invested heavily in California, flipping seven seats from red to blue in that state alone.
In 2020, Democrats hope to replicate that success in Texas, pinning hopes on six seats the party views as pick-up opportunities. The party's House arm is opening a field office in Austin, close to three of the six seats the party hopes to flip.
"Congressman Thornberry is now the sixth Texas Republican to retire as the DCCC's early and aggressive investment in Texas's swing districts lays the groundwork for victory in 2020," Lucinda Guinn, executive director of the Democratic Congressional Campaign Committee (DCCC), said in a statement Monday.
"When it comes to places where House Democrats can go on offense, it doesn't get any bigger than Texas," Rep. Cheri Bustos (D-IL), chair of the DCCC, said in April.
Texas is also a Senate battleground state, with Sen. John Cornyn (R-TX) up for reelection. Republicans were unnerved at how close former Democratic Rep. Beto O'Rourke came to beating Sen. Ted Cruz in 2018, according to Texas Monthly. This cycle, Cornyn is already sending out alarming fundraising emails in an attempt to build a war chest to take on a Democratic challenger.
"After nearly two decades in Washington doing Mitch McConnell's bidding and voting to hand out tax breaks to corporate special interests, spike health care costs, and gut protections for Texans with pre-existing conditions, Senator Cornyn has every reason to be worried about losing his seat," Stewart Boss, spokesperson for the DSCC, said in a statement. "Texans see his toxic record for what it is, and they're ready to elect a senator who will fight for them."
At the moment, Air Force veteran MJ Hegar leads a crowded field of Democrats hoping to take on Cornyn.
While flipping House seats and maybe a Senate seat has Republicans on edge, Democrats are also wondering if they can turn Texas blue on a presidential level. Recent polling shows several top Democratic presidential candidates leading Trump in the state, including O'Rourke and former Vice President Joe Biden. Other candidates, like Sen. Bernie Sanders (I-VT) and Sen. Elizabeth Warren (D-MA), have had mixed results in polling, with some showing them leading Trump and others showing Trump ahead.
Trump is heading to the state in mid-October for a campaign rally, which are usually held in swing states a candidate is unsure of winning.
"Texas is a major defensive liability for Republicans at every level this cycle," Enrique Gutierrez, a DNC spokesperson, said in a statement. "Republican congressional retirements, Senator Cornyn's weak standing and the fact that Trump feels the need to campaign there so frequently all show how significantly the state's political dynamics have shifted away from the GOP."
At this point in the 2018 cycle, Republicans in California laughed off Democratic engagement in long-held Republican regions in the state, only to see a near-total wipeout on election day.
Republicans in Texas seem more cautious this time around.
Published with permission of The American Independent.