That Buzzing In Your Pocket? It's A Politician Wanting Your Vote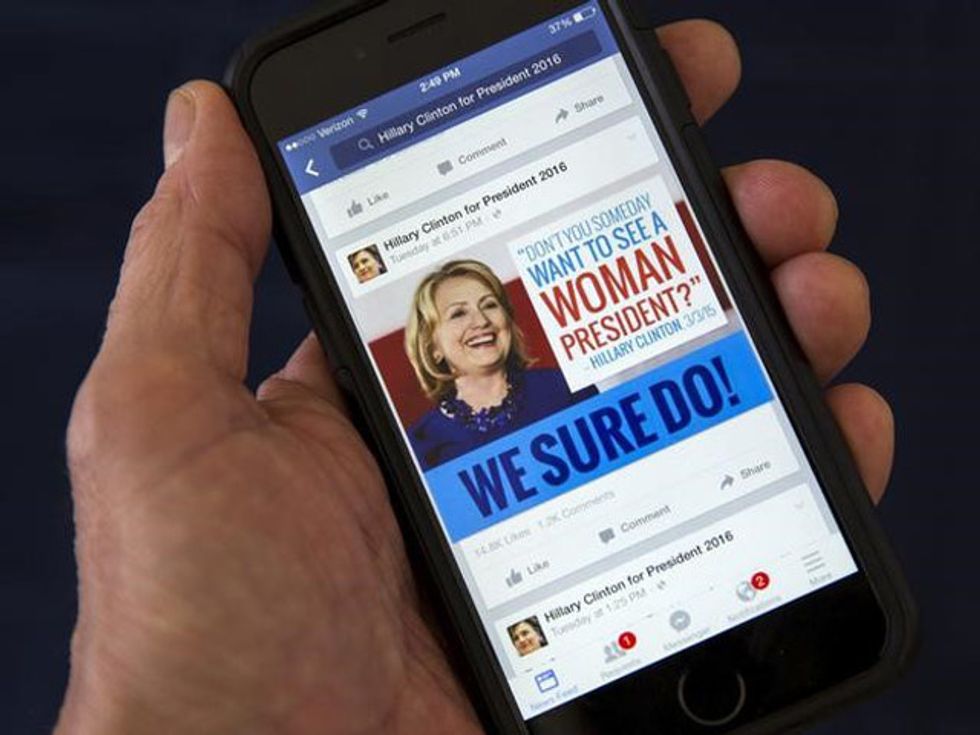 By Lindsay Wise, McClatchy Washington Bureau (TNS)
WASHINGTON — If you thought you couldn't escape the onslaught of political ads in 2012, just wait until 2016.
This election cycle, campaigns are expected to fully embrace mobile advertising as a way to target voters anytime, anywhere.
For the first time, spending on political ads for digital media is expected to top $1 billion, rivaling the estimated amounts campaigns spend on telemarketing and radio, according to a report released this month by the research firm Borrell Associates.
That's still just a fraction of the total $11.4 billion Borrell estimates will be poured into political advertising in 2016. But it's a big increase since 2012, when spending on digital political ads was just $159 million.
Compared to the cost of airing a traditional television commercial, digital ads are a relatively inexpensive way for campaigns to get attention, said Steven Smith, director of the Weidenbaum Center on the Economy, Government and Public Policy at Washington University in St. Louis.
"The formula is simple: Do something humorous, encourage links in social media and shape the initial impression of an opponent before he or she can do it themselves," Smith said.
A recent example popped up on some Missourians' smartphones during the first Republican debate: A series of 10-second videos on the messaging platform Snapchat that portrayed Jason Kander, a Democratic candidate for U.S. Senate, as a "pandering panda" who hobnobs with wealthy donors and special interests in Washington.
Funded by the National Republican Senatorial Committee, the Snapchat videos were followed by a website titled "Kander Pander," along with a longer video featuring a person in a panda suit dancing with a money bag. Corresponding social media posts spread the panda-themed attack on Twitter, Facebook and YouTube.
Kander's campaign manager, Abe Rakov, dismissed the quirky ads as a sign of desperation from Republicans worried about the re-election of incumbent GOP Sen. Roy Blunt.
But the dancing panda also is a harbinger of the changes coming to political advertising as Americans grow increasingly reliant on their mobile devices for everything from checking the weather to buying a latte.
Snapchat, which automatically erases messages in a matter of seconds, might seem like an odd venue for ads. But with 71 percent of Snapchat users between the ages of 18 and 34, it's easy to see why politicians are eager to use such tools to reach younger voters where they spend a lot of their time — on their smartphones.
Former Florida Gov. Jeb Bush turned to Snapchat to announce he was running for president earlier this year, and Florida Sen. Marco Rubio used it to showcase behind-the-scenes footage from his own presidential campaign kickoff.
Another Republican presidential hopeful, Kentucky Sen. Rand Paul, used the app to air brief videos of him destroying the tax code by setting it aflame, feeding it through a wood chipper and hacking it with a chainsaw.
Not to be left out, Ohio Gov. John Kasich and Wisconsin Gov. Scott Walker aired their own 10-second presidential campaign ads on Snapchat in July.
"Maybe I oughta run," Kasich says with a smile on his Snapchat ad, a shaky production that gives the impression it was shot from the end of a selfie stick.
Democratic presidential candidate Hillary Clinton joined the Snapchat craze this month. She joked at a fundraiser in Iowa that she loved Snapchat because "those messages disappear all by themselves," a reference to the ongoing scandal regarding her use of a private email server while secretary of state.
Candidates also are flocking to Pinterest, Instagram and apps such as Meerkat and Periscope that let mobile users livestream video from their phones.
"If 2004 was about Meetup, 2008 was about Facebook and 2012 was about Twitter, 2016 is going to be about Meerkat (or something just like it)," wrote Dan Pfeiffer, a former senior public relations adviser to President Barack Obama, on the website Medium.
Broadcasting an event live used to require a costly truck and satellite time, Pfeiffer points out. "Now you can do it with your phone … the same machine you use to text, check Instagram, hail an Uber, and play Candy Crush," he wrote.
Smartphone use in the United States has exploded since the 2012 election, increasing by 394 percent, said Andrew Lipsman, vice president of marketing and insights at comScore, a company that tracks digital consumer behavior.
"Mobile has really taken over the landscape," Lipsman said. "So if that's where consumers are going to spend their time, from an advertising perspective that's where you need to be."
And then there's the fact that two highly sought after voting demographics are reachable by mobile: millennials and Hispanics, Lipsman said.
Nearly 80 percent of Hispanic Internet users say they access the Internet on a phone, tablet or other mobile device, according to a survey by the Pew Research Center.
And those in the millennial generation tend to spend a disproportionate amount of time on their phones, Lipsman said.
His company's research also suggests another reason why political strategists want to invest in mobile ads: They tend to work better than online ads.
"That's a surprise for a lot of people," he said. "One of the big reasons is a lot of online ads are relegated to the side of the screen, but a mobile ad takes up most or all of your screen. So it can be a quick impression, but it can make a big impression very quickly."
Mobile advertising has limitations, however. People are not as likely to make donations from their mobile phones as they are from a desktop computer, Lipsman said.
And mobile ads that "microtarget" voters based on their location or personal data could backfire if they make people feel harassed.
"There's an irony here that many of these candidates claim they would support protecting consumer privacy, yet their campaigns are in essence engaged in online and offline stalking," said Jeffrey Chester, the executive director of the nonprofit Center for Digital Democracy in Washington.
Photo: A mobile phone shows a Facebook page of campaign propaganda to promote Hillary Clinton as president in 2016, in this photo illustration taken April 13, 2015. REUTERS/Mike Segar