The Best Hillary Campaign Will Awaken Women
@JamieStiehm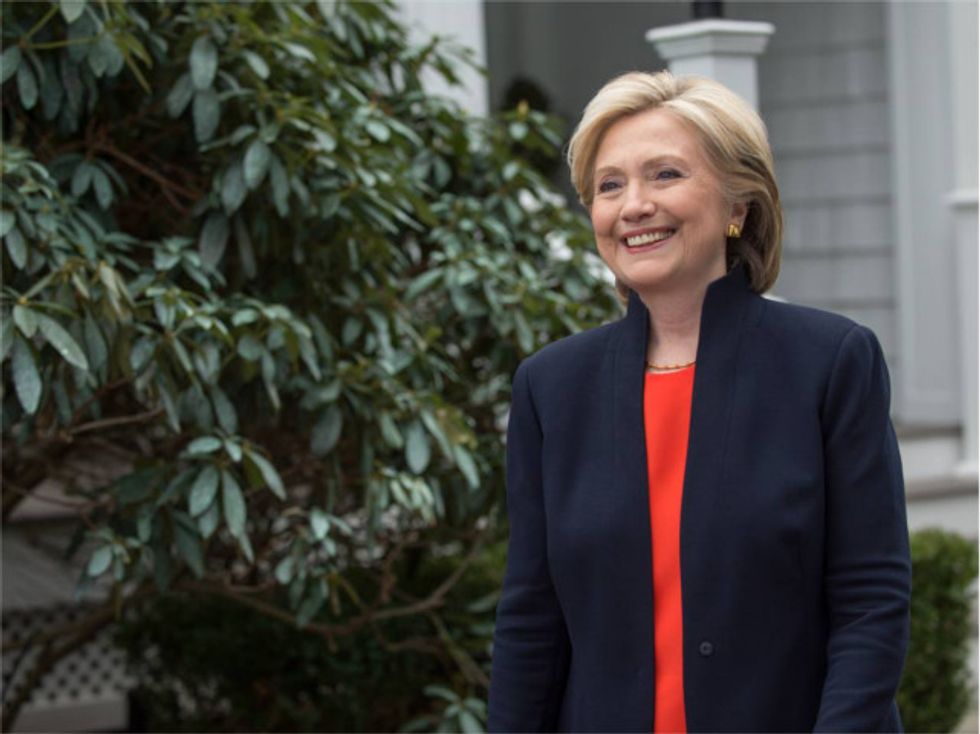 Gathering force in the Democratic field, Hillary Clinton is riding a wave of something that has no name. And she's not alone. The wave has to do with being the first female American president. But so far, you'd never know it from her. Mum's the word about being, well, a woman.
I say she should ride that wave for all it's worth, to shore. Let the difference live and breathe — and even laugh in her throaty way. Sex and race are very different, delicate matters in politics. They need completely different strategies to achieve a "first." To sustain momentum all the way to the White House, Clinton would be wise to seize the moment and represent herself as living social change for women.
Last time she ran for president, Clinton came across as a gender-neutral candidate, except at the end, when the battle was done. Her closing line, hailing 18 million cracks in "the highest, hardest glass ceiling" was a belated nice nod to her female base. That loss was seven Junes ago. Her best game will change for the campaign of her life.
This time, the former First Lady, senator, and Secretary of State would do well to speak to women of all ages, and engage them — us — in a knowing way, like we're friends. Clinton's specific polices and life experiences ideally should be wrapped up together in a conversation in the public square. And let's not forget to say out loud that she rose on the wings of major social change in the late 1960s and the 1970s. It was called the women's movement. Without it, she would not be running for president.
That way, if Clinton champions the cause of women, our place in the public square gets the attention it deserves after a dry spell. Pay equity, paid leave, child care, and reproductive rights are high on the list, the policy experts say. Political participation is also important, as measured state by state. Among the best states are New Hampshire, Minnesota, and Massachusetts, an Institute for Women's Policy Research study found. The weakest states are Texas, Utah, and West Virginia.
As proof of progress, many point to Congress, which has roughly 20 percent female members. It's higher than it's ever been, but 20 female senators is not enough. Right, Hillary? The 2016 retirements of Senator Barbara Boxer (D-CA) and Senator Barbara Mikulski (D-MD) will leave holes.
Here in Washington, I hear a lot of smart talk on women's advancement, most recently in showy spring events. National Journal put on "Women in Washington: Empowering Women in 2015 and Beyond." Wise Nancy Pelosi, House minority leader, spoke inclusively, a reminder that women's issues are not "just" women's lot, but often family issues. The Institute for Women's Policy Research devoted a day in May to "Achieving Gender Equality in our Lifetimes: A Bold Vision for Advancing the Status of Women." These agendas go beyond leaning in and being interrupted.
The energy bubbled like a brook. There were feints to bipartisanship. But let's look for signs of a social revolution. An awakening awaits.
Let Clinton come clean about her disarmingly defiant, even radical, class of 1969 commencement speech at Wellesley. She was a leader in the first generation of young women through newly open doors (she was headed for Yale Law School) armed with greater expectations than ever. The American dream was theirs for the taking. We don't hear much about that Hillary Rodham from Illinois and the arc to "Women's rights are human rights," her Beijing declaration.
An agent of change: That's the story of her life.
Dial back to 2008, when Barack Obama hardly let slip that he is, in fact, an African-American. He was going to be the first black American president — and was going to get there without directly discussing race, unless he had to. (He had to once when his family preacher in Chicago forced the issue.)
Otherwise, in a starry way that projected "You are the change I want to see," Obama encouraged voters' mounting excitement about breaking that historic barrier. But subtle every step of the way, Obama seldom spoke the unspoken. He knew his color was an asset, a tiebreaker, and so he didn't dwell on it.
Hillary is the change we want to see. Tell it, sister.
To find out more about Jamie Stiehm and read features by other Creators writers and cartoonists, visit Creators.com.
Photo via Facebook