The Big Blue Wave That Everyone Missed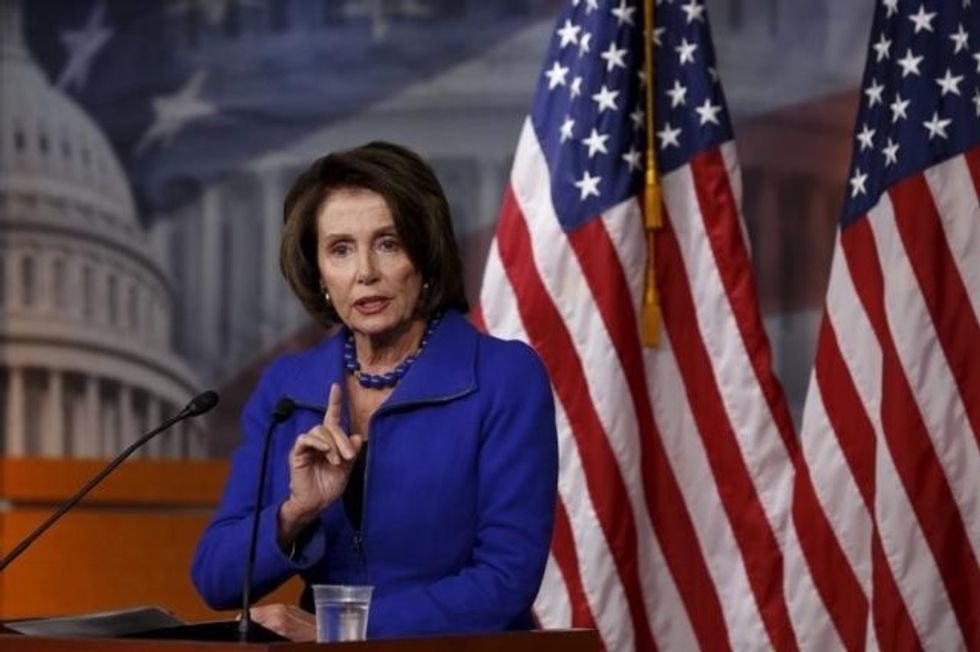 Reprinted with permission from AlterNet.
After the initial results from the 2018 midterm elections were tabulated this week, most observers seemed to accept the conclusion that while the Democrats had a decent but disappointing night — even as President Donald Trump and his allies implausibly treated the night as a vindication for the GOP.
But the mildly despondent Democratic reaction is beginning to look misguided. The much-predicted blue wave actually did come in this week in a big way — even if few observers noticed at first.
Part of the problem was that many of the races were far from decided by the end of Tuesday night — and many are still up in the air. But as of this writing, FiveThirtyEight projects that Democrats will win a net gain of 37 seats in the house. That not only gives them control but represents a monumental turnaround — which is particularly impressive considering the GOP's extensive gerrymandering of the country.
MSNBC's Ari Melber explained: "The fact is, this week more Americans chose Democrats than Trump. Just like they did in 2016."
He continued: "This blue wave in the House was historic. And I don't mean 'historic' as like a debatable adjective. I literally mean 'historic,' in the sense of history."
He noted (using a lower projection of 35 House seats gained) that this was the greatest wave election in four decades for the Democrats. The only other time the party won such a big night was during President Richard Nixon's most scandalous years.
"Democratic House gains keep growing and the most favorable Senate map for one party in a century could end up close to a status quo reshuffling," said NPR politics reporter Scott Detrow. "This was not a split decision election."
As results continue to pour in, the GOP's Senate victory is looking more hollow. They defeated Sens. Heidi Heitkamp (D-ND) and Claire McCaskill (D-MO). But Florida Democrat Sen. Bill Nelson looks poised to head to a recount against Republican Rick Scott, leaving the race in doubt. In Arizona, Democrat Kyrsten Sinema's race Marta McSally is still undecided, but it is leaning Sinema's way. And Sen. Dean Heller (R-NV) was ousted by Democrat Jacky Rosen.
"There was a moment, around 10:30pm EST on Tuesday night when I thought GOP was gonna pick up SIX senate seats," said MSNBC's Chris Hayes. "They mayyyy end up with only a net gain of ONE." (FiveThirtyEight is projecting a GOP gain in the Senate of 2 seats.)
Some of the most devastating races for Democrats actually are having upsides. Florida gubernatorial candidate Andrew Gillum's race appears to be heading for a recount. Stacey Abrams in Georgia is still fighting against her extremely dubious opponent for a fair vote count, and she could end up in a runoff. And though Beto O'Rourke lost decisively in Texas against Ted Cruz, he outperformed the almost all his polling and came within three points of his Republican opponent in what was thought to have been a quintessentially red state. Texas may now be considered purple.
The Washington Post's Paul Waldman pointed out, too, that Democratic gains at the state-level were extremely impressive.
"You've probably heard that over the eight years Barack Obama was president, Democrats lost a net of almost a thousand seats in state legislatures," Waldman wrote. "Which is bad, but last night Democrats gained about 300 seats, so they're well on their way to reversing those losses."
The DLCC, in fact, reported that it had flipped 350 state legislature seats by Wednesday morning — and it may end up closer to 400.
He also noted that, even if Abrams and Gillum don't come from behind, Democrats have flipped seven governorships in their direction, while Republicans flipped none.
"There's no question that Republicans won some key victories, but that shouldn't distract us from just how big a blue wave this was — even if gerrymandering and geography helped contain its effects," Waldman continued. "So in terms of the message voters sent, 2018 was unquestionably on par with other midterm waves like 1994, 2006 and 2010. You can see the results wherever you look."
But just a few days after the election, many Democrats seem not to have gotten the message. The exact contours of that wave, and how much Republicans were able to mitigate it remains undecided. And it's true that Trump is still president. But the hoped-for blue wave came — and it will change the country dramatically.
Cody Fenwick is a reporter and editor. Follow him on Twitter @codytfenwick.