The Big Lie: Romney Throws Reality 'Under The Bus'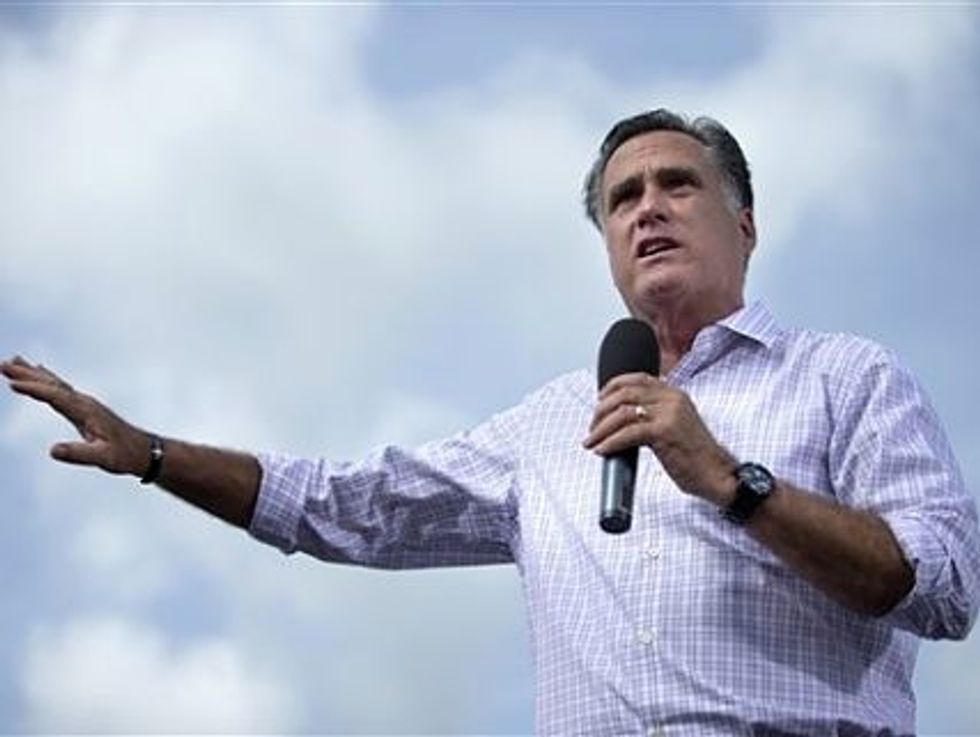 The Big Lie: President Obama threw Israel under the bus.
The Truth: President Obama's popularity in Israel has never been higher, with an approval rating  at 54 percent — and Israeli Minister of Defense Ehud Barak said the president has done "more than anything that I can remember in the past" for the Jewish state.
Toward the end of his speech accepting the Republican presidential nomination on Thursday night, Mitt Romney tossed out an oddly placed colloquialism to condemn President Obama. "He threw Israel under the bus," Romney said, as if he were a human being who regularly uses such "marvelous" street language.
You can go to the Urban Dictionary to get a definition of this idiom: "to sacrifice some other person, usually one who is undeserving or at least vulnerable, to make personal gain." If it were true that the president threw Israel under a figurative bus, it would be news to the 54 percent of Israelis who told pollsters they approved of President Obama last December — and  for that matter the American Jewish voters who support the president over Romney by a two-to-one margin. Compare that to the 60 percent disapproval rating of Prime Minister Benjamin Netanyahu in Israel, according to recent polls.
The president's commitment to Israel's defense is consistent with American policy for decades. In his own colloquial way, the president frequently says we've "got Israel's back." He's been unwavering in asserting that Iran will never be allowed to have nuclear weapons.
The president's support takes concrete form in the Iron Dome missile defense system, which he has funded with millions of dollars. The system is designed to thwart steady rocket fire from the Gaza Strip. Israeli Minister of Defense Ehud Barak recent said, "the defense relations between Israel and the United States are extremely stable and good."
Romney's strange lie was yet another argument made at the Republican convention that only made sense and could only be believed by a devout viewer of Fox News. To the neo-conservatives on Fox who favored the Iraq War, what Israel's right wing political bloc wants is synonymous with what Israel wants. Absolute loyalty to Ariel Sharon or Netanyahu is an article of faith. This gives Israel's combative prime minister the virtual ability to dictate foreign policy – a position that is incredibly dangerous when an Israeli prime minister decides that he can unilaterally launch an attack that could trigger  war throughout the region.
To Romney, Netanyahu is Israel. And Netanyahu is eager to elect Romney and empower the reckless hawks on Romney's foreign policy team, nearly all veterans of the Bush Administration.

To rational observers of Israel,  the reality is quite different: The president's relationship with the state of Israel is strong and entirely separate from his relationship with Netanyahu – which is strained. Notably, Netanyahu also had and has a contentious relationship with President Bill Clinton, who blames the prime minister for killing any chance of peace in the region.
President Obama came into office determined to renew the process that had come so close to a negotiated peace settlement between the Israelis and Palestinians in the last days of the Clinton administration.
In contrast, President Bush came into office and critcized Clinton for being too involved in the negotiations. The Bush policy resulted in a new Intifada, new settlements in the West Bank, and increased instances of terror that empowered Israel's right wing.
In 2009, President Obama went to Cairo to reach out to the Muslim world after eight years of conflict throughout the Middle East. Many on Israel's right – after eight years of President Bush's reliably anti-peace policies — took this as a slight. Netanyahu barreled on planning new settlements, unwilling to participate in a renewed peace process without unmatched concessions by the Palestinians.
The relationship between America's president and Israel's prime minister went from icy to hostile when President Obama made a statement that expressed existing American policy – a negotiated peace would be based on the borders before the 1967 war along with land swaps. Netanyahu seized the opportunity to appeal to America's right and reprimand the president in private and public.
Netanyahu's desire to use military force on Iran is well known. Many military experts dispute whether any armed attack would stop Iran from developing nuclear weapons. President Obama has implemented crippling sanctions – much more severe than any imposed by President Bush – on Iran in the last few months. Whether those sanctions will dissuade the Mullahs from pursuing a nuclear arsenal remains unclear, but they have barely been given a chance.
Netanyahu knows that if President Obama wins reelection, his ability to attack Iran will be severely limited. Some observers suspect that he will attack before the election – possibly even during the Democratic National Convention.
When Romney suggests the president hasn't been loyal to Israel, he's inventing facts and empowering hawks in both countries. The president rose to prominence on a pledge to avoid "dumb wars." Likewise, 58 percent of Israelis oppose an attack on Iran without American support.
When Romney says he will follow Netanyahu blindly, he's basically committing us to a new war that is likely not winnable without massive destruction. If that happens, American soldiers, taxpayer,s and countless Israeli and Iranian civilians will be thrown "under the bus." And that's the tragedy a real friend of Israel is trying to avoid.
Photo credit: AP/Evan Vucci