The GOP Civil War Is Now Basically Mitch McConnell Vs. The Tea Party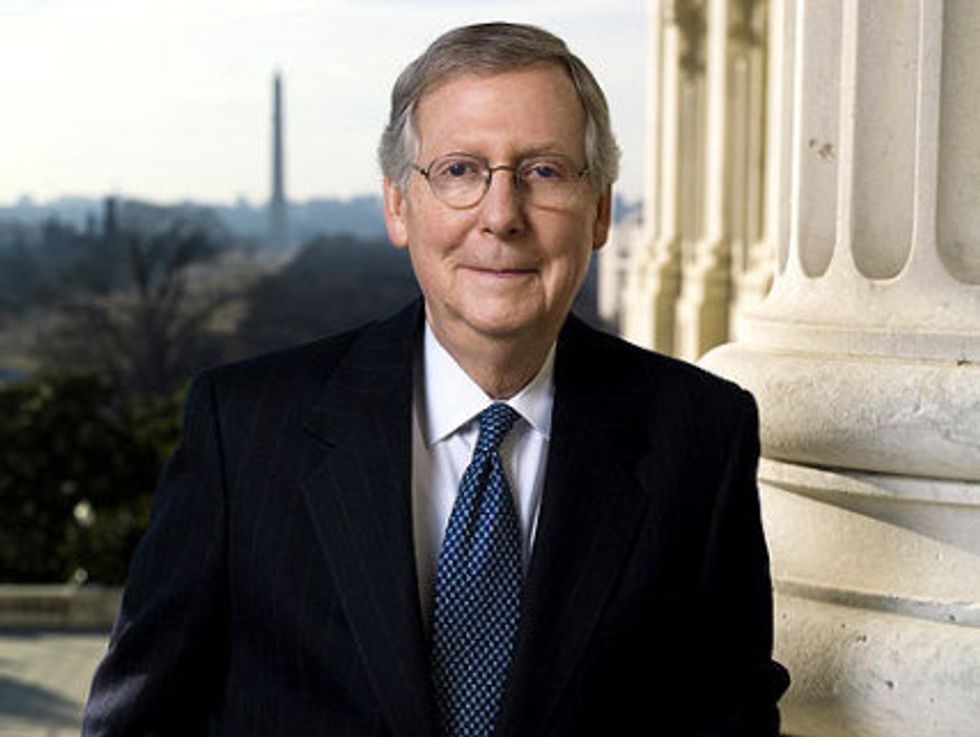 There will not be another government shutdown, says Senate Minority Leader Mitch McConnell (R-KY).
"It was a strategy that I said both publicly and privately could not work, and did not work," McConnell told The Wall Street Journal's Peggy Noonan.
"All it succeeded in doing was taking attention off of Obamacare for 16 days," he added. "And scaring the public and tanking our brand—our party brand. One of my favorite old Kentucky sayings is that there's no education in the second kick of a mule. It ain't gonna happen again."
This sounds as if he's vowing to compromise when the resolution funding the government and the debt ceiling issue come up again early in 2014.
And to the Tea Party, that only means one thing: Treason!
United Kentucky Tea Party calling for McConnell to resign, accusing him of giving pres unconstitutional authority w/shutdown compromise.

— Alexandra Jaffe (@ajjaffe) November 8, 2013
The leader knows what the Tea Party thinks of him and he's ready to take them on, along with his Tea Party challenger, Matt Bevin.
"They've been told the reason we can't get to better outcomes than we've gotten is not because the Democrats control the Senate and the White House but because Republicans have been insufficiently feisty," he told Noonan. "Well, that's just not true, and I think that the folks that I have difficulty with are the leaders of some of these groups who basically mislead them for profit. . . . They raise money . . . take their cut and spend it."
And in case that wasn't clear enough, he called out the Senate Conservatives Fund, one of the key supporters behind Senator Ted Cruz (R-TX) and the plot to defund Obamacare that forced the shutdown.
"That's the one I'm prepared to be specific about," he said, adding that the group "has elected more Democrats than the Democratic Senatorial Committee over the last three cycles."
Tea Party hero Erick Erickson responded to McConnell's comments on Friday with "Question for Mitch McConnell: Will Any Reporter Ask It?"
The Red State editor-in-chief states that "the Senate Conservatives Fund has only helped nominate two Tea Party candidates, who went on to lose the general election." In contrast, he points out, "On the other hand, Mitch McConnell supported Rick Berg, Denny Rehberg, Carly Fiorina, Linda McMahon, George Allen, and Tommy Thompson. All lost to Democrats."
This leads to Erickson's question: "So some enterprising reporter should ask Mitch McConnell this question: Given that the Senate Conservatives Fund has a better record than Mitch McConnell of getting Republicans elected to the Senate, shouldn't he be supporting Matt Bevin?"
McConnell has successfully been able to persuade Ted Cruz to stay out of primaries. But the Tea Party, Erickson and the Senate Conservatives Fund are going all in.  We'll see who gets shut down this time.